Murphy Announces Additional $60 Million for Small Business Grant Applications - TAPinto.net
---
Murphy Announces Additional $60 Million for Small Business Grant Applications - TAPinto.net
Posted: 12 Nov 2020 06:00 AM PST
NEW JERSEY– Gov. Phil Murphy announced on Wednesday a commitment of at least $60 million in additional CARES Act funding to fulfill grants under Phase 3 of the NJ Economic Development Authority's (NJEDA's) Small Business Emergency Assistance Grant Program.
This funding is in addition to $70 million in federal funds already allocated for the current phase of the program and will enable the NJEDA to fulfill grants for the entire pipeline of eligible businesses that applied for Phase 3 funding prior to the application deadline. Without this supplemental funding, approximately 13,000 of the nearly 22,000 businesses that applied for Phase 3 grants would have been declined based on the program being oversubscribed.  
"COVID-19 is above all else a severe health crisis, but its economic impact has been incredibly difficult for New Jersey's small business community," Murphy said. "Small business owners have been diligent in their efforts to protect the health of their employees and customers, and they deserve our support. This new round of funding will help ensure that many more businesses emerge from the pandemic stronger than before."
The NJEDA's COVID-19 relief programs provides a variety of resources for firms of all sizes, including grants for small businesses, zero-interest loans, support for private-sector lenders and CDFIs, and funding for entrepreneurs. Its largest COVID-19 relief program is the Small Business Emergency Assistance Grant Program, which provides grants to companies impacted by the pandemic. To ensure equitable distribution of funds, the NJEDA set aside one-third of the funding for this program to support qualified businesses located in one of the 715 Census tracts that were eligible to be selected as a New Jersey Opportunity Zone. This targeting has helped to ensure minority- and women-owned businesses that were hardest hit by the pandemic's economic impact were able to get the support they need.
To date, more than 22,000 small businesses have been approved for grants worth a total of more than $64.9 million through Phases 1 and 2 of the Small Business Emergency Assistance Grant Program. The average grant award has been roughly $3,000, which indicates the average approved business has three full-time equivalent employees.
Phase 3 significantly expands eligibility for the Grant Program and increases the amount of funding businesses can receive. Any business or non-profit located in New Jersey, including home-based businesses, with 50 or fewer full-time equivalent employees (FTEs) is eligible to receive grant funding during Phase 3, including businesses that received funding in previous phases of the program. To ensure funding goes to businesses hit hardest by the pandemic, Phase 3 sets aside funding for restaurants, micro-businesses, and businesses based in the state's 715 Opportunity Zone-eligible Census tracts. The application period for Phase 3 grants closed earlier this week, and to date, 873 businesses have been approved for grants totaling more than $10.9 million.
"The NJEDA shares Gov. Murphy's commitment to supporting small businesses, and we are delighted to be able to assist many more deserving businesses than anticipated," said NJEDA's CEO Tim Sullivan. "We continue to focus all available resources on processing grants and getting funding into the hands of hardworking small business owners as quickly as possible."
Sullivan said that Gov. Murphy has now allocated more than $250 million of funding to support small businesses through the COVID-19 crisis, with a focus on ensuring those dollars get where they are needed most:restaurants, and minority- and women-owned firms.
In addition to the Small Business Emergency Assistance Grant Program, the NJEDA administers a variety of technical assistance and low-cost financing programs for small and mid-sized businesses impacted by COVID-19. More information about these programs and other State support is available at https://covid19.nj.gov.
Walla Walla distributes $250000 in relief grants to local small businesses - Whitman Pioneer
Posted: 12 Nov 2020 08:07 AM PST
The City of Walla Walla began distributing the $250,000 from their Coronavirus Aid, Relief and Economic Security (CARES) fund to 220 local small businesses on Oct. 30. The city chose to allocate small awards so that every eligible small business that applied could receive some funding.
Deputy City Manager Elizabeth Chamberlain explained that Walla Walla received $500,000 in the second round of CARES funding from Washington's Department of Commerce because Walla Walla is too small to receive direct funding from the federal government.
In order to qualify for this grant, businesses had to be located within the city limits and employ less than 50 people. The grant was open to any company that fit these requirements, including sole proprietorships and non-profits. The online application was one page and available in both English and Spanish. 
Applications were reviewed by two members from the Chamber of Commerce and three members on the City Council Finance Committee. They were judged on three criteria: number of employees, if the reviewers felt the business was already substantially funded through another grant and how important the business is to the overall economy of Walla Walla.
Chamberlain explained that the city decided to award small grant amounts so that they could spread the money as far as possible. Every business that applied and met the requirements received some grant money, which ranged from $500 to $2,500. 
"We announced the awards via email and did a press release [on Oct. 30], and I would say that the response from the businesses has been an overwhelming thank you. They say every little bit helps," Chamberlain said. "Even though the city did go with smaller amounts, everyone has been extremely grateful that they were able to get some grant funding."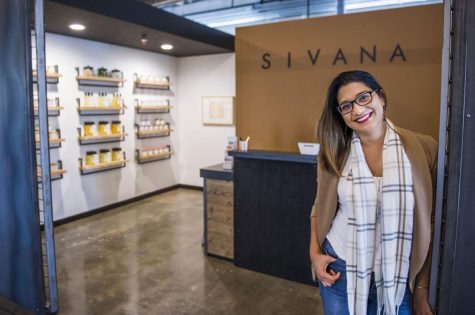 Gillian Lall, founder of Sivana Day Spa and Boutique, is extremely grateful for this grant because she doesn't qualify for most other grants. She doesn't meet the requirements for most small business grants because her business is less than a year old and she is the only employee. Lall plans to put the money towards her rent.
Lall opened Sivana just six months before the COVID-19 pandemic hit, and she emphasized the stress of keeping her young business open. She says that some days she's lucky just to see one person come into the store.
"Having invested so much of our personal savings into a business that I had just started six months prior to the COVID-19 quarantine is depressing," Lall said in an email to The Wire. "The thought 'should I continue' in these times did cross my mind… but I guess COVID-19 has made us fighters and gamblers alike."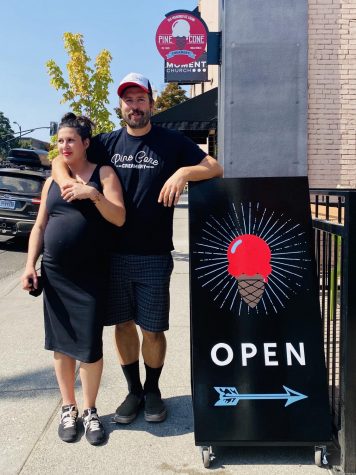 Rachel and Kory Nagler opened the Pine Cone Creamery this September, but have been feeling the effects of COVID-19 on their business long before officially opening. Lockdown forced them to halt construction on their shop. The Naglers also needed to put all of their effort into their other restaurant, The Maple Counter. This pause forced them to open Pine Cone Creamery after Labor Day, which is when sales begin to slow for ice cream shops.
"We are at a huge disadvantage going into the winter months. All of our capital has gone to construction and start-up costs," Rachel Nagler wrote in an email to The Wire. "The financial burden of opening in the fall, instead of spring or summer, is going to be a very big challenge for us."
The Naglers emphasized how much this grant will help them through winter. They plan to put it towards rent and payroll, two of their biggest expenses. 
Timothy Christie, founder and artistic director of the Walla Walla Chamber Music Festival, explained that COVID-19 has had a particularly devastating impact on the performing arts. Christie was forced to cancel their June season, which contained the bulk of the Walla Walla Chamber Music Festival's programming. This means that they lost $80,000 in ticket sales.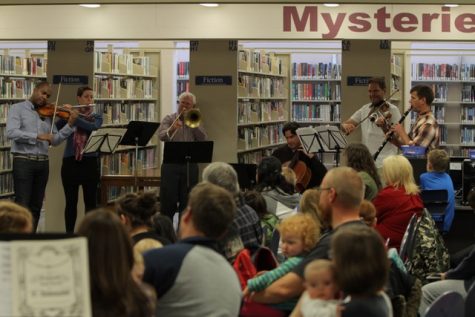 As a 501(c)(3) non-profit, the business relies heavily on ticket sales and donations from customers. To combat the loss of ticket sales, the Walla Walla Chamber Music Festival is offering monthly online classes and concerts. Christie plans to use the grant money on technological equipment that can be used to record and produce these online classes and performances. 
"We're grateful [to] the City of Walla Walla for making the grant opportunities available," Christie said. "It is an example of initiative on the city's part to try to inject some financial stimulus into things that are really important to the community."
Naperville offering grants for small businesses affected by COVID-19 - Chicago Daily Herald
Posted: 11 Nov 2020 01:58 PM PST
Naperville is offering grants of up to $5,000 to assist small businesses that have been negatively affected by the COVID-19 pandemic.
Working with the Naperville Development Partnership and the Naperville Area Chamber of Commerce, the city has earmarked a total of $100,000 for the program, funded through the Coronavirus Aid, Relief and Economic Security Act, according to a news release.
The money can help local business owners cover expenses, such as payroll, rent, mortgage costs, personal protective equipment or building modifications to meet public health guidelines.
An indoor dining ban and other coronavirus mitigation efforts have been in effect for more than two weeks in DuPage, Will, Kane and Kankakee counties amid a recent surge in cases. Test positivity rates and hospital admissions have continued to rise, prompting tighter rules to be implemented Wednesday in those two public health regions, including reducing the size of parties eating outdoors from 10 to six and limiting social gatherings from 25 to 10 people per room.
Many Naperville-area bars and restaurants have been struggling under the additional restrictions, community leaders said last week as they grappled over how to slow the spread of the virus while avoiding a major hit to the local economy.
Businesses have been adapting on the fly and developing creative ways to operate under the new guidelines. But a recent survey conducted by the chamber of commerce shows some are "near their breaking point," said Reba Osborne, director of government affairs.
"Many of them are small business owners who do not have large amounts of capital to keep them floating through rough times," she said in a statement. "Owners are forced to lay off good reliable employees who they may not be able to get back once the mitigations are lifted. There are many unknowns which run counter to being able to make sound financial business decisions."
The city has enacted several executive orders and implemented a six-month waiver of liquor and tobacco license fees to help ease the burden. Offering grants is the next step in Naperville's relief efforts, Mayor Steve Chirico said.
"This new grant funding provides another form of support to our small businesses as they do their very best during these challenging times to stay afloat," Chirico said.
Businesses with up to 50 employees are eligible if they had less than $2 million in annual revenue in 2019 and are able to document the pandemic's negative impact on income levels. Applicants also must be open within city limits with a valid certificate of occupancy and owned by a U.S. citizen or legal resident.
Those who meet basic requirements will be evaluated based on need, the use of funds for eligible expenses, and the ability to create or retain jobs, city officials said. Recipients will be chosen through a lottery system.
The grant application period begins at noon Thursday and closes at 5 p.m. Nov. 19. For information, visit www.naperville.il.us/cdbg.