Business Books for Women - Small Business Trends
---
Business Books for Women - Small Business Trends
Posted: 01 Oct 2020 08:30 AM PDT
by Katty Kay and Claire Shipman
Following the success of Lean In and Why Women Should Rule the World, the authors of the bestselling Womenomics provide yet another informative and practical guide to understanding the importance of confidence—and learning how to achieve it—for women of all ages and at all stages of their career. Claire Shipman and Katty Kay combine research in genetics, gender, behavior, and cognition to explain why girls can rule the world—all they need is confidence. The duo offers an empowering, entertaining guide for girls to become bold, brave, and fearless.
The book is a product of interviews with visits to the world's leading psychologists who explain how we can all chose to become more confident simply by taking action and courting risk, and how those actions change our physical wiring. They also interviewed women leaders from the world of politics, sports, the military, and the arts to learn how they have tapped into this elemental resource. Ultimately establishing how a lack of confidence can impact leadership, success, and fulfillment. This book should be on your list of leadership books for women.
Why do women not negotiate as well as men? Why are (some) women not taken as seriously as men in the workplace? The Confidence Code: The Science and Art of Self-Assurance—What Women Should Know explains the relationship between confidence, resilience, risk, and reward. After research that includes hundreds of interviews, the authors offer an insightful look at how internalizing cultural stereotypes can hold women back from competing. Female entrepreneurs will learn that it's not enough to know they are doing when it comes to performance situations.
The Women's Organisation supports 4,000 people in lockdown - Liverpool Business News
Posted: 01 Oct 2020 03:24 AM PDT
Award-winning Liverpool-based social enterprise has reached out to more than 4,000 people since the start of the COVID-19 crisis in March, including more than 1,000 entrepreneurs
More than 4,000 people have accessed support via Liverpool social enterprise The Women's Organisation since the start of the COVID-19 crisis in March.
This includes support for more than 1,000 entrepreneurs and a further 2,000 people accessing online training and events. The remainder contacted the award-winning organisation for one-to-one support on the phone and online.
Following the introduction of Coronavirus restrictions in March, The Women's Organisation immediately redesigned its portfolio of services to operate fully on an online and telephone basis.
Its Liverpool and Manchester operations have helped existing small and medium-sized enterprises navigate the uncertainty and upheaval caused by national and local lockdown measures, whilst also providing support for entrepreneurs embarking on launching their own ventures.
This includes offering much-needed professional advice and support for sole traders and small businesses who have been affected by pandemic restrictions, along with the inevitable setbacks, and have faced an uphill battle to access financial and technological packages to help sustain their business .
The extensive support programme also targeted businesses who experienced a surge in demand for their services and needed to rapidly develop their technology capacity to help drive sales and deliver products and services to customers.
Since lockdown began, The Women's Organisation has delivered more than 160 online training courses, events and webinars for both its personal development and enterprise support offering.
Around 2,000 women and men have attended online sessions organised by the social enterprise, while more than 1,050 virtual business advice appointments have been provided to help women across the Liverpool city region start, sustain or grow their businesses.
It has also taken on more than 330 new clients – 70% of whom were to explore new business ideas, which shows that, despite the massive disruption to business and personal lives, there is still an appetite to become self-employed.
And, during the past six months, The Women's Organisation has supported in excess of 4,000 women and men with their enquiries and connected them to relevant support networks across the region.
Among these is the Enterprise Hub programme, for which The Women's Organisation is lead partner throughout the Liverpool city region.
It coordinates and simplifies the business start-up and growth support available into a 'one front door' access point through one-to-one advice with a dedicated business advisor, either by video link or over the phone, alongside a programme of business training.
The Women's Organisation has also introduced new programmes and events to directly deal with issues arising from the pandemic.
A new service offers a special two-day Managing in a Crisis: Be Resilient course from Enterprise Hub Skills which looks at what it means to be resilient, offering practical tips to strengthen personal resilience, business resilience, and other areas of life which might have been impacted by COVID-19.
Managing in a Crisis is a fully-funded service aimed at women who are running a business, or working in a business, and finding it difficult to manage under current circumstances.
Another service introduced in response to the pandemic is Rapid Response, a series of free events and online webinars to help business owners improve their entrepreneurial skills, maintain momentum, and thrive throughout the pandemic. Sessions are led by industry experts who have, so far, covered topics such as accessing finance, promotion and marketing, innovation, and wellbeing.
And drawing on it's on the ground experience of working with women, the self-employed and SMEs throughout the pandemic, The Women's Organisation has also played a pivotal role in lobbying the Government on vital issues which have been impacting on individuals, local communities, and the business ecosystem.
Leaders from the organisation have led on lobbying efforts on issues including the Self-Employment Income Support Scheme (SEISS) which set women entrepreneurs at an unfair disadvantage for having taken maternity leave within the last assessment period.
The grant application process did not previously take into account any loss in profits due to taking time out from trading within the last assessment period when calculating the average profits, substantially bringing down the average, and therefore the grant available, for thousands.
Now, the scheme has been extended so that women are able to submit a claim based on older self-assessment returns for a fairer grant calculation.
Likewise, lobbying efforts from the organisation also saw the introduction of additional discretionary funding for the thousands of businesses, including those in shared spaces, which previously missed out on vital financial aid because of how they paid their business rates.
Jackie Williams, enterprise director of The Women's Organisation, said: "We understand that this continues to be a time of crisis for individuals, entrepreneurs and businesses alike. As always, we want to assure our local community and business ecosystem that The Women's Organisation is here to support you.
"We swiftly pivoted our services to ensure that the right digital and online support was in place to help people manage personally, and to support businesses not only to survive through these turbulent months, but to thrive and explore new opportunities.
"We have supported thousands of businesses to access millions of pounds of investment, critical to sustaining their businesses and providing a route to recovery. The sheer scale of need and demand for support is unprecedented.
"With more months of uncertainty ahead as we head into autumn and winter, I would urge anyone struggling or unsure about their next steps to get in touch and see how we can support you."
'Shark Tank' Class Gives Students Real World Experiences - Spectrum News 1
Posted: 29 Sep 2020 04:19 PM PDT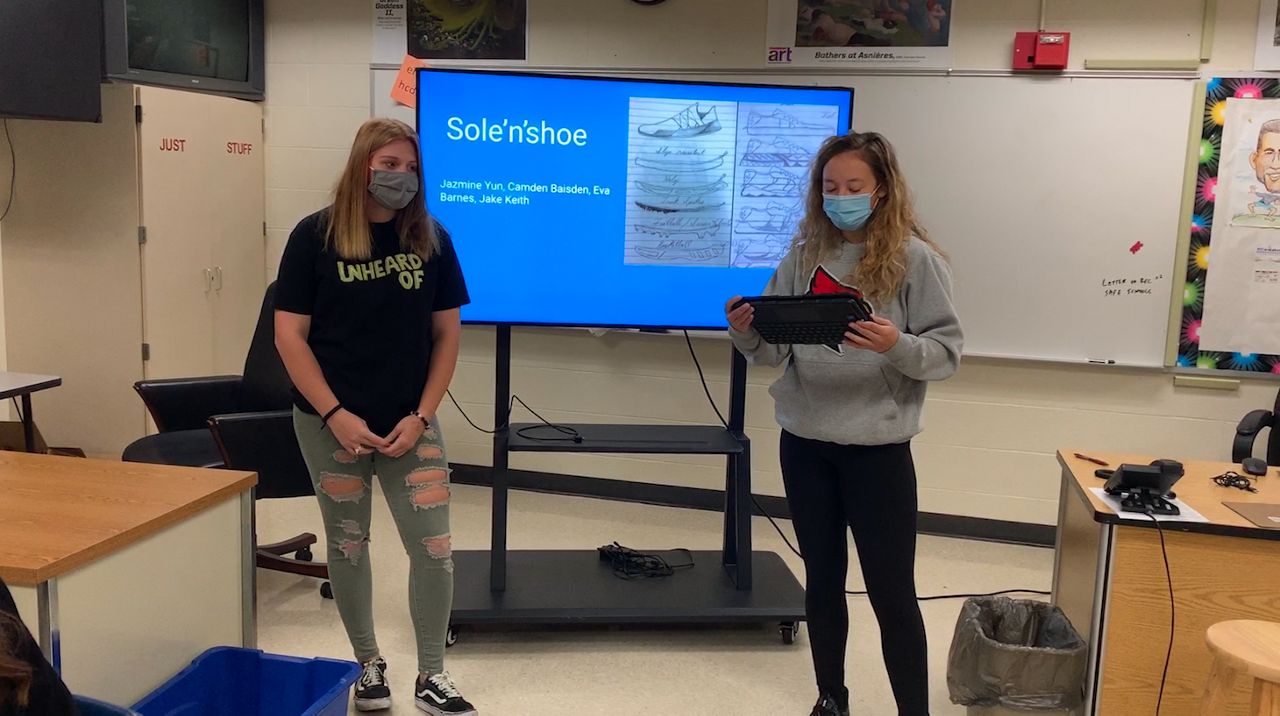 CINCINNATI — Many people dream of starting their own business. Some even hope to make it to the ultimate entrepreneurship step and get on the show "Shark Tank." For some high school students, they are getting about as close as you can to both of those things. 
---
What You Need To Know
Lakota Schools is one of just two school districts to offer a "Shark Tank" class to students


Students are grouped in teams and are tasked to solve a problem with a product or service


Each group will be mentored by a local business professional


At the end of the school year, the groups will present to investors in hopes of getting funded to make the idea a reality
---
​​For students at the Lakota high schools in southwest Ohio, being an entrepreneur is an encouraged path post graduation.
"Entrepreneurship was definitely not something you consider, you know, as you're growing up," Riley Higgins, a junior at Lakota East High School said. "It's always college or going into the military. So, that was interesting to see that they incorporated that. So, I think it'll be really interesting to see how many students choose that path."
And teachers are making it fun, by teaching a Shark Tank-style class that encourages students to work in groups and come up with business ideas that would create a solution to an everyday problem.
"No matter what career path they choose, the skills that we learn in class will go with them," said Kevin Keen, the teacher of the class. "So, I love that. And I love the fact that the students are working all year with a team and the team is working on something bigger than themselves."
Lakota Local Schools is just the second school district in the state to make Shark Tank a class for its students. The class, called InCubator EDU at Lakota, also brings in local business professionals to mentor the students through the process.
"I'm kind of looking at the second part of my life and what I want to do to help," said Steve Nguyen, a mentor in the program. "And so, when I was approached about this, I jumped at it because I love to coach and I love to help out with the kids."
"We're all just students, you know?" Higgins said. "A lot of us are juniors, especially in my group, and we don't have a lot of experience with this world and these people have been working in their fields for so long. Even looking through our options of mentors, who we wanted to pair with, they're all so achieved and they've had so many good things and great experiences in life. I think we'll learn so much from them and be able to apply that."
Right now, students are in the ideation process of their business and will soon be paired with mentors. With ideas such as an app for women to get home safer, to technology to prevent children from drowning, the students are taking the competition seriously and hope this can propel them to the next step.
"You see a lot of small businesses and you see a lot of things and you're like 'wow, I wish I could do that,'" Rehab Jarabah, a junior at Lakota East, said. "And then, reading stories about how people went from rags to riches from their small business because they had this one small idea and turned it into an empire."
Students at the end of the year will then pitch their ideas to investors. Teachers hope several of the ideas will be invested in and then students can take what they learned to the next steps of creating their business.
"Real world learning is talked about a lot," Keen said. "As teachers, we try to provide it in all of our classes. But to see something become really tangible and students could walk away from our building to continue to work on it, that would just be a tremendous, wonderful thing."