6 months into COVID-19, the small business economy is "ugly" - BenefitsPro
---
6 months into COVID-19, the small business economy is "ugly" - BenefitsPro
Posted: 29 Sep 2020 05:38 AM PDT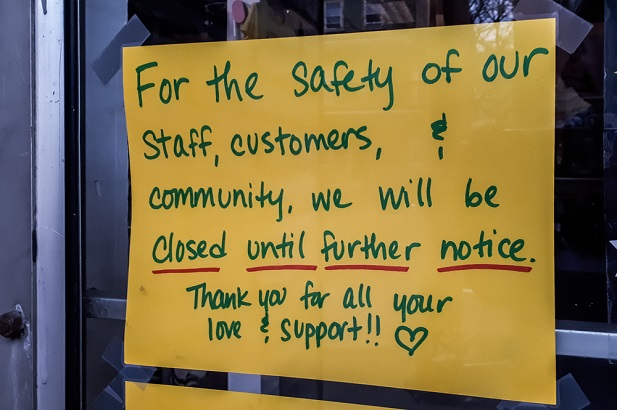 Low consumer confidence related to COVID-19 continues to plague small businesses. In a survey of 6,325 small business owners conducted by Alignable between Sept. 18 and Sept. 21, 60 percent said they continue to experience negative financial impacts related to the pandemic, and nearly half of those said the impacts are significant.
While some encouraging trends have begun to emerge and impact levels are showing signs of declining, Alignable said the situation is 'ugly.' The survey found a high degree of pessimism among small business owners, with 42 percent saying they expect fourth-quarter revenues to come in below what they need to stay in business.
Alignable, which began tracking the financial impacts of COVID-19 on small businesses in March, estimated last month that 35 percent of Main Street retailers were at risk to close during the fourth quarter. Just 30 days later, that figure is now 45 percent.
The pressure on retailers is extending to business-to-business owners as well. Twenty percent of B2B owners think more than half of their clients could close their doors by the end of this year. As a result, many B2B owners are also at risk to fail, with creative services providers, energy/utilities, general business service firms and construction companies at highest risk to shutter by the end of this year.
Small business owners said low consumer confidence is the biggest problem impacting their financial wellbeing. More than one-third of respondents who have been negatively impacted by the pandemic said reducing COVID-19 case levels would help them the most.
Business owners also said additional federal relief programs would be helpful, and almost three-quarters of respondents who have been negatively impacted said they would apply if a new relief package became available. However 27 percent of that group would only apply if the terms attached to the aid were less restrictive.
Interestingly, 47 percent of small business owners who reported the pandemic has had a positive impact on their business also indicated they would apply for available federal relief if they could. Alignable said the government should put checks in place to ensure businesses that truly need assistance the most would have access to aid packages.
Business owners also favored state and local programs that encourage support of local business, but about 15 percent of small business owners said the only thing they think they can do about the current situation is ride it out.
Kristen Beckman is a freelance writer based in Colorado. She previously was a writer and editor for ALM's Retirement Advisor magazine and LifeHealthPro online channel. She also was a reporter for Business Insurance magazine covering workers compensation topics. Kristen graduated from the University of Missouri with a degree in journalism.
READ MORE:
Small business accounting regulations and tax shelter implications - Journal of Accountancy
Posted: 28 Sep 2020 08:15 AM PDT
The IRS issued proposed regulations (REG-132766-18) on July 30 related to simplified tax accounting rules for small businesses and updating various tax accounting regulations to adopt the simplified rules enacted by the law known as the Tax Cuts and Jobs Act (TCJA), P.L. 115-97, under Secs. 448, 263A, 460, and 471. The proposed regulations apply to taxpayers that have inflation-adjusted gross receipts of $26 million or less. (For additional background on the proposed regulations, see "Simplified Accounting Rules Issued for Small Businesses"; on the topic of small business exceptions under the TCJA see "A Quirk in the TCJA's Small Business Exceptions" and "Relief for Small Business Tax Accounting Methods.")
The simplifications provided for under the TCJA include a few main provisions, such as: (1) allowing small businesses to use the cash method of accounting instead of the accrual method, even if they have inventory (Sec. 448(c)); (2) not requiring capitalization of additional uniform capitalization (UNICAP) costs to inventory (Sec. 263(A)(i)); (3) treating inventory as nonincidental materials and supplies or using an inventory method that conforms to the taxpayer's financial accounting treatment of inventories (Sec. 471(c)); and (4) not accounting for long-term construction contracts using the percentage-of-completion method (PCM) of accounting (Sec. 460(e)(1)(B)). Sec. 471(c) outlines that if the taxpayer does not have an applicable financial statement (AFS), it may account for inventory following the method used for "the books and records of the taxpayer prepared in accordance with the taxpayer's accounting procedures." The proposed regulations provide guidance and examples on the meaning of this method.
Taxpayers classified as tax shelters are prohibited from using the simplified rules as outlined above even if they meet the gross receipts test. A tax shelter is a partnership or any other entity (except a C corporation) where more than 35% of losses for the tax year are allocated to limited partners or limited entrepreneurs. Note that Temp. Regs. Sec. 1.448-1T(b)(3) uses the term "allocated" while Sec. 1256(e)(3)(B) uses the term "allocable." The preamble to the proposed regulations describes "allocated" as more favorable because an entity could only potentially be a syndicate (tax shelter) in a year when it has losses. The proposed regulations follow Temp. Regs. Sec. 1.448-1T(b)(3) on this point (Prop. Regs. Sec. 1.448-2(b)(2)(iii)).
This definition of tax shelter can pose certain problems, as the rule does not allow or account for large deductions or losses during a tax year. For example, large Sec. 481(a) adjustments (a common adjustment related to implementing the recent qualified improvement property (QIP) technical correction change) might create a loss causing the entity to be a tax shelter for the year. The proposed regulations do not address a workaround or exceptions. The taxpayer is also then locked into the accrual method and cannot change back to the cash method for five years, which is generally unfavorable, unless requested using an advance consent accounting method change.
The proposed regulations allow for a permanent election to determine any year's tax shelter status based on allocations of the prior year, which provides some limited relief. (See Prop. Regs. Sec. 1.448-2(b)(2)(iii)(B) for the details on how the election is made and what happens if the taxpayer is able to later have it revoked.) This election allows an entity to know at the start of the year if it is a syndicate rather than perhaps not knowing until past year end. However, this election to use last year's information only delays the impact by a year. That is, the next year an affected entity would no longer be allowed to use any of the simplified methods for small businesses.
One recommendation to ease the transition to the accrual method would be to use a rolling multiyear average of taxable income, which could provide more certainty and consistency, although it may provide some challenges (for example, in cases where a first-year entity is involved). However, there is value in knowing when a business is changing from the cash to the accrual method and having a year in which to plan for the change. A business would be able to decide which tax year the Sec. 481(a) adjustment is included in taxable income, choosing to recognize the adjustment in the tax year most advantageous to the business. Also, even if the cash method is preferable, a business can plan ahead and make informed business decisions to minimize the impact of a change in accounting method, such as deferring payments of expenses to a subsequent accrual method tax year, using accrual accounting methods to accelerate the deduction of expenses and defer recognition of advance payments.
The reality for many taxpayers is that even though they are supposed to be on an accrual method according to the long-standing rule of Sec. 448(a) if they are in fact a tax shelter, they may have not changed historically because there was not a material difference between cash and accrual. However, with the pandemic many taxpayers are facing significant tax losses in 2020, so the difference may be material now. For example, a business unable to pay all of its bills cannot deduct those expenses in a cash-basis measure of taxable income. However, under the accrual method, all or most of the expenses may be deductible under the rules of Sec. 461. To change from cash to accrual, the tax shelter uses the automatic change procedures of Rev. Proc. 2019-43.
The AICPA has previously recommended (in a letter dated May 7, 2020) that the definition of tax shelter be modernized in order to simplify the tax system for many small businesses and provide parity among business entity forms. The TCJA allows favorable accounting methods for small businesses; however, if a small business meets the definition of a tax shelter these favorable rules do not apply, even though the business has no tax avoidance or evasion purpose. The definition of tax shelter used by the TCJA is the same one added to Sec. 448 in 1986 and goes well beyond an entity formed for tax avoidance or evasion purposes, which is how most people would define a tax shelter. The AICPA previously recommended that Treasury and the IRS exercise regulatory authority under Sec. 1256(e)(3)(C)(v) to provide that all the interests held in entities that meet the definition of a syndicate but otherwise meet the Sec. 448(c) gross receipts test be deemed as held by individuals who actively participate in the management of the entity. (See the AICPA's comment letter "Re: Small Business Relief From Definition of Tax Shelter" (Feb. 13, 2019).)
The old (yet still used) definition, given even broader significance by the TCJA, includes a syndicate where over 35% of losses for a tax year are allocable to owners who do not actively participate in management of the entity (not uncommon for a small business operating as a limited liability company (LLC) with multiple owners). The IRS and Treasury did not accept the recommendation to deem all investors as active participants if the taxpayer is under the gross receipts' threshold, which the AICPA put forth previously. The concerns of 1986 do not exist today particularly because the passive activity loss limitation rules of Sec. 469, enacted in 1986, prevent passive owners from deducting entity losses unless the owner also has passive activity income. In addition, in 1986, use of the LLC entity was rare, as most states did not even have LLC laws.
If a tax shelter limitation is needed, the definition of tax shelter at Sec. 6662(d)(2)(C) of an entity with a significant purpose of avoidance or evasion of federal income tax is the more appropriate definition today, given other loss limitation rules already in the law and the reality that LLCs are a favored entity form for small businesses. In addition, the broader definition harms entities with inactive owners who often provide needed financing, yet the entity was not formed for tax avoidance or evasion. (See the AICPA position paper "Recommendations for Tax Law Changes to Reflect How Small Businesses Operate in the Modern World" (March 20, 2019).)
The rules will be effective beginning on or after the date the final regulations are published in the Federal Register. For tax years beginning after Dec. 31, 2017, and before the final regulations are published, a taxpayer may early-adopt the proposed regulations provided that the taxpayer follows all the applicable rules contained in the proposed regulations for each Code provision that the taxpayer chooses to apply. Advisers should consider all of the available options and the client's individual circumstances when applying the proposed regulations.
— Elizabeth Young, CPA, J.D., LL.M., is a senior manager–Tax Policy & Advocacy with the AICPA in Washington, D.C. Nathan Clark, CPA, is a partner with Dixon Hughes Goodman LLP in Charlotte, N.C., and a member of the AICPA Tax Methods and Periods Technical Resource Panel. To comment on this article or to suggest an idea for another article, contact Alistair M. Nevius, J.D., (Alistair.Nevius@aicpa-cima.org) the JofA's editor in chief, tax.
Beauty icon Bobbi Brown has this advice for small business owners during the pandemic - CNBC
Posted: 29 Sep 2020 07:59 AM PDT
Bobbi Brown, who left her eponymous cosmetics company in 2016, is now founder and CEO of Beauty Evolution.
Source: Ben Ritter
Navigating the pandemic hasn't been easy for business owners. Serial entrepreneur Bobbi Brown is no exception.
The beauty icon, who sold her eponymous cosmetics company to Estée Lauder in 1995, is now founder and CEO of Beauty Evolution, a lifestyle and content company. 
"Parts have definitely been frustrating," Brown said of the pandemic. That includes things such as being physically separated from her team.
"Mostly, I've been focusing on the positive — the power of Zoom calls, virtual [public relations] opportunities, Instagram Lives, and having the time and space to connect with people I would've never met," she said.
The self-made millionaire certainly isn't a stranger to embracing change. She walked away from Bobbi Brown Cosmetics in late 2016, after building the company from scratch in 1991 and staying through about two decades of Estée Lauder's ownership.
Brown decided to return to her entrepreneurial roots and start Beauty Evolution, LLC and Evolution 18, a collection of supplements designed to address skin, nails and hair issues. She also has an accompanying editorial site, justBOBBI, and has become a certified health coach with the Institute for Integrative Nutrition.
In times of change, it's important to try to adapt to keep your business afloat, said Brown, now 63.
Bobbi Brown is a certified health coach with the Institute for Integrative Nutrition.
Source: Ben Ritter
Many haven't been able to survive. About 60% of businesses that closed during the pandemic won't be reopening, according to Yelp's Economic Impact Report, released in mid-September.
"Sometimes it's important to press the reset button — look at what's working and what's not, and make changes," said Brown, who will be participating in the Ewing Marion Kauffman Foundation and CNBC + Acorns Invest in You's "Rebuilding Better: A Virtual Town Hall for America's Small & New Business Owners" on Wednesday.
That means thinking outside the box and looking at all the avenues that people are using right now, she added.
"Can you shift your business online? Can you use social media? What can you do from the comfort of your home?" Brown said. "Stay resilient by challenging yourself to innovate."
For instance, she's seen chefs creating at-home meal services, and hairdressers offering do-it-yourself hair color.
'Never give up'
Women, however, may be facing some unique challenges, since they were already fighting an uphill battle before the crisis hit.
For example, all-women founding teams raised only 2.2% of all venture capital funding in 2017, according to the Kauffman Foundation's Capital Access Lab. Men were 60% more likely to secure funding than women pitching the same business, it found.
Bobbi Brown applies make up to actress Scarlett Johansson during Olympus Fashion Week in 2006.
Stephen Lovekin | WireImage | Getty Images
Network
It's also key that entrepreneurs continue to build relationships, even though Covid-19 has impacted in-person networking events.
Those relationships will give you support, camaraderie and help you feel like part of a community, said Brown, who has written several best-selling books, including her latest, "Beauty From the Inside Out."
"There's nothing like getting advice from people who have experienced what you're going through," she said.
Her advice: Reach out to people through social media, especially LinkedIn and Instagram. In fact, Brown has taken on several mentees during the pandemic through Instagram.
"You never know who will answer you," Brown said.
REGISTER: The Ewing Marion Kauffman Foundation and CNBC + Acorns Invest in You's "Rebuilding Better: A Virtual Town Hall for America's Small & New Business Owners" will take place Wednesday, September 30 at 1pm ET. To register, click here. Please note that registration is limited. 
SIGN UP: Money 101 is an 8-week learning course to financial freedom, delivered weekly to your inbox.
CHECK OUT: 20 smart ways to make money on the side: Some of these gigs can pay more than $100/hr via Grow with Acorns+CNBC.
Disclosure: NBCUniversal and Comcast Ventures are investors in Acorns.