City establishes small business grant program - Seal Beach News
---
City establishes small business grant program - Seal Beach News
Posted: 26 Jun 2020 01:20 PM PDT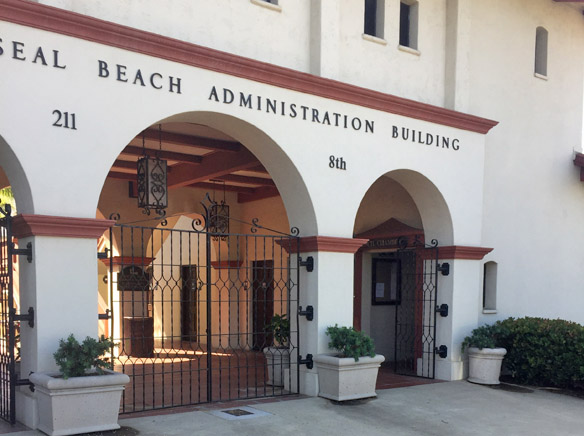 Seal Beach has created a small business grant program.
The City Council on Monday, June 22, voted unanimously to approve a resolution to create of a Business Relief Grant program.
The director of the Community Development Department said the city hopes to have the funds distributed by the end of July.
The city has received $562,000 in CARES Act money from Orange County, according to the Community Development Director Les Johnson's staff report to the City Council.
During his verbal presentation to the council, Johnson said the funding would benefit approximately 60 to 80 businesses. The amount of money available will depend on the size of the employees and compliance with guidelines for reopening.
Among the requirements for grant applicants, according to Johnson, the businesses must be for-profit, must be physically located in Seal Beach and must have 30 or fewer employees.
Johnson said if there are more applications than funds, a lottery system will be implemented.
There are about 1,700 currently licensed businesses in Seal Beach, according to Johnson's written report.
As his report points out, COVID-19 shutdowns have hit the Seal Beach Community hard.
"Seal Beach is home to hundreds of small businesses that have been required to close their doors or significantly restrict operations as a result of COVID-19 and the State's stay-at-home order. As a result, these businesses are struggling to maintain rent, utilities, payroll, and other basic operational costs," Johnson wrote.
The  city will use the Orange County/Inland Empire Small Business Development Center to distribute the CARES Act funds to small Seal Beach businesses.
The service will be free, according to the development director's report.
Johnson wrote that Seal Beach doesn't have the staff to promote, manage or audit the grant program.
Orange County/Inland Empire Small Business Development Center is small business assistance network in the United States that "is funded in part by the United States Congress through a partnership with the U.S. Small Business Administration," according to Johnson's report.
"The OCIE SBDC typically charges a 2% fee for their services. However, the OCIE SBDC was just notified that they'll be receiving additional CARES Act funding from the Small Business Administration and are able to provide their services free of charge," Johnson wrote.
"The recent receipt of approximately $562,000 in CARES Act funding from Orange County requires use of these funds for the purpose of providing small business grants to assist with covering operational costs that are unable to be paid due to COVID-19," Johnson wrote.
"I think this is one of the few programs I've ever seen that essentially covers all the bases," said District One Councilman Joe Kalmick.
Chamber reaction
"On the record, we think it's  a wonderful opportunity to assist those businesses that were unable to take advantage of the PPP  and EIDN Loan programs," wrote Kori DeLeon, president of the Seal Beach Chamber of Commerce, in a Monday afternoon email to the Sun.
"It's aligned to be very similar to several other communities as they also unveil grants in their cities.   It's going to put much needed funds in business owner's hands right at a time when businesses are ordering additional inventory," DeLeon wrote.
Taylor kicks off small business grant program | News - Southgate News Herald
Posted: 26 Jun 2020 12:56 PM PDT
The city of Taylor is offering small business relaunch grants of up to $7,500 as part of its "Taylor Together: Small Business Relaunch Grant Program." The program will aid the business community in overcoming the ongoing effects of the COVID-19 pandemic. Applications will be accepted through July 20.
Businesses or non-profits that employ fewer than 25 employees and are physically located in Taylor are eligible for the grant. Those applying must be current with property and personal taxes paid through 2019. In addition, they must show proof of insurance have been a licensed business in Taylor prior to Feb. 29, 2020.
Businesses applying for the city's relaunch program should be ready to supply copies of the following:
Profit and loss or tax statements for 2017, 2018 and 2019
Estimated revenues for January-May 2020
Estimated revenue losses for April-May 2020
Proof of location in Taylor (lease or deed)
Complete W-9 form and voided check
If eligible for the grant, a business owner can apply at www.cityoftaylor.com/1450/Small-Business-Relaunch-Grant. All requests will be numerically scored and judged by an internal committee. The city has up to $200,000 in grants. Another $26,000 is allocated to personal protection equipment and cleaning support, which will be rolled out at a later date. In the application process, qualifying businesses can request a grant, PPE assistance or both.
The Taylor Community Development Department is a vested partner in assisting businesses by leveraging funding that was part of the Coronavirus Aid, Relief and Economic Security (CARES) Act. The program will use U.S. Department of Housing and Urban Development grants to aid in various relaunch costs incurred after March 23, 2020, including:
Rent, lease or mortgage
Payroll
Health care
Utilities
Personal protection equipment, sanitation supplies or electrostatic cleaning
According to 2016 data, businesses with 20 or fewer staffers employ 16 percent of the nation's total workforce. Firms with 500 or fewer staff members employ 46 percent of America's workers, and firms with 100 or fewer employees account for another 33 percent of the workforce.
America's unemployment rate was 13.3 percent last month, among the highest recorded figures in U.S. history. Official numbers for April and May should have been worse due to errors in the data collection process, according to the Bureau of Labor Statistics. Michigan has been hit hard – its unemployment rate of 22 percent trends higher than every state except Nevada. It was one of only six states that lost more than 1 million jobs. So there is plenty of work to do in an effort to reset the economy.
"We're focusing on getting applications from small businesses, micro-businesses, that were substantially affected in a negative manner from the state's stay home orders," Community Development Manager Jeff Baum said. "Shutting down non-essential businesses put them in a tough spot. It effected their ability to make their payroll, pay their rent or mortgages, supplies and such."
Not every applicant will receive funding, and not every application accepted will receive the highest award of $7,500.
"We have developed a scoring system that will help the committee judge the needs of the applicants, in an attempt to award the relaunch monies," Baum said. "The goal is to partner with our business community, help them over this hurdle, give them a boost and keep economic development in our city healthy."
The "Taylor Together" program is multi-faceted and ever changing. Before the relaunch grant program was announced, Taylor created and approved an emergency ordinance streamlining a business's ability to expand use of outdoor property, events, signage and other activities related to governmental restrictions due to the ongoing global COVID-19 pandemic. This Temporary Emergency COVID-19 Recovery Ordinance immediately enabled restaurateurs and bar owners to, in certain circumstances, expand outdoor seating and other offerings. They still go through a step-by-step process to receive an Outdoor Dining & Seating Permit, but the entire program has been streamlined.
For more information, call the Community Development Department at (734) 258-4180.
(NOTE: Wayne County is running a larger, parallel, "Back to Work" grant program, with $50M in available funding and will be offering some 5,000 grants. The county offers up to $10,000 per grant and its applications must be received by July 10. Learn more about the county grant at www.waynecounty.com/backtowork/small-business-grant-program.aspx.
Applications for $75 million 'We're All In Small Business Grants' extended until June 26 - WITI FOX 6 Milwaukee
Posted: 24 Jun 2020 05:06 AM PDT
Applications for $75 million 'We're All In Small Business Grants' extended until June 26
MADISON — The Wisconsin Economic Development Corporation (WEDC) is extending the deadline until 11:59 p.m. on Friday, June 26, for small businesses to apply online for the $2,500 We're All In Small Business Grants, WEDC officials announced Wednesday, June 24.
The deadline was extended to give additional businesses more time to get needed documents and submit their information to WEDC.
According to a press release, the program, which will provide $2,500 grants to 30,000 small businesses, is designed to help small businesses recover from the COVID-19 pandemic, while also encouraging them to adopt best practices to keep employees, customers and communities safe.
WEDC Secretary and CEO Missy Hughes said the We're All In grants "will not be determined on a first-come, first-served basis, so businesses all have the same chance of receiving a grant, regardless of when they apply. But with the limited time that's left, we're encouraging businesses to apply now so that if they have questions, they don't risk missing out on this important resource."
Funded primarily by the federal Coronavirus Aid, Relief, and Economic Security (CARES) Act, the grants will help small businesses with the costs of business interruption or health and safety improvements, wages and salaries, rent, mortgages and inventory, according to a press release.
The online application, FAQs, and other information about the grant can be found here. The online grant application will be open at the same site from until 11:59 p.m. on Friday, June 26. WEDC anticipates releasing the first round of payments by early to mid-July.
A business may apply for the We're All In Small Business Grant if it:
Started operating prior to Jan. 1, 2020, and was operating as of Feb. 2020;
Is Wisconsin-based and for-profit;
Employs 20 or fewer full-time equivalent (FTE) employees, including the owner; and
Has more than $0 but less than $1 million in annual revenues.
Businesses will not be eligible for the grants if they are:
Part of a national chain, unless the business is a third-party franchise;
Industries covered by other Wisconsin CARES Act Coronavirus Relief Fund programs These are:
To prepare for the online application process, businesses should be ready to upload the following documents to the WEDC application:
2018 or 2019 federal tax return for business. (Businesses started in 2020 are not eligible for this grant.)
Signed and dated W-9 form available here.
An email or letter of acknowledgement from a community organization indicating the business was in operation in February 2020. Letters or emails can be from any of the following:

Chamber of commerce
Main Street or Connect Communities organization
Local business improvement district
Neighborhood economic development association
Local economic development organization
County economic development organization
Municipality, including tribal government
County
Local bank, credit union or community development financial institution
Regional UW Small Business Development Center: Request online.
U.S. Export Assistance Center – Wisconsin
Regional economic development organization
Regional Planning Commission
Trade association
Supervisors approve Rockingham County small business grant fund program - WHSV
Posted: 26 Jun 2020 03:32 PM PDT
ROCKINGHAM COUNTY, Va. (WHSV) — On Wednesday, the Rockingham County Board of Supervisors approved the plan for the Rockingham County Small Business Grand Fun program in response to COVID-19.
Starting next month, Rockingham County will start a small business grant program to help local businesses recover from their time being closed during the COVID-19 pandemic.
The program is being funded from the Coronavirus Aid Relief and Economic Security (CARES) Act that was awarded to the county by the federal government.
$500,000 will be set aside to provide grants to local businesses.
Assistant Count Administrator Casey Armstrong said they've had a strong interset already after the program was discussed earlier this month.
"We've had several businesses contact us over the last week or so and I believe this is going to be a very popular program, and we want to reach as many people as we can," Armstrong said.
The grants will be available on a first-come, first-serve basis and businesses in the county and towns can apply.
Businesses would have to have a minimum of three employees and a maximum of 50 full-time employees on their site in Rockingham County.
Each business must have gross receipts less than $2,000,000 and have experienced a revenue loss of 25% or greater due to COVID-19.
Armstrong said businesses with three to 25 employees are eligible for a grant of $5,000 and those with 26 to 50 are eligible for a grant of up to $10,000.
The application window for the grants will run from July 13 to July 24.
The full grant program agreement and application will be found on the county's website.
A submitted application must be sent to publiccomment@rockinghamcountyva.gov by 5 p.m. on July 24.
Copyright 2020 WHSV. All rights reserved.