Small Business Administration Releases Guidelines For Stimulus Loans Hours Before Planned Launch. Banks Aren't Ready. - Forbes
---
Small Business Administration Releases Guidelines For Stimulus Loans Hours Before Planned Launch. Banks Aren't Ready. - Forbes
Posted: 02 Apr 2020 05:58 PM PDT
Topline: The Small Business Administration issued guidance for its Paycheck Protection Program—a key part of the economic stimulus package that allocates $349 billion for small businesses to access forgivable loans for payroll and overhead—hours ahead of its launch. American banks warned they wouldn't be ready to lend. 
Treasury Secretary Steven Mnuchin tweeted guidance for lenders at 7:15 p.m. ET:
The program will offer loans of up to $10 million at 1% interest to companies and nonprofits with fewer than 500 workers so they can cover two months of payroll and overhead expenses.

If the borrower retains workers and doesn't cut their wages, the government will forgive most or all of the loan and repay bank lenders. 

The application period for the program begins after midnight on Thursday, and Mnuchin doubled down on the timing at a press conference in the afternoon, saying that it will be "up and running tomorrow." 

In the week since President Trump signed the legislation, banks that are being inundated with customer calls received little guidance from the government and are now indicating that they might not be ready to start lending. 

"They're not ready at all, they're desperately awaiting guidance on how to do this," Ami Kassar, CEO of small business loan advisory firm MultiFunding, told

CNBC

. "I think it's going to be a mess for weeks."

JPMorgan Chase emailed its customers late Thursday with the news that it would "most likely not be able to start accepting applications on Friday, April 3rd as [it] had hoped," according to a

CNBC report

. 

The National Association of Government Guaranteed Lenders—a trade group—had to postpone a training call for 1,500 lenders on Thursday because it did not have the information it needed from the SBA, the

New York Times reports

. 

Brock Blake, CEO of small business loan marketplace Lendio, tweeted: "Wow. What a mess!"
Crucial quote: "It's utter chaos," James Brower, a partner at New York accounting firm Marks Paneth, told NBC News. "Business owners are clamoring for this money. They want to pay their people." And banks are struggling to keep up: "We're now hearing from bankers that they may not want to get into the program because the law doesn't have a whole lot of specifics in it, yet the phone lines are jammed with business owners begging for loan applications," Brower said.
Key background: The historic stimulus package—worth more than $2 trillion—also includes a $500 billion corporate bailout fund, expanded unemployment payments and aid for hospitals. Under the bill, most American adults will also receive a direct payment of $1,200 each, and $500 per child (couples will receive $2,400), subject to income restrictions. Treasury Secretary Steven Mnuchin has said that those eligible can expect to receive the money within three weeks if the Internal Revenue Service has information about their bank account and can make a direct deposit of the funds. (Others, who get paper checks, will likely have to wait longer.)
Scammers using Small Business Administration's name to con during COVID-19 - Standard-Times
Posted: 02 Apr 2020 10:16 AM PDT
Share This Story!
Let friends in your social network know what you are reading about
Posted!
A link has been posted to your Facebook feed.
CLOSE

Scammers are using the Small Business Administration's (SBA) name to con small businesses and people during the COVID-19 crisis through phone calls, emails, text messages and letters, according to a release from the City of San Angelo.
From the release, note these items when being contacted by a potential scammer: 
If you are contacted by someone claiming to be from the SBA, suspect fraud. 
Emails from SBA or other legitimate government agencies will always end in .gov.
There is no cost to apply for a COVID-19 Economic Injury Disaster Loan and SBA will never ask you to provide a credit card.
Do not release any private information (social security number, date of birth, etc.) or banking information in response to an unsolicited caller, letter, email, or text.
If you are in the process of applying for an SBA loan and receive email correspondence asking for PII, ensure that the referenced application number is consistent with your application number.
An SBA logo on an email or web page does not guarantee the information is accurate or from the SBA.
Check for spelling and grammatical errors in an email and be wary of clicking on any links or attachments.
Trust your instincts. If something seems too good to be true, then it probably is too good to be true.
For more information, questions
For help with applying for an Economic Injury Disaster Loan, call 800-659-2955 or email disastercustomerservice@sba.gov. 
For inquiries regarding support for small businesses, send an email to answerdesk@sba.gov.
Visit the Small Business Cybersecurity site to learn more about small Business Cybersecurity tips, common threats, training, and best practices. 
Visit the U.S. Department of Homeland Security's Cyber Infrastructure site for small business resources.
Read or Share this story: https://www.gosanangelo.com/story/news/2020/04/02/scammers-using-small-business-administrations-name-con-during-covid-19/5111640002/
Small Business Administration helps during challenging times | Opinion - LA Downtown News Online
Posted: 02 Apr 2020 01:00 AM PDT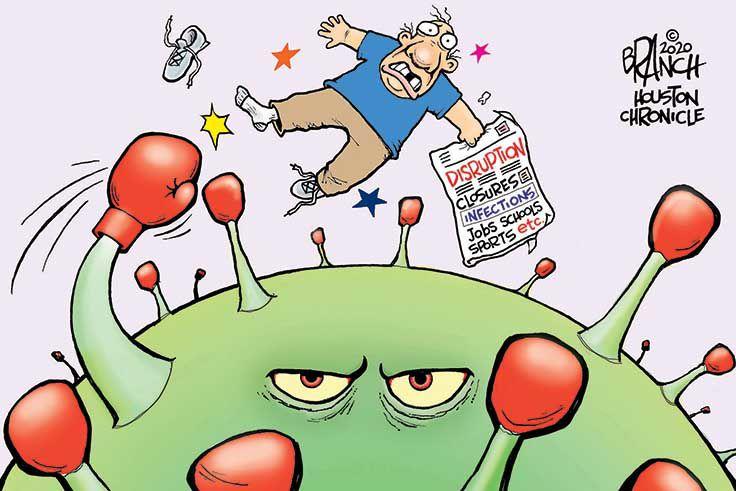 When we think about the fabric of America–the very essence of our culture is derived from the spirit of entrepreneurism. Small-businesses are, and always have been, the backbone of the American economy and the cornerstone of our communities. At the U.S. Small Business Administration (SBA), our job is to support small business owners and entrepreneurs at every stage of the journey to small-business success. As the District Director for SBA's Los Angeles District Office, I assure you my team and I are here for you. We are honored, proud and dedicated to continue to assist our community to achieve or recover their entrepreneurial dreams.
As we continue to navigate the ongoing effects of COVID-19 together, the SBA Los Angeles District Office would like to make sure that the resources our entrepreneurial community needs are readily available. With the national emergency declaration, the federal government is leveraging all its power, and has taken decisive action to ensure state/territory, local, and tribal leaders have the resources they need to provide protective measures for their communities and limit the spread of COVID-19 in the U.S. The collective resources for this can be found at usa.gov/coronavirus or en Español, gobierno.usa.gov/coronavirus.
The SBA is focused on providing assistance to small businesses impacted by this health emergency with recovery, counseling, mentoring, and preparedness resources. An overview of these resources can be found at sba.gov/coronavirus. 
In light of the effects of COVID-19 on our national small business community, the SBA has been authorized to offer Economic Injury Disaster Loans (EIDL) to small businesses and private nonprofits in need of working capital and support with operating expenses. 
SBA's Economic Injury Disaster Loans offer up to $2 million in assistance per small business/private nonprofit and can provide vital economic support to small firms to help overcome the temporary loss of revenue they are experiencing. These loans may be used to pay fixed debts, payroll, accounts payable and other bills that can't be paid because of the disaster's impact. The interest rate is 3.75% for small businesses and 2.75% for private, nonprofit organizations. These loans are offered with long-term repayments in order to keep payments affordable, up to a maximum of 30 years. Terms are determined on a case-by-case basis, based upon each borrower's ability to repay.
Small businesses and private nonprofits can apply online at: disasterloan.sba.gov/ela. Loan applications can also be submitted via email at ela.doc@sba.gov, via fax at 202-481-1505, and via mail to:
U.S. Small Business Administration
Processing and Disbursement Center
14925 Kingsport Road
Fort Worth, TX 76155-2243
For additional information, please contact the SBA disaster assistance customer service center at 1-800-659-2955 (TTY: 1-800-877-8339) e-mail disastercustomerservice@sba.gov. 
The SBA has a vast network of resource partners, such as Small Business Development Centers, Women's Business Centers, Veterans Business Outreach Centers and SCORE mentors, available virtually and over the phone to assist with any business development or recovery needs. These resources are available in a wide breadth of languages. To find the resource partner nearest you, visit sba.gov/local-assistance. 
The SBA's Los Angeles District Office is available to support our small-business community as we move through these challenging times together. For the most up-to-date information, follow us on Twitter at @SBA_LosAngeles, visit our website at sba.gov/ca/la, email us at lado@sba.gov, or call us at 213-634-3855.