Small businesses seek answers to uncertainty in federal stimulus - The Boston Globe
---
Small businesses seek answers to uncertainty in federal stimulus - The Boston Globe
Posted: 26 Mar 2020 04:38 PM PDT
"Every little bit helps," she acknowledged. "But what if it doesn't help enough and you end up closing anyway? What good does that do?"
The $2 trillion stimulus package, which was passed by the Senate and is awaiting a vote in the House, would offer several relief options for small business owners. A $10 billion emergency grant fund will award $10,000 grants to small businesses that have applied for economic injury disaster loans so that they can offer paid sick leave or maintain payroll for workers, or to cover production costs or pay business obligations like rent and mortgage payments. Those grants will not need to be repaid.
The second component is the Paycheck Protection Program, a nearly $350 billion fund that will provide eight weeks of assistance to small businesses that maintain their payroll during the emergency. The loans would be available to companies with 500 or fewer employees, and would include nonprofits, self-employed people, and hotel and restaurant chains with up to 500 workers per location. If the companies maintain payroll for the eight-week period, those loans would be forgiven.
And the third piece of the bill would drastically overhaul the eligibility requirements for unemployment insurance, which would expand benefits to gig workers, the self-employed, and workers who may be furloughed but are still receiving health insurance from their employers. There would also be a $600 increase to the weekly benefit for four months.
"This is all designed to get money into people's hands now," said Massachusetts Senator Elizabeth Warren, who joined Boston Mayor Martin J. Walsh on a Thursday morning conference call with over 1,000 small business owners to explain the nuances of the legislation.
"This is an unprecedented response to an unprecedented crisis," Warren continued. "And everyone is working in good faith to try to both respond to the health needs of people across this country and to cushion the economic blow from the coronavirus outbreak."
Todd McCracken, president of the National Small Business Association, an advocacy group representing about 65,000 companies, was optimistic that the bill would work to help small businesses weather the disruption.
"It's going to help a lot of small businesses get through a very tough time. Every day more small businesses are laying people off or facing the decision about what to do," he said.,
The next question is how quickly the details will be finished. The program is designed to speed money to businesses by allowing the loans to be made by private banks, McCracken said. The federal government then would pay off all or a percentage of the loan based on how many employees are kept on the payroll.
McCracken hopes that businesses could get the loans in the next two to three weeks. On Wednesday, Treasury Secretary Steven Mnuchin indicated that they would be distributed within that time frame.
Kevin Kuhlman, senior director of federal government relations for the National Federation of Independent Business, said the organization is cautiously optimistic that the small business provisions in the stimulus bill are large and broad enough to deal with the crisis.
"Our members are telling us they need cash flow and liquidity and they are reluctant to take out either traditional or disaster loans during such an uncertain time," he said. "The hope is that this program will provide that liquidity and cash flow that allows them to keep employees on at least for the next two to two-and-a-half months."
Kuhlman said it was unclear if $350 billion would be enough for the paycheck protection program but was encouraged that Senators Marco Rubio of Florida and Susan Collins of Maine, who wrote the provision, have said they're open to revisiting it if needed.
Kuhlman pointed out that the crisis struck as his group's monthly small business optimism index was near an all-time high and employers were struggling to find qualified workers.
"I don't think there's been anything quite like this, to go from potentially the best of times to the worst of times," he said. "We're all looking for a little bit of hope to get through this."
While local small business owners are still deciphering the stimulus bill, many are tentatively hopeful that the bailout would be enough to keep them afloat.
Stuart Segel, the owner of the Mr. Sid menswear stores, has had to furlough 18 employees between his Newton and Seaport locations. "It's definitely very sad," he said. "I think every one of my staff members — some of whom are people I've worked with for 40 years — they're very understanding, we want to survive this," he said. He's optimistic the relief package will help him reopen after the outbreak subsides.
"It's a support system is how I look at it. It's a lifeline," he said. "It's giving us two months to reapproach our business."
But some small business advocates worry current proposals won't be enough to repair the damages that may still be in store if the economic shutdown persists.
"Given the scale and depth of this crisis for small businesses, and given the scale of the economy that small businesses represent in this country, we needed a $1 trillion small business bailout and they failed us," said Gustavo Quiroga, the director of neighborhood strategy and development at Graffito SP, a real estate development and urban design firm with a small-business retail leasing practice.
He said small businesses contribute $6 trillion to the US economy and account for 99 percent of all businesses in Massachusetts. In the absence of significantly more federal aid, he said, the onus is now on local government to find ways to support businesses that are being hit hardest.
"It's time for Beacon Hill to step up and take leadership to fill the gaps," he said, which could take the form of waiving state and local meal taxes, reforming business interruption insurance claims, and protecting both business owners and their workers with anti-eviction protections for commercial and residential tenants.
Barrett, the gift shop owner, said she's hesitant to take federal funds, as she doesn't want to take on debt and wonders whether she would even qualify. "How do I find enough work for seven people to do when my store was forced to shutter?" she asked. "If you're selling baskets from Morocco and handmade pottery and not lentils and toilet paper, you're not busy. I don't have enough work for them to do. I'm not a grocery store."
So she's glad the expanded unemployment provisions will allow her seven employees to get benefits, and she's considering taking a small business grant that's being offered through the City of Cambridge.
In the meantime, she's moved mostly online, hosting shopping tours of her products on Instagram, or doing "window shopping" sessions through the plate-glass windows of her Maynard store while her customers stand safely outside. She's been hand-delivering all the purchases that her loyal fans make and hopes it will be enough to help her keep the shops open.
And as long as that happens, she said, there will be a weekly cake.
Jim Puzzanghera of the Globe Staff contributed to this report.
---
Janelle Nanos can be reached at janelle.nanos@globe.com. Follow her on Twitter @janellenanos.
'We aren't making it': America's neighborhood stores face uncertain futures - The Guardian
Posted: 26 Mar 2020 06:09 AM PDT
The ice-cream shop Island Pops in Brooklyn usually sees its business pick up from a winter lull this time of year, when the days are longer and the spring weather sets in.
Instead, its doors are closed to walk-in customers at the order of health authorities hoping to stem the spread of coronavirus by keeping people in New York City out of restaurants, bars, gyms and movie theaters.
Across the US small businesses selling coffee, cakes, pilates classes, books and artisanal cheese have popped up over the last decade, changing neighborhoods for the better, revitalizing downtowns. Now all that is under threat.
Loyal customers – and some big businesses – are trying to help. Buying gift cards, making donations. But on its current trajectory the scale this unprecedented crisis means many of these businesses just won't survive.
Cities and states across the US this week issued similar orders to close restaurants to dine-in customers and close businesses which create crowds, leaving small businesses such as Island Pops uncertain how long it can go on.
"The government should understand that, one, we aren't making it," said Shelly Marshal, Island Pops' co-owner. "And two, if we have to close up, there are five or six people who have to go home without pay. If they can bail the big banks out they can definitely bail small businesses out."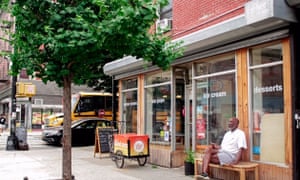 Small businesses are the anchor of the US economy and employed 58.9 million people in 2015. Governments are introducing measures to help ease the burden of forced closures, but business owners are worried that help is coming too little too late as they see an immediate drop in business.
Like countless other businesses, Island Pops is encouraging customers to buy gift cards to use after the crisis passes to try to stem immediate losses. Otherwise, their only other income stream is delivery and pickup orders.
"Even that won't take us through the month for our responsibilities," Marshall said. "We have staff, of course we have rent, we have insurance, we have everything that still needs to be paid and we've gone through our emergency fund, which is our winter fund."
As of Thursday morning, Marshall said it was unlikely the business could meet the minimum amount of pints it needs to sell each week. It has even become hard to rely on loyal customers, because they too are losing their jobs, or fearful a recession will limit their funds too.
Marshall said her neighborhood, a gentrifying part of Brooklyn with a lively food and drink scene, has been a "ghost town" this week. During one shift, she commiserated with an independent coffee shop owner, who told her at 2pm she was his fifth customer of the day, after opening at 6am.
Patrick FitzGerald, a lecturer at the University of Pennsylvania's Wharton Business School, said while people might think the world is technology-focused, small businesses depend on in-person interactions.
"The reality is for 90% of small businesses, it's face-to-face, one-on-one, transactions," FitzGerald said. "And at the moment, those have all, for the most part have stalled, so the impact is highly dramatic."
Technological advances can help, however, and FitzGerald said for any business which has been toying with using video conferencing, at-home delivery or pre-purchasing: "The time is now to deploy those."
The federal and local governments are also trying to help. The US Small Business Administration (SBA) said it would provide businesses with up to $2m in low-interest loans to keep them afloat. And New York City is one of several local governments offering loan and grant programs to local businesses.
Facebook pledged $100m in grants to impacted stores and restaurants, though the company said it would only start taking applications "in the coming weeks". Other corporations are also offering services to ease the burden on small businesses, but these efforts don't address the urgent need to replace the cashflow that comes from someone walking in the door.
So small business are taking creative steps to sell amid a disease outbreak.
Retailers big and small are promoting free and discounted shipping offers. Major chains and local grocery stores have instituted special hours for senior shoppers, who are more vulnerable to a severe coronavirus infection. Yoga studios and boxing gyms have moved classes online.
Capitol Hill bookstore in Washington DC closed its store to walk-in customers, but offered private, one-hour appointments for up to four would-be book buyers at a time.
"We have to do everything in our power to continue our operations, and keep people employed and keep our business viable, at the same time we don't want to do anything to harm our employer or our customers, or the community at-large," co-owner Kyle Burk told NPR.
These moves are being made even as restaurants and nightclubs are forced to sharply cut staff.
Also in Washington DC, a "virtual tip jar" was created to allow people to support service workers at local restaurants, hotels and nightclubs who were either laid off, not being paid temporarily or not receiving tips. Other businesses are turning to crowdfunding websites to raise money for their former staff while still trying to keep their doors open.
In New York City, the beloved Frankies Spuntino Group is trying to raise $100,000 for the employees it has had to put out of work. "We're all navigating uncharted territory right now, so we cannot tell you how much we appreciate your consideration," wrote the co-owners, Frank Castronovo and Frank Falcinelli.
Before closing indefinitely on Friday, it expanded the pick-up and delivery menu. Its handmade pasta, pesto and marinara sauce were sold to at-home chefs. The restaurant also sold martini and negroni kits – the byproduct of an emergency law change to help food businesses during the outbreak.
Previously, only beer could be sold for take-out in New York, but the state liquor board relaxed its laws to allow businesses with liquor licenses to sell liquor and wine to customers who also purchase food.
The Brooklyn cocktail and dessert bar Butter & Scotch had to lay off its entire staff on Monday before closing indefinitely on Thursday. In the few days between, the owner, Keavy Landreth, and the general manager, Stephanie Gallardo, who had been laid off, baked cookies and cakes for to-go orders. They also put together cocktail kits so people could emulate the sweet and boozy experience at home.
"The kits were a last-ditch effort to get some more cash on hand to make sure we could pay our employees and selves before closing fully," Landreth said in an email. "Had I known they were going to be such a hit I would have tried to make more but there was only so much we could do with two people. Hopefully this new alcohol to-go law sticks around and we can get these cocktail kits off the ground again."
Island Pops' Marshall, who was inspired to start the business with her husband after craving the traditional Caribbean soursop ice-cream while sick with another virus, chikungunya, said small businesses are the "lifeblood of the economy" and need all the help they can get.
"We employ a significant amount of employees and we create a ton of employment," Marshall said. "If they don't see that, it's a huge problem in the system."
What the Great Recession can tell us about the COVID-19 small business crisis - Brookings Institution
Posted: 25 Mar 2020 01:05 PM PDT
The drastic measures to keep people at home as the COVID-19 pandemic spreads have decimated the small business sector. These vital businesses provide local amenities and experiences that enrich our lives and anchor our communities, and they're a critical source of income and wealth generation for their owners. And a subset of small businesses—young businesses, which are zero to five years old—are the primary drivers of the nation's net job creation and productivity growth.
Because small businesses have greater credit constraints and are more sensitive to weak consumer demand, they are often hit the hardest in economic downturns. The COVID-19 recession is uniquely damaging to them, especially those relying on foot traffic and social interaction.
As policymakers prepare relief measures to support small businesses, it's helpful to look back at what happened to small businesses during the last major economic downtown, 2007 to 2009's Great Recession. The COVID-19 recession will likely differ in severity and duration from the Great Recession, but it may nonetheless offer clues as to how small businesses experience economic contractions compared to larger businesses.
Small businesses had fewer workers but larger job losses during the Great Recession
The Small Business Administration's definition of "small" varies by industry, but for the purposes of this analysis, we define small businesses as those with fewer than 250 employees, which is the highest standard to qualify in most industries.
During the Great Recession, these small businesses experienced disproportionate job loss compared to their share of total employment in the economy. Nationally, small businesses accounted for 45% of employment, but as the economy shed about 5 million jobs from 2008 to 2009, they accounted for 62% of the net job loss (Figure 1). Compared to the Great Recession, the early stages of the COVID-19 economic crisis suggest that job losses will fall even more disproportionately within the small business sector.
Micro businesses and young businesses are particularly vulnerable 
As policymakers develop responses to the severe economic contraction we're facing, they should consider that job loss varies considerably by the age and size of the small business.
Generally, the older and larger a small business, the better it fared during the Great Recession. Micro businesses (fewer than 10 employees) and young businesses (zero to five years old) are most vulnerable across all sectors (Figure 2). The employment losses within young and micro businesses ranged from 15% in wholesale trade and services to nearly 35% in retail trade and construction, the latter of which reflects the role housing played in the Great Recession.
Restaurants and small retail outlets are likely to lead the losses during the early days of the coronavirus-fueled economic crisis. But eventually a major recession will hit every sector of the small business economy, as consumer and corporate demand decreases. This chain reaction begins first and most intensively with younger, smaller (and thus more vulnerable) businesses.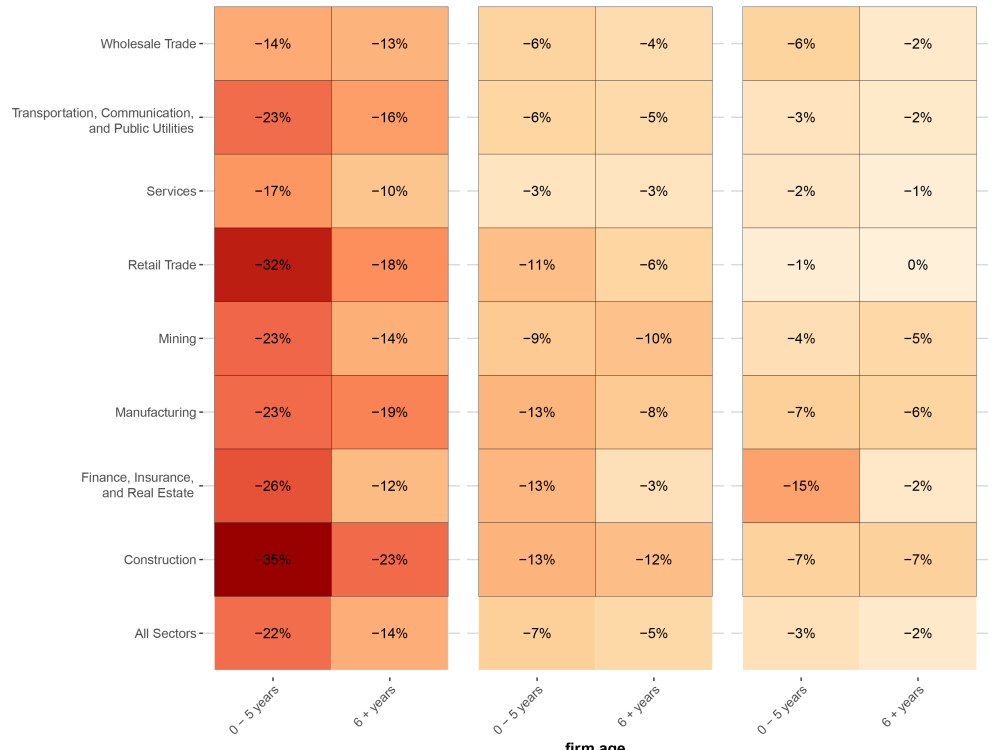 Geographic trends matter 
Broader industrial and technological trends—and how those influence the dynamism of metro area economies—also played a role in how small businesses experienced the Great Recession. Small businesses are predominantly locally serving, meaning their viability depends on the health of the key export industries in their local economies.
Among the nation's 100 large metropolitan areas, eight metro area economies actually managed to expand despite the Great Recession. This was mainly due to the energy boom, which kept demand for small business activity higher in regions in such as Louisiana, Oklahoma, and Texas (Map 1).
Most communities were not so lucky. In more than half of the nation's 100 largest metro areas, small businesses accounted for at least 60% of net job losses. In 16 large metro areas, small businesses were responsible for more than 90% of net job loss. Metro areas that were hit hardest included Philadelphia, Fresno, Calif., Jacksonville, Fla., Bridgeport, Conn., Louisville, Ky., and St. Louis, Mo., among others.
Mitigate, then recover 
Last week, we wrote about several small business relief strategies that local and state governments are pursuing, including emergency loan funds and tax relief. Still, not every small business is equipped to survive this downturn. But because small businesses contribute disproportionately to job loss during recessions, these policy responses are necessary. In our current crisis, these measures must occur immediately—which means that speed and simplicity are important considerations.
If speed and simplicity are required in the short-term, then scale is the operative word for the medium-term recovery. As of this posting, the Senate is on the verge of passing a relief package of at least $350 billion for small businesses. This federal package is critical, because locally led capital support will only take local economies so far.
In the long-term, policymakers and business development providers should remember that the Great Recession was distinctly damaging to small businesses. And that was at a time when shops and restaurants could still rely on social interaction and foot traffic for business—COVID-19 has stripped even that advantage away.
This crisis will demand a set of policy supports that are both broader and longer-term than those pursued in 2009. Otherwise, small businesses are certain to face a calamity.
Guest column: Hard-earned lessons on supporting small businesses in uncertain times - The Advocate
Posted: 27 Mar 2020 04:00 PM PDT
Small businesses are the backbone of the nation's economy. In the aftermath of physical disasters, they are a beacon of hope in dark times, giving confidence to residents that things will get better.
Investing in businesses is one of the most important investments in recovery. In the aftermath of physical disasters, we see a familiar suite of solutions to marshal services to damaged and disrupted businesses.
This disaster is different. Businesses were not physically damaged, but instead shuttered overnight in unprecedented numbers to stem transmission of COVID-19. The uncertainty caused by the virus' continued transmission has disrupted the economy at all levels.
I commend congressional leaders for taking up the economic stimulus package with urgency. These are unprecedented times which call for innovative and extraordinary solutions, including support to small businesses.
Bold action is needed. Following hurricanes Katrina and Rita in 2005, Louisiana employed programs that addressed large scale industry interruptions and the needs of small businesses and workers. As the former executive director for the Louisiana Recovery Authority, I would like to share recommendations to help small businesses stay afloat and communities reboot their economies during and on the other side of this still-unfolding disaster.
• Grants are good for businesses (and communities). After Hurricanes Katrina and Rita, Louisiana gave grant funds to thousands of small businesses. Grants put money immediately in the hand of businesses and thus directly in our communities. These funds were invaluable lifelines for businesses that lost everything and yet stayed open to provide hope to their communities.
• Technical assistance builds stronger businesses. Like now, businesses faced an uncertain market. Funds to technical assistance providers — organizations that help with everything from business planning to business continuity plans to financial planning — helped business owners get back on their feet. This technical support gave businesses strength to hang on in uncertain times and build a path to thrive.
• Loans are good too. As of March 12, 2020, the Small Business Administration is making available disaster loans to businesses throughout the country. This is good news. SBA loans provide long-term, low-cost capital. However, data from recent disasters show that many small businesses are not eligible for these loans because they cannot meet collateral thresholds. These are viable businesses that have long track records providing needed products and services, but are not well-positioned to take on debt. SBA could possibly lower the collateral threshold for larger loans, allow forgivability for retention of employees, or distribute grants to businesses in exchange for employee retention.
• Resources for hospitality will be critical. As communities emerge on the other side of the crisis, clear marketing messages give confidence to tourists, business travelers and investors that the crisis is behind them. This was critical for New Orleans and Louisiana when, for years after Katrina and Rita, people across the world believed New Orleans was still under water. This investment also helps tourism-dependent communities open their doors with confidence once the uncertainty dissipates.
Now more than ever, businesses need a full set of economic tools to recover. I implore Congress to support proven solutions to keep the lights on and hope coming for small businesses.
Robin Keegan is the former executive director of the Louisiana Recovery Authority and Office of Community Development, and is owner of Spring Industries LLC.