---
Small business confidence drops to a low as U.S.–China trade war rattles Main Street - CNBC
Posted: 12 Aug 2019 07:30 AM PDT
Small business confidence has dropped to a level not seen since 2017, matching the all-time low since CNBC and SurveyMonkey began taking the pulse of Main Street in a quarterly survey three years ago.
Business confidence is now lower than it was amid the major stock market sell-off of late 2018 and equals the way entrepreneurs felt in late 2017, when the tax cuts package and its provisions for small business owners were in doubt.
The reason this time: President Donald Trump's trade policy.
Small business owners are undoubtedly better off now than they were the last time the confidence index was this low. Over half of business owners in the CNBC|SurveyMonkey Small Business Survey for the third quarter of 2019 say that business conditions are good. That number was 13 percentage points lower (55% vs. 44%) at the time of the 2017 low. Fifty-eight percent say they expect revenue to increase in the next 12 months, and Trump's net approval rating is holding strong, at 57%.
"Trade has become the new issue causing volatility for small business owners, as a growing number of small business owners say they expect trade policy to have a negative effect on their business in the next year," said Laura Wronski, senior research scientist at SurveyMonkey.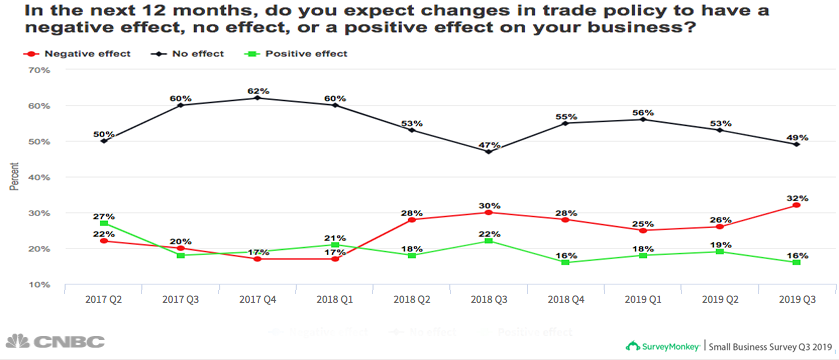 "There's been a huge divergence in the proportion of small business owners who expect positive versus negative effects from the Trump administration's trade policies. It used to be that those numbers were about even or even net positive, but now twice as many small business owners expect a negative impact as expect a positive impact from trade policy," Wronski said. "The big story of the summer has been the escalating trade war with China, and small business owners are reacting nervously."
The CNBC|SurveyMonkey Small Business Survey for Q3 included responses from approximately 2,300 small business owners across the country, collected between July 29 and Aug. 4.
Trade trickles down to Main Street
"That really bright outlook we saw two years ago has waned," said Molly Day, vice president of public affairs for the National Small Business Association. "We've been pretty concerned with threats of tariffs."
She said for small businesses it is important that Congress pass the trade deal with the nation's two biggest trading partners, Mexico and Canada, legislation known as the United States–Mexico–Canada Agreement (USMCA). China may be "three or four steps down the supply chain" for many small businesses, but it affects them, especially the longer it goes on.
The majority of small business owners still say that Mexico and China trade policy will not be a factor for their business, but entrepreneurs experiencing a direct or indirect hit are bringing down overall confidence.
"The trade piece really does impact people a lot, but it is not as easy to have that personal connection" at the small business level, Day said. "For some small businesses not importing or exporting, it may not have a direct impact, but I think it will trickle down in that things are costing a little more."
That's the case for Ben Thomas, owner of Five Pound Apparel in Springfield, Missouri — the name comes from the business mission to donate 5 lbs of food for every T-shirt bought by customers. His store's core products are "Made in America," and the business has a focus on what it considers "ethical" brands, but those brands have global supply chains.
"The trade war has yet to have a direct impact on our business, but we do expect it to have a small impact," said Thomas, who owns the store with his wife. "The impact would likely be a slight increase on the cost of some of our goods. We have brands that source products and labor from all over the world, primarily with the goal of having a positive economic and social impact on that particular section of the globe. Wholesale margins are thin enough that manufacturers will have to pass those to their customers (us), and we in turn will likely have to pass those on to the end consumer," Thomas said.
The one lever the administration has is trade, and where they go with trade will dictate how small business owners feel by the end of the year.
Karen Kerrigan
SBE Council
The longer the feud with China continues, the "deeper and wider" the impact will be on small businesses, said Karen Kerrigan, president and CEO of industry trade group SBE Council.
"It really represents this drag on confidence and optimism," she said. "Optimism is still relatively high, but slowly lowering. We are at a critical period in the economy."
She noted that a recent weak reading in business investment, which hit a three-year low in an otherwise positive Commerce Department report, is also bringing down confidence, and that makes removing the trade anxiety even more important for the business community.
"Small and mid-size businesses are depending on larger businesses. The agricultural community is depending on farmers to buy stuff," Kerrigan said. "If you can get a [China] trade deal, maybe not a comprehensive one but start with something, IP protection or market access, and get the USMCA through Congress, it would all be very positive for investments, the markets and small business," Kerrigan said.
She added: "The one lever the administration has is trade, and where they go with trade will dictate how small business owners feel by the end of the year."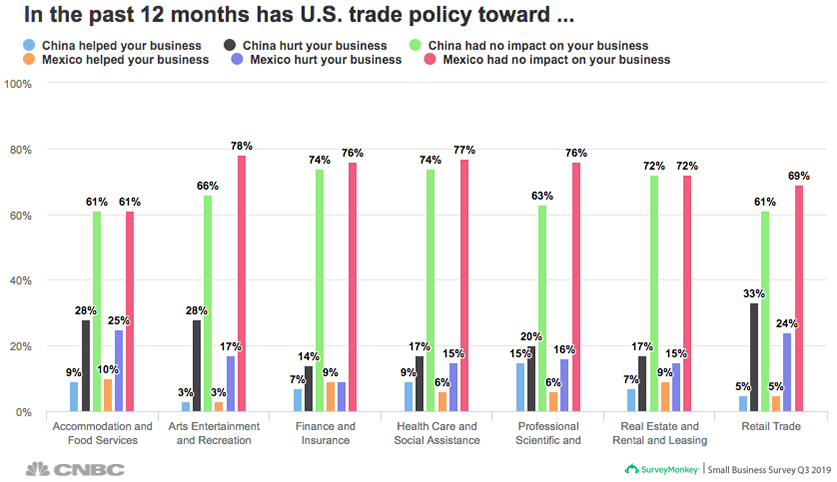 Matt Laricy, a third-generation real estate agent who manages his own sales group based in Chicago, is worried about a recession. "I think we're on the brink of a recession, and I think it's a matter of time that this gravy train we've all been riding is going to sink on us," he said. "We're past due. ... I don't think we're going to see a 2008 type of recession where the world is ending. I do think that we're going to see a little bit of a gut check."
But his economic concerns do not represent a sudden shift based on the trade war or any single factor. "I think this trade war with China is not going to affect us [and], for the most part, the general consumer."
Prepare for the unpredictable
Laricy has been preparing for two years to take advantage of a downturn.
"What I decided to do about two years ago was open up a different savings account and fund it every month ... so that when the recession does hit, I'm going to double down on advertising while everybody else is falling out, so that way I get more business. Because people are still going to buy or sell [real estate]. It's just going to be more difficult."
Some business owners across the country are experiencing weaker conditions beyond their control, tied to short-term phenomena, like weather in the Midwest, which saw an unprecedented amount of rain earlier this year.
"Business was better in 2018 than this year," said Trice Stevens, owner of On the Fringe, a retail fashion and beauty store in South Bend, Indiana. "We have had a slower spring directly affected by the weather, and then we had jacket weather and rain most of May. We lost our peak spring buying season that usually happens March–May."
"There hasn't been a period where concerns are steady across the board — there's been a lot of turbulence,' Wronski said. "Business owners usually value predictability, but that has been a luxury in the past few years."
Election season isn't likely to help, and may already be starting to factor into the confidence trend. The Q3 survey finds entrepreneurs saying that Trump is the No. 1 issue they will be voting on in 2020.
"What we have found, and we have been doing this since 2007, is a clear dip when we get into election seasons," Day said. "The news is permeated with reports of the terrible things that this and that party are doing, and the 'country is doomed' and people internalize that, and I would not be surprised if that is tweaking things a bit."
The CNBC|SurveyMonkey Small Business Survey for Q3 was conducted across approximately 2,300 small business owners between July 29 and Aug. 4. The survey is conducted quarterly using SurveyMonkey's online platform and based on its survey methodology. The Small Business Confidence Index is a 100-point score based on responses to eight key questions. A reading of zero indicates no confidence, and a score of 100 indicates perfect confidence. SurveyMonkey publishes additional quarterly small business data and analysis.
How To Leverage Emerging Trends In Your Small Business - Forbes
Posted: 12 Aug 2019 05:00 AM PDT
Whether you're in retail or the service industry, every small business depends on company leaders making the best possible decisions. We understand the risks that come with entrepreneurship. We do all we can to stay ahead by tracking emerging business trends.
I own and operate a Chicago-based restoration company. Knowing how to keep up with trends makes it easier to focus on innovations relevant to my industry. Over the years, I've developed these seven strategies for identifying trends that impact your company.
1. Learn how to look.
Understanding how to research is a critical first step when assessing which trends could impact your business. Traditional news can also be a great source for breaking trends. The internet serves up your quickest overview of emerging trends in business. It can also deliver an overwhelming volume of information. Hone in on market reports that apply to your industry. Start a list of topics you want to follow. Devise ways to analyze the data. I often use online trending tools to help me anticipate upcoming changes.
2. Keep your network strong.
Keep up with your professional network. A strong network enables you to keep up with emergent trends within your industry, well before they become mainstream and your competitors have taken advantage of it. This is why I've founding developing new relationships and maintaining established connections is critical. Make sure small business trends play a part in shared conversations.
Attend conferences, take part in roundtables and sponsor events. I, for instance, always look forward to restoration industry trade shows. They're a great opportunity to widen my network and pick up on ideas about the next big thing.
3. Keep your reading glasses handy.
We're all so busy with day-to-day operations, but we need to take the time to read. Keeping up with business trends can be a relaxing break from the routine. I've learned that it's productive, too. I subscribe to several print journals that help me stay in front of the latest business news.
You can follow most publications online. Mine articles for information you can use to create more innovative business strategies. Track key points that forecast upcoming changes in your industry.
4. Keep your channels open.
Use social media channels to spotlight trends that small businesses can easily implement. For example, chatbots became a website must-have several years ago. Today, they're evolving into more personalized ways to reach customers.
I'm also enthusiastic about analytic dashboard apps that let me synchronize data from different social media sources. They're a time-saving tool that makes it easier to follow trending news across multiple channels.
5. Filter, and drill down.
As markets evolve and consumer expectations change, trend forecasting becomes its own business. Don't let information overload slow you down. I sort things out by asking myself these questions:
• Why is the trend important?
• Can I translate it into an actionable plan?
• Is it consistent with my company's brand?
• How will implementation affect daily operations?
Develop a set of criteria specific to your business. Use it to filter through trends and drill down to the ones that can make a difference in your company's success.
6. Get your employees involved.
Multiply your eyes and ears by getting your employees on board with tracking important business trends. They might read a story you've missed. They might hear something out in the field. At my company, for example, we start every morning with a quick employee meeting to cover the day's schedule. We also use the time to share ideas about breaking trends.
7. Listen to your customers.
Customer feedback is an invaluable way to stay connected with the latest business trends. Consumer behaviors and habits drive changes that challenge small businesses. Create an employee training program that emphasizes listening to your customers and addressing complaints the right way. Incorporate customer requests and expectations into policy development when applicable.
Everyone who owns a small company stays on the lookout for ways to improve operations, save money and keep customers happy. Tracking industry trends is an important part of the process. Sharpen your business trend awareness, and leverage it into smart business policies that work for you.
Top Lead Generation Strategies And Tools For Small Business - Forbes
Posted: 12 Aug 2019 06:00 AM PDT
When you start a business, you want to make sure that it can stay in the black. Earning enough revenue to cover expenses and turn a profit is what every entrepreneur and shareholder wants. 
Even so, you cannot exist in the blind faith that your product or service will do the trick. Consumers need to know who you are. You can find them by generating leads or finding specific people who may like your product. 
Why Do You Need Leads?
You want people to buy your products. Sometimes, you cannot wait for them to come to you. Larger brands and corporations already practice regular lead generation, and they have established practices.
You need to find out what competitive advantage you can offer. What is your specialty? How can you make your offerings different from those in the same industry? Once you answer these questions, then you can figure out your strategy. 
Obstacles That Small Business Face
Globalization has shrunk the world for businesses. You can sell products digitally to people in Indonesia, even if you are based in Marseille, France. Or you can ship to Australia if you can afford the postage.
The rub with this smaller world is that, while you can reach more consumers, you also have to deal with a smaller market share. Contradictory? You might say so. But consider your competitors: corporations with pockets internationally. They want oligopolies and monopolies. 
You have a size issue. Amazon, Walmart and other giants can use their vast capital and resources to sell more cheaply and reach more consumers across the world. They can change storefronts to accommodate varying values, and that may not be in your budget.
Lead Generation Strategies
So, how do you grab that attention span? There are several strategies that you can implement for that express purpose. Below, I have outlined some of what I've found to be the best ones:
1. Assess that you deliver high-quality content.
People will know when the items you deliver digitally only contain hot air. Hot air is only good for when you are selling balls or toy dirigibles. You would rather that people deliver on substance, which has meaning imbued in every item that you put out in the world. 
Incorporating "meaning" can translate into many concrete concepts. When you are writing a blog, you want to make sure the topics are relevant to your business and consumers. 
2. Avoid spamming when sending emails.
Email campaigns can perform gloriously. You often see them from larger corporations that send coupons or product recommendations. There's a reason why Amazon constantly advertises Prime Day, Cyber Monday and lightning deals. 
By "spam," I'm referring to messages that filters perceive as lacking value. We know traditional spam as blatant ads sent to our mailboxes with inappropriate messages, spyware and even viruses. Your messages aren't that, but with the wrong words in your message or subject line, they can be flagged as such. In the worst-case scenario, it may violate the CAN-SPAM act. 
Make sure that your email addresses used for sending out messages aren't flagged as spam. Don't purchase email lists because that is illegal, and they may be garbage emails in any case. 
3. Perfect your landing pages.
Do you want to track website visitors over a certain length of time? Google Analytics can help, but you can do more to craft a well-designed marketing campaign. Landing pages are one such facet for a campaign. 
Landing pages assist in helping you track who visits your site when. You can set counters on them to measure who visits and who doesn't.
4. Master your SEO.
Search engine optimization is one of the organic tools in your toolbox. It refers to refining your advertising copy so it contains certain keywords that people seek online. Google ranks pages based on those keywords when people type them into the search engine. 
SEO, unlike paid ads, is organic growth. Google algorithms will rank your websites in search engines. It will identify potential spammers, however, so don't stuff your websites with keywords specifically to rank. Always add value. 
Best Tools For Lead Generation
Strategies may not simply cut it, however. You also want to amass all of the tools that you can to increase your leads. These can be free, or for a cost. 
I have a few recommendations for what tools are the best for this sort of work. Some we have discussed above, such as SEO and landing tools, but there are also websites and programs that can assist. 
1. Quora
Quora is a public Q&A forum where you can assist people with their questions. When you answer questions related to your specialty or business, you establish yourself as a reliable authority figure. People always have questions, and the algorithm will deliver them to the email address you assign to the account. 
Another benefit of Quora is that you increase your social media presence in a specialized, international level. You only have to pay with time and words and to provide value to people. The compressed space means that potential customers are more likely to read your answers and make decisions accordingly.
2. Google Analytics
Google Analytics is another free tool that comes in handy for tracking visitors. You merely need to register for an account, which is best with a Gmail address, and install a tracking code within your website's HTML. 
While the analytics is general, you can use it to pinpoint locations of website visitors, how many visited directly or used referral sites and what search terms are used to find your site. The raw data is valuable. You can analyze trends over hours, days and even months. 
Preparing Your Strategy
Diving into the world of business is not easy. But you can even the odds by proactively seeking out potential customers without hammering them with ads. You can adopt these strategies and deliver value. 
Our world has gotten smaller. You can still find people to support your business. Go out and find them and start to grow.
What Are the Best Business Loan Terms for Your Small Business? - Nav
Posted: 12 Aug 2019 12:03 AM PDT
It can be confusing to navigate all the available loan products being offered by banks, lenders, and online financial companies these days. The best way to know which loan is best for your business situation, however, is to know about each of them in advance. 
From long-term financing to a quick cash advance, the more you understand, the more likely you are to narrow down the long list to just those that work for you. Then, you can just apply to those that meet your finance goals and are most likely to approve you.
Traditional bank loans
These are the loans people think of first when considering small business financing options for their companies. While not quite a cumbersome as those loan application meetings we see in old movies, they can be a complicated and often lengthy process. While most are agreeable to online applications, the majority still require a face-to-face meeting. 
Existing bank or credit union customers might get a reduction in the already-low interest rates of 3-6%, as well; these are usually offered if you're willing to make automatic payments from a connected account at the same institution. Many of these loans are considered long-term loans, especially if they are used to buy real estate. 
SBA loans
The SBA loans are a category in themselves. The most popular include the SBA 7(a) loan, the SBA 504 loan, and the SBA microloans. Each gives you a different loan amount, rates, and approved uses for the money. The different SBA loan terms also include how long you get to pay them back and how long you have to wait from the date of application until you get your money. 
For the borrower in a hurry, SBA loans might not be the best choice, although SBA express offerings are shortening that timeframe for qualified businesses with excellent credit who need an approval answer within a few days. SBA loan rates are also very competitive – among the best in the industry, at 7.5 – 10%.
Medium-term loans
The exact definition of a medium-term loan will vary by industry or financial institution, but many brick-and-mortar institutions define them as those that need to be paid back within 2-5 years and often require collateral as security. If your credit score is excellent, however, it's possible to get one without security. Interest rates can vary, hitting 30% at the peak. 
Short-term loans
Usually offered by online lenders, short-term business loans are designed to be repaid within a few months but can sometimes last 18 months. Those will excellent credit will benefit the most from these, paying similar rates to other loans. Those with subpar credit histories, however, can often pay up to 80% for financing through medium-term loans. 
Business lines of credit
These popular small business loans give you funding like a traditional loan but offer you access like a credit card. You can borrow just what you need, as long as you don't go over your limit and pay the minimum owed each month.
 Lines of credit may charge interest, monthly or annual fees, or a mix of both. Note that many of them will charge interest (at a rate of 7 to 36%) on day one, unlike credit cards, which often come with a 21 to 30-day grace period. 
Equipment financing
If you just need to upgrade your grills, factory lines, or 3D printers, and not pay for other working capital types, the equipment financing option may be for you. With an APR of anywhere from 8 to 30%, getting a good deal will entirely depend on the loan amount and your business credit score. 
A good personal credit score, along with the equipment you're financing as collateral, could help a borrower lower their rate. Equipment loans are rarely considered short-term financing, with much longer repayment periods than some other financing options. 
Invoice financing
Many new businesses may have trouble getting financing when they have a short history to demonstrate their track record. That's why invoice financing is popular among startups and others who have billed for products and services, but just haven't been paid yet. 
By getting a loan based on future accounts receivable, the lender is assuming the low risk. Expect to pay a bit more for the privilege, however; invoice financing can be among the most expensive in the industry, from 13 to 60% APR. 
Merchant cash advance
One of the more expensive ways to borrow money, the application process is super simple. The lender uses your credit card sales records to determine how much cash flow you normally have, then offer you a cash advance based on those numbers. 
To pay the loan back, a small percentage of each credit card sale will be taken. You'll need to do a bit of planning to accommodate the repayment of the loan, but it's a loan option that is available to those with even less-than-excellent credit scores. The cost to borrow in this manner, however, is high. Some accounts may be charged an APR of over 100%! 
With all of the loan types we explored, they will each have their own rules or "terms." This isn't to be confused with "term loans." These are simply any loan with predetermined repayment terms. Unlike a line of credit or credit card, which can be paid and then borrowed against again and again, term loans have a set loan amount and repayment period to meet. Easier to get than some standard bank loans, they are most usually offered online and may have higher fees or APR. 
Common Business Loan Terminology
In addition to understanding the various types of loans, there are many additional factors that can affect the affordability of your loan, how you repay it, and the value you get from it. Since many of the terminologies will also be included in your application and loan contract, it's smart to familiarize yourself. 
These common loan terms are used by most banks, and even just one can be the difference between an affordable monthly loan payment and something that can make repayment difficult.
Accounts receivable
Accounts receivable (or "AR") is a term used to describe all the monies that a company is owed but hasn't collected yet. For most businesses, this can be measured by invoices created or sent but not paid. 
Accounts receivable is a key indicator in the health of a business, and some business lenders will issue credit based on the total AR outstanding at any time. 
Annual revenue
Whether a fiscal business year starts in January, or some other month, the total twelve-month sales done by a company is its annual revenue. Not to be confused with profit, it is the gross amount collected, not including business expenses or debt yet to be paid. 
APR
Anytime you apply for a credit card or loan, you'll see the term "APR." Short for Annual Percentage Rate, it calculates the cost to borrow money. It combines the compounding business loan interest rate and fees into one number, giving you a better overall view of what you can expect to pay to borrow money in a given year. Most lenders will share the APR freely with you before you apply, but if they don't, a simple APR calculator can help. 
Business credit scores
Just like you have a personal credit score that documents your creditworthiness, you can also have a score for your business. This will track things like on-time payments, amounts owed, variety of debts, and length of credit history. 
The better business credit score you have, the more likely you'll be to qualify for those great interest rates on loans and credit cards!
Business credit reports
Business credit reports can be pulled in the same way personal ones can, but they aren't automatically generated just by being in business. To ensure that your on-time payments are being tracked and recorded in your history, ask your vendors and merchants if they can report your on-time payments to credit bureaus. A credit report can take time to build, but it's worth it. 
Cash flow
Cash (and cash equivalents) coming in and out of a company is its cash flow. This includes money being paid to the company by customers and payroll going to employees from the business. 
Money flowing in and out, measured by reports, is its cash flow. Companies try to focus on cash flow coming in and increase that number over time. 
Collateral
Many loans are considered secured loans. That is, they require you to put something of value that you already own for security in case you can't make payment. This item is referred to as "collateral." It can be the actual item you are financing (such as a house or car) or an unrelated item. 
If you were to take out a $1 million-dollar loan to refinance debt, for example, the bank may ask that you offer up a piece of collateral unrelated to the loan to ensure that they aren't taking unnecessary risk. Your home or a piece of business property might be used to secure the loan to the bank's satisfaction. 
FICO score
According to the makers of the FICO (Fair Isaac Corporation), it is calculated based only on information received from the three credit bureaus. "By comparing this information to the patterns in hundreds of thousands of past credit reports, FICO Scores estimate your level of future credit risk, or how likely you are to repay a loan on time." FICO claims that 90% of top lenders use their scores. 
Lien
When you borrow money and put up your car or home as collateral, you are granting a lien to the bank for that item. If you were to then not be able to pay the loan, the bank could seize the car or home to help them recover the losses.
If you are financing an item with a loan (such as business equipment), the lien would usually be put against the item being financed. A loan without a lien is considered an unsecured loan. 
Secured/unsecured loan
The difference between a secured loan and an unsecured loan can be a big one. With unsecured business loans, you aren't offering up any collateral to guarantee payment. If you were not to make your monthly payments, the bank has nothing to take from you to help them recover what they are owed. 
A secured loan, on the other hand, uses something as collateral – either the item the loan is paying for (such as a piece of property, a car or equipment) or another item put up to help secure the loan. 
Working capital
Many small business loan terms, especially those through SBA-approved lenders, dictate how you use the money. Working capital is one of the allowed ways to spend loan funds. Working capital is comprised of all of the liquid assets (such as cash) and other assets that can be accessed easily to pay for the daily operations of a business. 
When businesses get funding to use as working capital, they spend it on everything from payroll to raw materials to paying the light bill. 
Frequently asked questions
It's impossible to cover all the nuances of various business loans and standard funding in one article, but the questions people usually have are also mentioned here:
What's the benefit of a business loan payment calculator?
Like any other loan calculator, business loan calculators can tell you a number of things, including how much your monthly loan payment will be for the length of the loan, the amount of the loan, and various origination fees and interest rates. These can help you plan out your monthly budget. 
Simply tweak the monthly loan amount to what you can afford to see what you should borrow. Likewise, you can lengthen or shorten the loan term to see how much long-term business loans will cost compared to a short-term loan.
How do SBA loan terms differ from other loans?
SBA loans aren't actually given out by the SBA. The Small Business Administration matches lenders with qualified borrowers and often subsidized the loan to help reduce risk to the lender and encourage them to offer more loans to less-qualified businesses owners. 
Because of this, the loan terms come partially from the SBA and business lending guidelines under the program, but lenders also have some flexibility in how they lend. Rates (within a range), payment terms, and other considerations may be set by the lender independently from the SBA.
| | |
| --- | --- |
| | Pro Tip: Take charge of your financial health today with a FREE Nav account. We'll protect and monitor your personal and business credit, so when it comes time to find financing you're prepared on all fronts. |
Rate This Article
Sompo Global Risk Solutions Forms Small Business Team in US, Mexico - Insurance Journal
Posted: 11 Aug 2019 09:43 PM PDT
Sompo International Holdings Ltd., a Bermuda-based specialty provider of property and casualty insurance and reinsurance, has formed a new Sompo Global Risk Solutions (GRS) team offering insurance products to smaller businesses in the U.S. and Mexico, including its industry vertical and Asian interest accounts.
The creation of the Sompo GRS Small Business team expands the company's risk appetite to include smaller companies in the real estate, hospitality, financial institutions, professional services and life sciences industries. The team will offer a full suite of coverages, including package, property, auto, general liability, workers' compensation, umbrella and environmental.
Sompo GRS works through a network of retail brokers to offer comprehensive multi-line capabilities through cross-disciplinary teams of underwriting, claims and risk control specialists focused on select industry verticals. Sompo GRS also serves Asian clients with operations in the United States and Mexico.
Matt Burns, senior vice president, Middle Market Leader for Sompo GRS, will take on the additional responsibility of having oversight of the Small Business team. Marnie Shore, vice president, will lead the development of the Sompo GRS Small Business platform and co-lead the team's distribution efforts along with Roberto Robles, vice president, Business Development.
Through its operating subsidiaries, Sompo International writes agriculture, professional lines, property, marine and energy, and casualty and other specialty lines of insurance and catastrophe, property, casualty, professional lines, weather risk and specialty lines of reinsurance. Sompo International companies are wholly owned subsidiaries of Sompo Holdings, Inc., whose core business encompasses one of the largest property and casualty insurance groups in the Japanese domestic market.
Was this article valuable?
Here are more articles you may enjoy.