---
Small Business Administration Contracting Programs: Additional Efforts Needed to Implement GAO Recommendations - Government Accountability Office
Posted: 12 Jun 2019 11:38 AM PDT
What GAO Found
The Small Business Administration (SBA) has not fully implemented GAO's prior recommendations to address oversight deficiencies in the Women-Owned Small Business (WOSB) and Historically Underutilized Business Zone (HUBZone) programs and to improve evaluation of its procurement scorecard. GAO maintains that its recommendations should be addressed.
Women-Owned Small Business Program. In its March 2019 report, GAO found that SBA had not addressed WOSB program oversight deficiencies identified in GAO's 2014 report (GAO-15-54). For example, GAO had found that SBA did not have procedures related to reviewing the performance of the four third-party certifers—private entities approved by SBA to certify the eligibility of WOSB firms—as well as information the certifiiers submitted to SBA. GAO recommended that SBA establish procedures to assess the performance of the certifiers and the information they submitted. While SBA conducted a compliance review of the certifiers in 2016, SBA said in June 2018 that it had no plans to conduct further compliance reviews until a final rule implementing a new certification process was completed. SBA officials said that they expected the rule to be implemented by June 2021. By waiting to improve its oversight of the WOSB program, SBA cannot provide reasonable assurance that certifiers are complying with program requirements and cannot improve its efforts to identify ineligible firms or potential fraud.
HUBZone Program. In September 2018, GAO reported that it had reviewed case files for a nongeneralizable sample of 12 firms in Puerto Rico that received HUBZone certification between March 2017 and March 2018 and found that SBA did not consistently document or follow its policies and procedures for certification reviews. For example, SBA did not have complete documentation in nine of 12 cases and did not follow its policy to conduct three levels of review when determining whether to approve or deny a firm in four of 12 cases. As a result, SBA did not have reasonable assurance that firms meet HUBZone criteria. SBA said that it planned to implement GAO's recommendations that SBA (1) update internal policy manuals for certification and recertification and (2) conduct and document reviews of staff compliance with relevant procedures. However, as of May 2019, SBA had not provided documentation showing that it had completed these planned actions.
Small Business Procurement Scorecard. For fiscal year 2017, SBA revised the methodology for its Small Business Procurement Scorecard, which assesses the efforts of federal agencies to support contracting with small businesses. For example, one revision reduced the share of the total scorecard grade devoted to prime contracting achievement (the dollar amount of contracts awarded directly to small businesses). GAO recommended in September 2018 that SBA design and implement a comprehensive evaluation to assess the scorecard revisions. Since that report was issued, SBA has proposed but not yet implemented a two-phase evaluation of the scorecard to include an evaluation of the scorecard's effect on federal agencies achieving small business contracting goals. SBA said that it expects to complete phase one by September 2019 and has not provided a time frame for phase two.
Why GAO Did This Study
Federal agencies conduct a variety of procurements that are reserved for small business participation through small business set-asides. These set-asides can be for small businesses in general, or they can be specific to small businesses that meet additional eligibility requirements in programs such as those for WOSB or HUBZone. SBA administers both the WOSB and HUBZone programs. SBA also produces an annual Small Business Procurement Scorecard to measure how much contracted spending federal agencies allocate to small businesses and whether the federal government is meeting its goals for awarding contracts to small businesses.
GAO issued three reports between September 2018 and March 2019 on SBA contracting programs (see GAO-18-666, GAO-18-672, and GAO-19-168). This testimony is primarily based on these three reports and discusses prior GAO findings and SBA's progress on implementing GAO's recommendations on (1) the WOSB program, (2) the HUBZone program, and (3) SBA's procurement scorecard.
To update the status of prior recommendations, GAO reviewed updates from SBA and interviewed officials.
For more information, contact William B. Shear at (202) 512-8678 or shearw@gao.gov.
Small Business Administration Honors Outstanding Leaders - pasadenavoice.com
Posted: 12 Jun 2019 06:42 AM PDT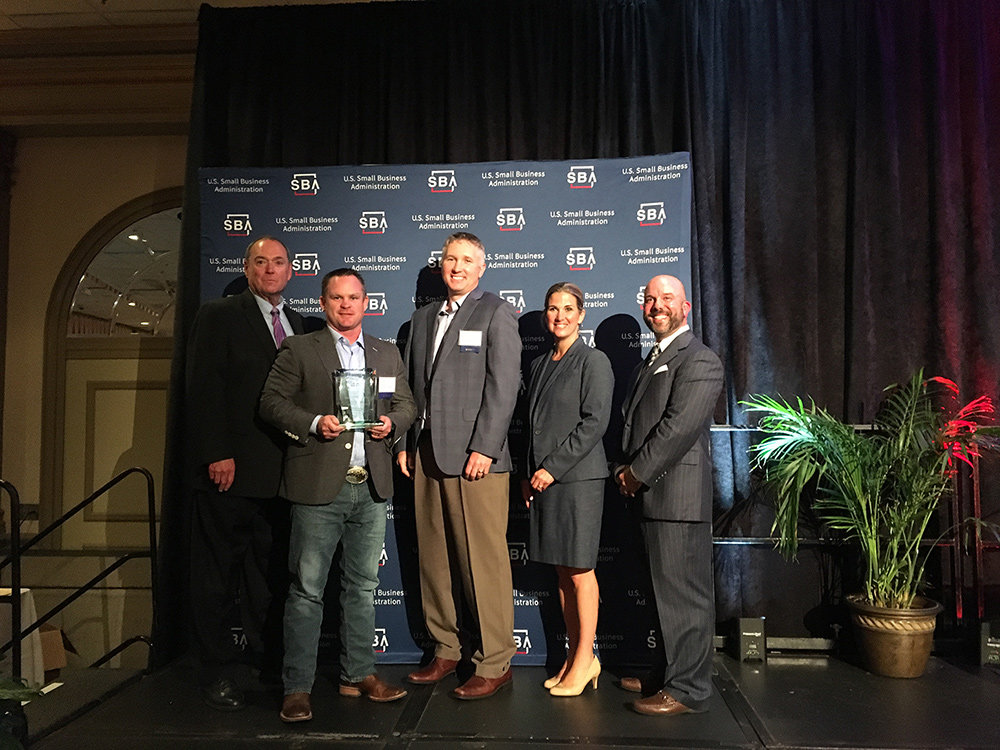 By Dylan Roche
Did you know that more than half of Americans either own or work for a small business? Did you know those small businesses create about two of every three new jobs in the United States every year?
It's in recognition of this impact that the U.S. Small Business Administration (SBA) recognizes small-business owners and entrepreneurs from all 50 states and U.S. territories every year as part of National Small Business Week, observed in 2019 from May 5 through 11. As the SBA website emphasizes, "Every day, they're working to grow small businesses, create 21st-century jobs, drive innovation, and increase America's global competitiveness."
This year, three local businesses were recognized: Artie Hendricks and Rob Calhan of Landmark Roofing were named the Maryland Entrepreneurial Success of the Year; Lonnie and Dianna Lancione of The Voice Media Inc., publisher of the Pasadena Voice, were named the Maryland Family-Owned Business of the Year; and Tara Frame of Frame & Frame Attorneys at Law was named Attorney Advocate of the Year.
For these leaders, the award serves as a reminder that the hard efforts behind launching a business do not go unnoticed by others in the community. "It took guts to do what we set out to do," said Rob Calhan of what he and Artie Hendricks accomplished in founding Landmark Roofing. "I'm extremely humbled by how far it's come in such a short period of time. With hustle and belief, you can accomplish a lot."
Hendricks echoed Calhan's sentiment, saying, "People often only see the success or failures of a business, and most don't understand the time or hardship that sometimes take place. We are most proud of always doing the right thing even if it doesn't help Landmark. By doing this, we know that we have created a name that we can be proud of."
Like Hendricks and Calhan, the other winners also see their work as business owners being as much about being good community members as it is about offering a good product or service. For Lonnie and Dianna Lancione – who took over publishing the Severna Park Voice following the death of Dianna's grandmother, founder Margueritte Mills, before launching the Pasadena Voice – using media to keep local readers connected with one another has always been a focus.
"We've been able to withstand a market that has seen newspapers disappear, and during that time, we've been able to grow, expand and continue our mission of unifying the community," Lonnie said.
By providing advertising opportunities to other businesses, the Lanciones have also helped many in the local market thrive. "We've been able to help small businesses grow and prosper along the way – they're the backbone of our community," Dianna said, adding that she hopes the mission she and Lonnie always shared of providing feel-good news will help shape future generations. "There's a lot of community pride," she said. "People know and care about each other."
Tara Frame is another who takes her mission personally. "I'm proud to be able to carry on my father's tradition of helping people in the community," she said. "I try hard to educate people so they can make better-informed decisions … It's a nice feeling to be the go-to person when people need legal help or legal assistance."
The winners of the Maryland SBA Awards were recognized at a formal ceremony on Thursday, June 6, at Martin's West in Baltimore. For a full list of winners or to learn more about the awards program, visit www.mdsbwawards.org.
U.S. Small Business Administration Offering Disaster Relief - WLDS-WEAI News
Posted: 11 Jun 2019 07:48 AM PDT
An important deadline for businesses effected by severe thunderstorms and flooding is quickly approaching. The U.S. Small Business Administration is encouraging businesses with physical damages caused by severe thunderstorms and flooding from March 15-23rd should apply for the SBA disaster loan assistance now before the July 8th deadline.
According to a press release from SBA, businesses and non-profit organizations can apply up to $2 million to repair or replace disaster damaged real estate, business assets, and inventory. Loans for working capital, known as Economic Injury Disaster Loans are also available even if the business didn't suffer any physical damages. Homeowners can apply up to $200,000 to repair or replace damaged real estate; homeowners and renters can apply up to $40,000 to repair or replace personal property with the loans.
Interest rates on the loans are as low as 4% for businesses, 2.75% for private non-profit organizations, and 2.063% for homeowners and renters, with terms up to 30 years. The SBA determines loan amounts and terms based on circumstances.
Applicants can apply for a 20% increase up to the determined amount of physical damage for mitigating future damages to the property. Eligible mitigation improvements may include a safe room, shelter, or raising the property's foundation from the ground to help protect property and occupants from future issues from similar disasters.
The filing deadline to submit applications for physical property damage is July 8. Economic injury loan deadlines are February 7th, 2020. Applicants may apply online at the SBA's secure website DisasterLoan.sba.gov.
Need export help? Here are some small business resources - San Francisco Chronicle
Posted: 12 Jun 2019 11:45 AM PDT
NEW YORK (AP) — Small business owners who are interested in exporting, or who need education and assistance about issues like tariffs, can get information or assistance online or from federal, state or local government agencies.
A look at some of the resources:
Online help:
The Small Business Administration has a guide to the basics of exporting, including how to find buyers and financing. www.sba.gov/business-guide/grow-your-business/export-products .
The U.S. Commercial Service operates www.export.gov , a portal that also has educational materials, information about trade with specific countries and links to export services such as product analysis, aimed at determining if a product is ready for export. Some of the services are free, while others have fees. The site also has a section to help companies deal with trade problems.
The Office of the U.S. Trade Representative's website, https://ustr.gov also has information about individual countries and references such as a glossary of trade terms.
Some states and cities have export assistant offices; search online to find out if there's one in your state.
In-person help:
The U.S. Commercial Service has offices in most of the states and nearly 80 locations outside the U.S. You can find them at www.export.gov/locations .
Small Business Development Centers, or SBDCs, give free counseling to small companies and can provide information on exporting and export resources. You can find one at www.sba.gov/local-assistance . Many are located on college or university campuses.
SCORE, the organization that gives free advice to small businesses, has mentors who can help companies on a range of topics including exporting. You can meet with one in person or connect with them via phone or online. You can find a mentor at www.score.org .
_____
Follow Joyce Rosenberg at www.twitter.com/JoyceMRosenberg . Her work can be found here: https://apnews.com
Growth Capital Corp. acquires Lake County's Small Business Capital Corp. - Crain's Cleveland Business
Posted: 12 Jun 2019 11:59 AM PDT
Cleveland small business lender Growth Capital Corp. will be expanding its reach in Lake County and the surrounding area with the acquisition of Small Business Capital Corp. (SBCC) of Ohio in Kirtland.
Growth Capital president John Kropf said federal regulators approved the combination, which had been in the works for months, on May 30, adding a Small Business Administration (SBA) 504 loan portfolio of about $20 million in assets. That brings Growth Capital — the fifth-largest provider of government-backed SBA loans in Northeast Ohio — to about $150 million in assets today.
Founded in 1983, SBCC, like Growth Capital, is an SBA-certified development company (CDC). No money is exchanged with the combination, which will effectively dissolve SBCC.
SBCC was apparently struggling to grow its loan portfolio and had experienced some recent personnel turnover.
In April 2018, the group hired Randy Horst, who previously worked with PNC Bank as a credit risk officer, as its executive director. But Horst left that position earlier this year. In light of that, SBCC board president Allen Weaver of Erie Bank began seeking alternative options for moving forward. The Growth Capital board unanimously approved the merger, seeing it as the most efficient way to service its borrowers and the surrounding market.
Borrowers in the expanded market for Growth Capital may very well benefit from the heightened presence of a new agency that already has relationships — or is forging them — with agencies such as the Lake County Ohio Port and Economic Development Authority, Geauga Growth Partnership Inc., small business development centers and Lakeland College, among others.
"What could have been just this organization going under turns into a real opportunity for these small businesses to have access to these types of loan programs that maybe they weren't getting before because (SBCC) was there," Kropf said, noting that while the two entities would've been competitors for loans, each typically focused on its own markets in the past.
Consolidation among CDCs has been somewhat common in the past decade as regulatory requirements make running these lending agencies more complicated. Smaller organizations have opted to merge with others because of the challenges of keeping up with all the various compliance.
The most recent example of consolidation in Ohio prior to the Growth Capital and SBCC combination was probably the merger between HCDC Inc. of Cincinnati with the Stark Development Board Finance Corp. of Canton, which took place in July 2017.
Growth Capital, which received a $4.7 million loan from Fifth Third Bank last year in support of Community Advantage loans, lent out $4.3 million over 42 SBA loans in fiscal year 2018 (which ended Sept. 30), according to Crain's research.