12 Small Business Tips From Those Who Have Lived It - G2
---
12 Small Business Tips From Those Who Have Lived It - G2
Posted: 13 Jun 2019 07:40 AM PDT
Do you ever look back on a mistake you made when you were young and think, "Wow, I wish I knew then what I know now."
This especially goes for aspiring small business owners. There are countless potential mistakes to make in the business world. Some teach valuable lessons that inspire personal and professional growth, while others are made at the cost of your business.
Unfortunately, there is no such thing as time travel and we cannot warn our past selves to take certain actions or avoid particular situations. Luckily, you aren't the only person who has had the goal of starting one of the most profitable small businesses in the modern economy.
We asked twelve small business owners the best piece of advice they received that they later applied when starting their small business.
"There will always be reasons why not to start your company: you need more experience before you launch, you need a better idea or product, you need a better business plan, you need a more financially stable situation. There is no way you can solve all these problems before you start. Just get started and do it. The question becomes less if you should start your company, but more why not start your company. For me, I feel every day like I am building a plane while flying it. If you surround yourself with smart people you won't be flying that plane alone."
"My business plan professor advised me to do tons of industry research when writing a business plan. Many people breeze over this part of the business plan, especially when they think they know the industry (whether as a customer or a business insider). By doing research, I was able to see a huge market opportunity no one else was capitalizing on."
- Danielle Ferrari, Owner and Founder of Valhalla Resale
"The best advice I received when starting a business was from a close friend and mentor. He told me to build an economic moat. It means to always have something special that the competition doesn't have. It will protect your profits long term. There will always be bigger businesses that can outspend you. The key is to have something that money cannot buy."
- Jonathan Holloway, Co-Founder of NoExam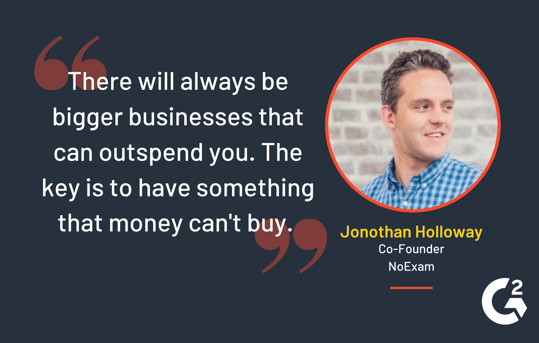 "Focus on what makes you money. It's simple, but rarely do business owners focus on the one thing that makes them money and keeps their business alive. They work on processes and templates and on and on. Then they fail to put the majority of their efforts (80+%) into the money maker. Could be spending their time on marketing, or new client development - whatever it is, focus on it. Just focus."
"It's important to have a target of what you want to achieve but don't fix your journey of how to get there. Everyone remembers a target but few care about how it's achieved.
Bottom Line: If you hit a wall on route to your targets, don't go through the wall. Change your path and go around it."
"Do one thing every single day that will help your business grow.
Sometimes it's difficult to stay focused or motivated when in the grind of trying to get a business off the ground, but if you can at least execute one tangible thing every single day, those things will add up and you will find long term success."
-Chris Stasiuk, Founder of Signature Video Group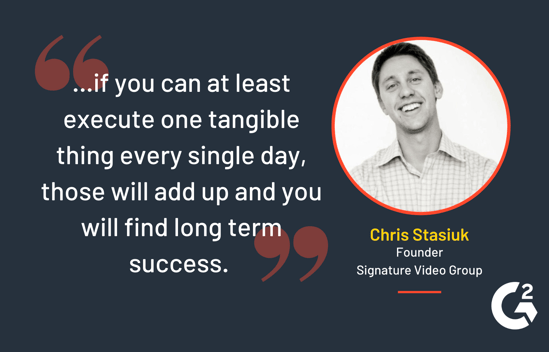 "No person is an island. You can't achieve success without the help of others so don't be afraid to drop the ego, ask for help, and allow people to help you. This advice allowed me to break free of wanting to do everything on my own and bring in partners to help build the company. Prior to that, I was building the company on my own - once I allowed myself to accept help, our growth rate increased dramatically and I no longer have to eat lunch by myself."
"You are on your own personal journey and have your own personal goals with your business. Do not compare yourself to others. You know in your heart and gut what your vision is and what you want to achieve. Go get it."
"The best advice I have ever received in starting my business is to always keep learning. The only constant in life and business is change. Whether it's the people, products, services, the marketplace, software, etc., everything is in a constant state of motion. Businesses that adapt to a fast-changing environment can grow and thrive, while businesses that are slow to adapt and learn are left behind.
I apply this advice to my life and business daily. The more that I learn from different fields of study, the better I'm able to tackle problems from a creative new perspective."
- Sarkis Hakopdjanian from The Business Clinic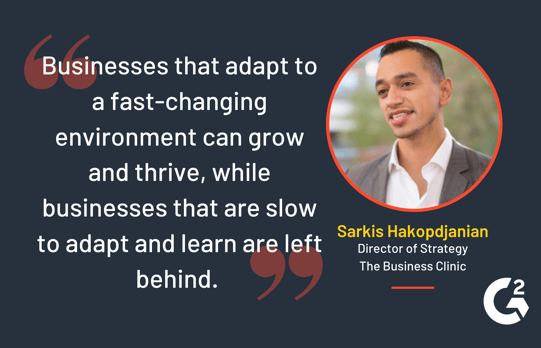 " 'The road to success is always under construction.'
It has become my main mantra. As I am a perfectionist and a master in procrastination, I use this quote plus the following affirmation to get out of the perfectionism paralysis. You are a work in progress, which means you are never "finished." You always have the chance to improve yourself and become something and someone better than who you already are. Be comfortable with making mistakes and accepting yourself for who you are."
"As a young entrepreneur, the best piece of advice I've ever received is to not to be afraid of failing. Failure should be embraced. Without failing how can you learn or succeed? If you're too afraid to fail, and fail hard, you won't take the risk."
"The number one piece of advice which I still recall every single day is: enjoy it! Simple as that. If you wake up in the morning dreading the meetings, deadlines, late nights, employees, or even the payables, you're doing it wrong. Nobody ever made something great out of dread - your business needs to thrill you, challenge you, and engage you. If you're passionate, you're already two steps ahead of the competition."
- Alexandra Marin, Co-Founder of CodeCrew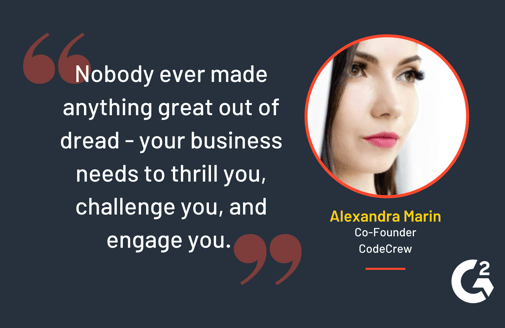 Starting a small business is a daunting task. There are countless ways your business can fail, but there are also plenty of ways it can succeed. But don't take it from me. Take it from those who have done it themselves and lived to tell the tale. If you think you have what it takes to embody the tips listed above, it might be time to move forward with that small business idea.
Curious about what happens after your business takes off? Check out our resource on business size that breaks down what you need to upgrade to the next level. 
Beto O'Rourke unveils small business plan to address racial wealth disparities - Fox News
Posted: 16 Jun 2019 12:30 PM PDT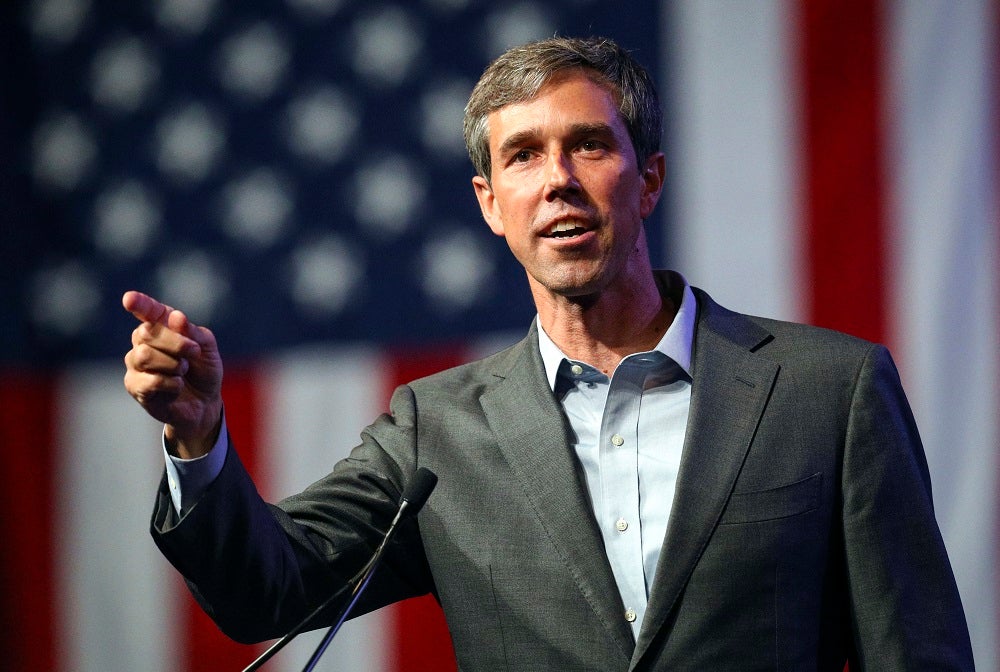 Former Rep. Beto O'Rourke, D-Texas, unveiled another plan geared toward ending racial inequality on Saturday, pledging that as president he would vastly expand the federal government's investment in women- and minority-owned businesses.
The 2020 hopeful claimed his plan would "unlock over half a trillion dollars" in resources and "spur the development of 200,000 new women and minority owned small businesses." It also would redirect $100 billion in federal contracting toward small businesses, expand access to mentorship opportunities, open a public credit reporting agency and work through certain avenues to expand access to markets and capital.
"Beto understands the unique challenges facing small business owners – and that those challenges are only heightened for women entrepreneurs and people of color," his campaign site read.
BETO PUSHES FOR PEACE WITH IRAN, ACCUSES TRUMP ADMIN OF 'GUNNING FOR WAR'
"Beto's plan to inject capital and demand into America's small businesses, confront institutional racism and increase federal investment in minority and women owned businesses will enable small business owners to do what they do best: grow the economy and create jobs."
The announcement came as O'Rourke spoke at the Black Economic Alliance's presidential forum along with fellow 2020 contenders Mayor Pete Buttigieg of South Bend, Ind., as well as Sens. Cory  Booker, D-N.J. and Elizabeth Warren, D-Mass.
O'Rourke in the past has acknowledged what he called the "privilege" he enjoyed as a straight, white male.
STEPHEN COLBERT URGES BETO O'ROURKE TO DUMP PRESIDENTIAL RUN, GO FOR SENATE INSTEAD
He indicated his privilege popped up when he appeared on the cover of Vanity Fair earlier this year, a decision for which he later expressed remorse. O'Rourke, in May, also announced proposals designed to address racial inequality in the classroom.
CLICK HERE TO GET THE FOX NEWS APP
O'Rourke's plan came as the Democratic Party has undergone an internal debate over the extent of its focus on identity politics before the 2020 presidential election. While presidential candidate Andrew Yang predicted that focus would cost the party electoral victories, Sen. Kamala Harris, D-Calif., and Georgia Democrat Stacey Abrams both defended it.
"I would argue that identity politics is exactly who we are, and it's exactly how we won," Abrams said in May.
Dropbox Re-Designs, Gmail Gets More Dynamic...And Other Small Business Tech News This Week - Forbes
Posted: 16 Jun 2019 04:00 AM PDT
Here are five things in technology that happened this past week and how they affect your business. Did you miss them?
1 — Dropbox's big redesign makes it a lot more useful at work.
At an event in San Francisco this week, Dropbox announced that it will be overhauled and thus much more integrated into various aspects of its users' work lives. Its new interface will centralize users' contacts, calendar, communication, tools and more in a single space. For example, Dropbox will allow users to have Google Docs live side-by-side Microsoft documents, with all of them easily accessible and integrated. Plus, PowerPoint documents can be edited right inside a Google editor with changes then saved on Dropbox. (Source: engadget)
Why this is important for your business:
As I wrote here, I'm a huge fan of Dropbox and use it in my business. My concern is that with all these great new integrations with collaboration apps like Microsoft Office and G Suite that already have file storage management services as part of their offerings, is Dropbox risking that some of their users will just move to those collaboration apps for the sake of ease? Will I? Will you?
2 — Dynamic email in Gmail launches for all domains on July 2.
The beta release of dynamic email in Gmail that Google announced in March will now launch for all domains on July 2.  Dynamic email was originally available to most Gmail users on the web, except for certain G Suite customers. In July, it will be turned on by default and thus usable by everyone. Support for Gmail's mobile apps will follow soon. (Source: Venture Beat)
Why this is important for your business:
For those of you using Gmail in your business, this is a significant enhancement if you're willing to take the time out and learn the new features – which include enabling users to inject messages with interactive content like questionnaires, appointment-booking flows, and browsable product catalogs by using Google's open source AMP for email framework.
3 — Mary Meeker's Tech State of the Union: everything happening on the internet in 2019.
Respected analyst and investor Mary Meeker revealed her 2019 Internet Trends Report this week at Vox Media's Code Conference. Her 2019 report on the biggest trends in digital focused on education, immigration, and the future of work—topics that have recently been priorities for the tech industry and the U.S. government. Last year, Meeker's report put heavy emphasis on data and personalization, e-commerce innovation, and China's rising intensity and leadership in internet-related markets. (Source: Business Insider)
Why this is important for your business:
For years, Mary Meeker's report has been the go-to analysis of where technology is headed over the next few years. Her recent report doesn't disappoint. It's filled with research data that shows the kinds of technology trends business owners need to know to stay ahead of the curve. The best thing about her annual report is that she's made the PowerPoint she uses publicly available and it can be downloaded from many places, including the Business Insider article above, which I strongly recommend.
4 — Salesforce acquires Tableau Software in $15.7 billion deal.
Salesforce—long a dominant player in the CRM enterprise realm—announced this week that it will acquire Tableau Software—the world's number one analytics platform. The acquisition will be made through an all-stock transaction—a deal that gives Tableau an enterprise value of $15.7 billion. According to Salesforce Chairman and co-CEO Marc Benioff, 'Tableau helps people see and understand data, and Salesforce helps people engage and understand customers. It's truly the best of both worlds for our customers—bringing together two critical platforms that every customer needs to understand their world.' (Source: ZDNet)
Why this is important for your business:
Many small and medium sized companies use Salesforce and with this acquisition, the company adds a powerful analytics feature to its already strong data set. Look for Salesforce to offer deeper reporting for your sales pipeline, customer interactions and employee activities as part of their existing package and  - for a fee, I'm sure – the ability for your business to take advantage of deeper analytics tools that were previously only available to companies with bigger budgets.
5— Microsoft warns about email spam campaign abusing Office vulnerability.
Late last week, Microsoft's security researchers issued a warning about an ongoing spam wave that is spreading emails carrying malicious RTF documents. Once users open the documents, their computers are infected with malware. Microsoft said the emails are sent in various European languages and that the spam wave appears to target users in Europe. Though the 'backdoor' trojan's command and control server appeared to have gone down by June 7, (Source: ZDNet)
Why this is important for your business:
Microsoft says danger remains in the form of future campaigns that may exploit the same tactic to spread a new version of the trojan that connects to a working server, giving hackers direct access to infected computers. Luckily, Office users can be safe from this spam campaign because the initial infection vector relies on an old Office vulnerability that Microsoft patched in November 2017.  But check with your partner to ensure that you've got the right updates applied. (My company, The Marks Group PC, is a Microsoft partner)