---
Their business is helping small business | News - News Dispatch
Posted: 14 Mar 2019 04:08 PM PDT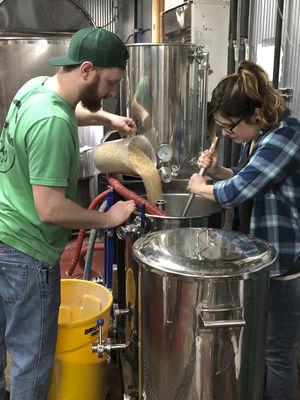 La PORTE – A La Porte County entrepreneur has teamed up with a Valparaiso small business owner to start a new venture with a somewhat unusual business plan.
The new business, known as The Collective, is the brainchild of Mandy Krickhahn, a Michigan City native now living in La Porte; and Gabrielle Pazour of Valparaiso.
"At it's core, it is a community to support small business owners/entrepreneurs while giving back to the community," Krickhahn said.
And in that vein, they will be hosting their first artisan market – "All of our vendors make or upcycle the products they are selling," Krickhahn said – on Saturday at the La Porte Civic Auditorium.
"With each market we do, we will also be facilitating a fundraiser for a non-profit organization," she said. "At our first event, we will be raising money for Lakeshore Paws, a dog rescue in Northwest Indiana."
Several of the vendors will be donating 10 percent of their sales from the day, while The Collective will be donating 10 percent of entry fees.
As another tasty enticement, "We've also teamed up with Michigan City's Burn 'Em Brewing and brewed a beer with them that they will bring to the market. The owners of Burn 'Em donated a keg to the event, and all proceeds will go to Lakeshore Paws," Krickhahn said.
Attendees will also be encouraged to bring donations (monetary, dog food, treats, etc.); and Paws representatives, and some adoptable dogs, will be there with information on how to get involved.
"Each market will have over 50 local small businesses involved as well as a different non-profit we will be supporting," Krickhahn said. Future markets, also at the Civic Auditorium, will be Aug. 17 and Nov. 23.
While it may not sound like the most lucrative business plan, that's not what the founders had in mind.
"At The Collective, our goal is to empower entrepreneurs through workshops and events that will provide them with meaningful connections and useful information to help them succeed," Krickhahn said.
And it all goes back to Krickhahn and Pazour's own experiences in starting their own small businesses.
They met in 2017, shortly after Pazour opened her "brick and mortar boutique, Aster + Gray," Krickhahn said.
Seeing an opportunity to showcase her own home-based business, Krickhahn approached Pazour about carrying her skin care line, The SpOiled Housewife, in the shop. After trying out the products – and loving them – Pazour decided to give it a shot.
"During her first drop-off at the shop, Mandy quoted 'Mean Girls' and compared Aster + Gray to Rose Apothecary from 'Schitt's Creek' a show we both obsessively watch and quote, and we knew we were destined to be friends," Pazour said on The Collective website – thecollectivein.com.
"The SpOiled Housewife products were really well-received with customers, so, reorders and product drop-offs became more and more frequent," she said. "These drop offs started off as quick interactions but eventually turned into hour-long chats about merchandise, the shop, small businesses, wine and, of course, 'Schitt's Creek'."
Both said they were passionate about supporting small, local businesses and giving back to the community, so they decided to plan their first joint event in 2018 – Mimosas+Makers, a mimosa crawl in Valparaiso held in conjunction with an artisan's market. It helped support nearly 75 small businesses in the area, and raised money for a local women's shelter, and they're planning a second such event for June 22 in Valparaiso.
"Realizing we each had our own strengths that worked really well together while planning the event, we decided we wanted to figure out some sort of partnership that could support small businesses, entrepreneurs and nonprofits in Northwest Indiana," Krickhahn said.
While hashing out an arrangement, and figuring out ways to empower the small business community, they ran into a problem.
"There weren't many resources to support these small businesses, and there weren't a ton of opportunities to get them together on a regular basis," Krickhahn said. "It was at that point that we decided to create an organization that would solve that problem."
But they didn't want it to feel "stuffy," she said.
"We decided it needed to feel more like a community that's tailored to entrepreneurs – and that doesn't necessarily fit the mold of suit-and-tie business professionals – and empowers them to succeed through resources and a collective effort to support one another."
When Facebook and Instagram are down, small businesses and big brands can suffer - USA TODAY
Posted: 14 Mar 2019 04:05 PM PDT
For Maatie Alcindor, Facebook is less about reaching out to old friends and more about connecting with new clients. 
"Social media is very integral to my real estate business,'' said Alcindor, 47, who is a real estate agent based in Montclair, New Jersey. "I think these days, it's integral to everyone's business.''
So when Facebook and Instagram were down for several hours on Wednesday, she had to figure out how to communicate in a more old fashioned way. "It was like, if I'm not able to post in the manner I want to, I'm going to have to send out a mailer,'' she said. "So I started working on a flyer.''
Facebook's outage was one of the longest in the social network's 15-year history, but hours without it and Instagram wasn't just a day of missed gossip and selfies. For some, it was a lost day of business, as entrepreneurs and companies increasingly rely on social media to find customers, sell merchandise, and build buzz about their brands.
The number of platforms has grown to include Alignable, which specifically targets small business owners, and Meetup, which allows people to form groups for professional as well as social reasons.
But Instagram has emerged as one of the most popular social media portals to help sell merchandise or build a brand.
Instagram debuted its shopping feature in 2017, enabling users to click on a brand's tagged post or the "shop'' button and then buy the lipstick, or pair of shoes that they spot and covet. Last year, the company said over 200 million Instagram users globally looked at one or more business profiles daily.
The online consignment shop thredUP "reaches millions of people organically on our Instagram, beyond our current followers,'' says Madeline Aaronson, thredUP's senior manager of organic growth. "Because of this, we think of Instagram as our second homepage, where many shoppers stop to check out our brand.''
Facebook passes blame: Facebook and Instagram blame server configuration change for outage
Thank you! You're almost signed up for Managing Your Money
Keep an eye out for an email to confirm your newsletter registration.
Now iCloud's having issues: One day after Facebook and Instagram went down, iCloud has problems
Facebook expanding its messaging:Cross-platform messaging between Instagram, WhatsApp and Messenger
Shinola, the watch and bike company that started up less than a decade ago, says social media has helped it interact with its shoppers.
"Social media is a great platform for Shinola as we continue to build our business,'' says CEO Tom Lewand. "While we know more and more people shop using social media, the best use for us (is) to connect with our customers on a more personal basis and getting their direct feedback."
Coach live streamed a runway show featuring its pre-fall 2019 line in Shanghai, China, in December. It got more than 7 million views collectively on Instagram and Facebook as well as portals like Weibo, Tencent, and WeChat. Earlier last year, it featured another fashion show on Facebook and Instagram to drive traffic to its website for a then-limited time handbag dubbed the "Dreamer.''
Social media has also become a key platform and tool for the $34-billion direct selling industry, which enables independent contractors to sell products and services for companies as varied as Isagenix and Mary Kay.  
"The sales force has always been ... on the cutting edge of new media, new sales techniques, and in that regard, they led the companies that way,'' said Joe Mariano, president of the Direct Selling Association, who noted that such platforms are especially appealing to younger sellers and business owners.
"The advantage of social media is that's where the people are and it allows you to expand your reach significantly beyond just face to face transactions,'' Mariano says. "Obviously you can speak to people abroad. You can speak to people across the country, and have personal and very real interactions any time the customer wants.''
Bill Constain, who owns a financial firm in Ponte Vedra Beach, Florida, and is also a seller for the weight-loss supplement company Isagenix says that he's gotten numerous clients and customers through Facebook and LinkedIn.
"With social media, more and more people do business without even a phone call,'' he said. "It's been a great thing.''
Alcindor says her primary go-to is Instagram where she not only posts pictures of the houses she's selling and neighborhoods she finds interesting but other details that tell potential clients more about her as a person.
One day, when rain threatened to make an open house she was hosting a bust, she taped a video of each floor of the home and posted it.  "That got some people over who wanted to see it in person,'' she says.
If not for her business, Alcindor says that she wouldn't be on Facebook nearly as much. 
"If I do something on Instagram, I push it instantly to Facebook,'' she says adding that she then monitors how people are responding. "They have analytics so you can gauge what are people responding to, so you can give them more of that.
Social media has widened her professional network as well, enabling her to get referrals from agents she's connected with in other states. And she's part of a group interested in various aspects of real estate, from investing to design, who gather via Meetup.
Next up for her is a vlog on YouTube with another realtor to talk about the industry. 
"I'm finding all sorts of different ways to reach more people,'' Alcindor says. 
Read or Share this story: https://www.usatoday.com/story/money/2019/03/14/when-facebook-and-instagram-crash-businesses-large-and-small-suffer/3161228002/
When Bank Branches Close, Digital Lending Levels The Playing Field For Small Business Borrowers - Forbes
Posted: 13 Mar 2019 08:28 AM PDT
America's largest banks have been shrinking their branch networks for the past several years, mostly by cutting back in relatively poor neighborhoods, according to a report in the LA Times. The report said that consumer advocates are warning that the closings risk widening the wealth gap by leaving scores of low-income areas with less competition for banking services such as personal checking and small-business lending.
The LA Times also reported that banks have shut 1,915 more branches in lower-income neighborhoods than they've opened during the past four years, according to S&P Global Inc. This has happened even though the Community Reinvestment Act of 1977 requires the Federal Reserve and other banking regulators to encourage financial institutions to help meet the credit needs of the communities in which they do business, including low- and moderate-income neighborhoods.
A 2014 MIT study found that branch closures in low-income and minority neighborhoods made it more difficult for local businesses to secure small business funding. In fact, economist Hoai-Luu Q. Nguyen discovered that the number of new small business loans is 13% lower for several years after a closing and that even in crowded markets, closings can have large effects on local credit supply.
Access to capital is the lifeblood of any small business. When banks vacate lower income areas, it makes it harder for prospective business owners to secure the financing they need to get their ventures off the ground.
Fortunately– especially aspiring entrepreneurs in low income areas – the digital revolution in small business lending helps to even the playing field. Being able to apply for funding online, rather than going from bank to bank and filling out separate applications, saves time and cost and can help small companies secure funding more efficiently. Small business borrowers can apply via their mobile devices or laptops and do it during off hours and weekends, and they don't have to travel to other neighborhoods or towns.
The good news is that the loan approval percentage for small business loan applicants hit a post-recession record high of 27.2% at big banks ($10 billion+ in assets) in February, according to the Biz2Credit Small Business Lending Index™.
Overall, the cost of capital right now is relatively low, small businesses are looking to secure funding, and for many companies, recent financial performances have made them creditworthy borrowers. Another positive sign for small business borrowers is that the Federal Reserve has slowed its trend of incremental interest rate hikes. Thus, money is flowing to small businesses, while the cost of capital is still reasonable – especially for traditional bank loans.
"We see the economy as in a good place. We think that the outlook is a favorable one. Inflation is muted and our policy rate we think is in an appropriate place," Federal Reserve Chair Jerome Powell told Scott Pelley in an interview with 60 Minutes.
Powell, who has overseen four interest rate hikes during his tenure, added that although he thinks economic growth this year will be slower than last year, he expects that "growth will continue to be positive and continue to be at a healthy rate."
Small bank approvals of business loan applications dropped two-tenths of a percentage point from 49.8% in January to 48.6% in February. Some of this may be a residual effect of the government shutdown, which caused a backlog of SBA loans that are often processed by community and regional banks. Despite this little hiccup, the reality is that almost half of the small businesses that apply for loans from smaller banks are able to get them.
The economy is still solid, and overall the approval rates for small business loans in February were stable. There are no major macro issues in the economy right now. Although 2019 may not be as good as 2018, we are still in very good economic times. This is beneficial for small business owners in search of capital.
The Challenges Of Small Business - WOSU
Posted: 14 Mar 2019 02:07 AM PDT
The Central Ohio economy has a lot going for it. Job creation is strong, the unemployment rate remains low, and the region's well-educated population continues to grow.
But story changes when it comes to the state of small businesses, according to a new report by the Columbus Foundation that ranked Columbus last among 23 comparable U.S. cities in small-company employment. 
Today on All Sides, the challenges of small business in Central Ohio.  
Guests: 
Michael Bowers, District Director of the Ohio Small Business Development Center at Columbus State Community College  
Roger Geiger, Vice President & Executive Director in Ohio, NFIB Ohio, Small Business Association 
Inna Kinney, Founder and CEO, The Economic and Community Development Institute  
Man caught on camera kicking in window of Elmwood Village small business - WKBW-TV
Posted: 14 Mar 2019 07:54 PM PDT
BUFFALO, N.Y. (WKBW) — Buffalo police are trying to help a small-business owner find three men, one of whom was videotaped bashing in the front window of a store.
Police said the incident happened just before 2 a.m. early Thursday morning at Half & Half Boutique on Elmwood Avenue between Bird Avenue and Forest Avenue.
Police said they are reviewing leads and evidence, but have yet to make an arrest.
7 Eyewitness News witnessed one of the men who claimed to be involved with the incident enter the store to apologize with gifts.