---
NYC's Small Businesses Want Congestion Pricing - Forbes
Posted: 11 Mar 2019 07:05 AM PDT
Most people following New York City's traffic and transit problems understand that more traffic and congestion is bad for air quality and commute times. And they know that the city's buses and subway system need significant improvements to get people from here to there faster.
The impact of New York City's traffic and transit woes on small businesses, however, is often overlooked. New York City is teeming with small businesses that depend on quick, smooth and reliable transit for their employees and customers. The harder the commute, the more likely an employee will be late, or the easier it is for a customer to say "not today."
That's why small business owners are some of the most enthusiastic supporters of congestion pricing.
Congestion pricing is a simple concept: cars would be charged a fee once per day for traveling into the most trafficked parts of Manhattan. This would achieve two things. First, it would incentivize other transit options, like buses and the subway, and reduce overall street traffic. Second, the fee would generate more than a billion dollars a year that would be used to improve the city's transit system.
Environmental Defense Fund and other organizations are participating in the Fix Our Transit campaign to spotlight the benefits congestion pricing would bring to the city. As part of the effort, we shot several videos featuring local small business owners who – in their own words – explain how their businesses depend on good transit and how congestion pricing would help them, their employees and their customers.
The videos feature:
Kate Davies, owner of

YO BK yoga studio

. Like many small businesses, Davies' studios depend on reliable transit during off hours – before and after the traditional work day and on weekends. Today, the Metropolitan Transportation Authority (MTA) runs less off-peak service than it did a decade ago even though more people are riding during those hours. "Small businesses are one of the big reasons people like to live in New York. So prioritizing the way people are able to get to us actually impacts the whole city. The more great small businesses are in a neighborhood, the more valuable that neighborhood is."
Natasha Saunders, owner of The Ritz Cleaning & Concierge and the Oxford Property Group. Saunders' businesses rely on her employees and subcontractors using public transportation throughout the day. She noted how she had to change her strategic planning because of traffic. "We need to plan our business a little bit differently because we have to compensate for the time it's going to take us to get to clients – the above-normal time it's going to take us."
Dudley Stewart, owner of

The Queensboro

restaurant in Jackson Heights. Most of Stewart's customers arrive by bus, and bus routes and efficiency would benefit from the reduced traffic and increased transit funding congestion pricing would create. "We need to understand that people traveling by car and creating traffic and congestion is the exact opposite of what small business want. Congestion pricing is definitely one of the things we need to try. I'm a small business owner, and I love congestion pricing. That's as simple as it is."
Dominic Stiller, owner of

Dutch Kills Centraal

Stiller explains how transit delays cost his employees time and his business money. Employees are often late, which means he has to schedule more hours. Congestion pricing would mean "the city moves quicker, the delivery of goods moves quicker. I'm itching for it to happen."
Shunan Teng, owner of

Tea Drunk

in the East Village. Teng's customers often tell her about their subway frustrations, and she worries that the subway system's woes will hurt her business. She looks forward to the funding that congestion pricing will bring to the subway system and the reduced street traffic. "I think it will make everyone's life easier."
There are many benefits to congestion pricing. Less traffic and pollution. More transit funding. Better commute times. But it's important to remember that the small businesses we all love and depend on can't succeed if our city doesn't run smoothly.
Congestion pricing is a smart, strategic solution that all New Yorkers should be excited about.
Easy Steps To Better Data Privacy In Your Small Business - Small Business Trends
Posted: 11 Mar 2019 04:30 AM PDT
Is anything private in business anymore? Consider the consumer information businesses collect digitally. Or think about all the video cameras posted everywhere. Your smartphone even includes cameras, you know? So data privacy remains a big concern. Large corporations like Facebook and Google disclose daily examples of data breaches. So as a small business owner, how do you keep the customers' data private that exists inside you company right now?
---
---
Is Data Privacy Possible?
Listen to the Small Business Radio Show this week. Internationally recognized expert in privacy and former Senior Advisor for privacy at the White House Marc Groman joins us on the program. And we'll discuss the urgency around data privacy.
Marc still believes we need to have an expectation of privacy but be prepared if information is breached. But he argues most consumers give up their privacy rights too easily. They do so because of the difficulty understanding the terms of service presented. And the way companies use customer data also confuses them.
But the problems run deeper. For example, the U.S. lacks a single federal law on privacy. Current laws vary by industry. Different laws regulate the finance industry versus the health care. They also vary by state. Marc sees more problems ahead if there is not a federal law that raises the expectation of data privacy from all companies.
Basic Steps to Better Data Security
Here are the basic steps that Marc recommends small business owners implement to ensure their customers' data is secure.
Use complicated passwords. Too many times passwords are not changed from the default (Does "password1234" sound familiar?). Data privacy starts with using difficult passwords that change frequently. Currently it is best to use two factor authentications where the user must present two unrelated pieces of identification to be approved for access. I also recommend using a password manager that randomly assigns and changes passwords.
Secure the router. Without user and administrative passwords, it is simple to get into your company's network to get access to customer data. At least implement the most basic road block here.
Educate staff. Most breaches are caused by human mistake and are completely avoidable. Train your staff on what changing cyber threats look like. They should not learn about the latest techniques from the news. Data privacy must be built into the company's culture.
Marc sees too many companies only ask for help after a data breach. A response after a hacker has broken into your business is much more painful and expensive than implementing basic security protocols.
Listen to the entire interview here.
Image: Depositphotos.com
---
CBJ: It takes a village for small businesses to thrive, Culpeper store owner says - The Daily Progress
Posted: 10 Mar 2019 12:15 PM PDT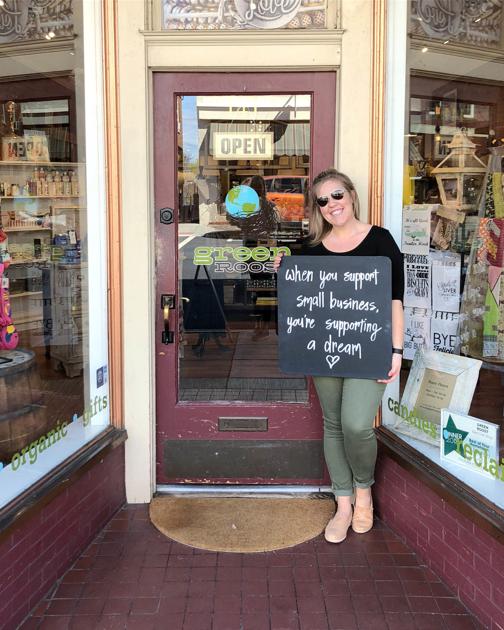 CULPEPER — The reasons that push a small business to grow and pursue new directions are as varied as small businesses themselves.
For Green Roost on East Davis Street in Culpeper, it was a "cease and desist" letter.
Three weeks after signing papers officially making her the business' owner, Kelsey Carlson Settle was forced to make a decision that most businesses take weeks to decide.
A company in California claimed that they had a trademark on the name Green Nest — the original name of Settle's business — and were threatening legal action.
"So, I decided it was time for us to grow into Green Roost," Settle said.
The new name was similar enough to the old one that it didn't require complete rebranding. Even so, "It still took a financial toll on the business," she said. "But I made it work."
Settle makes her business work because she understands that small businesses in small communities must support each other.
"As a business owner in a small town, I want all businesses to succeed," she said. "It's not just about my store; it's about the bigger picture of a successful downtown Culpeper. We want the shoppers of downtown Culpeper to have a great overall experience."
Settle is also personally involved in the community through her volunteer work with organizations such as Culpeper Renaissance, the Free Clinic and the Culpeper Wellness Foundation.
Green Roost is community-focused, but also mission-minded in that the products sold are not only Earth friendly, but have a "give back" model that, Settle said, "focuses on social responsibility and ethically made goods."
Success is more than about trends, according to Settle.
As an example, she referred to the company TOMS, whose shoes she sells in her store. "You can have a successful company that also does good," she said.
TOMS matches every pair of shoes they sell with a new pair of shoes for a child in need.
"I wanted to take their model and apply it to my own small business," Settle said. "I like to think that people shop here because they know their purchase makes a difference."
But making a difference comes with a degree of risk-taking, something Settle said should be considered by those contemplating starting a small business.
"I don't think a business can grow without taking risks," she said. "But make sure your risks are educated and well-researched. I find that quick, uninformed decisions are the ones I tend to regret."
Settle took the demand for Earth-friendly gifts and made it into a sustainable business. In addition to selling ethically made gifts, Settle's inventory is unique to Culpeper — such as T-shirts that reflect the town's one-of-a-kind attributes and help local shoppers to feel a tighter sense of community.
Facebook's Workplace App Targets Slack, Microsoft Teams...And Other Small Business Tech News This Week - Forbes
Posted: 10 Mar 2019 05:00 AM PDT
Here are five things in technology that happened this past week and how they affect your business. Did you miss them?
1 — Facebook's Workplace reaches 2M paid users and is targeting SMBs.
Used by some of the world's largest organizations, Workplace by Facebook has now amassed two million paid users, according to data just released by the company. When launching Workplace in late 2016, Facebook envisioned it as a corporate version of its consumer social network—a way to drive employee engagement, communication and collaboration. Since then, 150 companies have deployed Workplace to more than 10,000 users, and organizations such as Nestlé, Starbucks and Walmart have rolled it out to more 100,000 workers. (Source: Computer World)
Why this is important for your business:
Now that the application has matured, Facebook is turning towards the giant small business market, which is mostly dominated by collaboration apps Slack and Microsoft Teams. But there's certainly room to grow. The company plans to add reseller and other consulting partners (if your business in interested you can sign up here), develop a more robust mobile version and potentially change its marketing approach to appeal to this broader audience.
2 — Microsoft will start selling Windows 7 add-on support April 1 and will also release a new Windows 10 in April.
This week, Microsoft announced that it plans to start selling its Windows 7 add-on support—called Extended Security Updates (ESU)—on April 1. This will give enterprise customers more time to purge their environments of Windows 7. Beginning when Windows 7's support ends on January 14, 2020, ESU will provide security fixes for uncovered or reported vulnerabilities in the operating system. Also this week, Microsoft released a new Windows 10 preview with 9 bug fixes. It will be finalized for Windows Insiders this month and rolled out to the public in April. (Source: Computer World and Venture Beat)
Why this is important for your business:
This spring is a good time for you to review your network with your IT firm, clean out any old operating systems and upgrade to the most current versions.  It's not just a matter of performance and support…it's critical for your company's security.
3 — Google Cloud launches a fixed monthly fee plan for storage that smooths out cloud cost bursts.
Google Cloud will soon launch a storage plan called Storage Growth Plan which covers cost bursts by featuring fixed monthly pricing for a year. It gives enterprise CFOs more budgeting predictability related to cloud infrastructure costs, which can be volatile as data shifts locations and resides on different tiers. The Storage Growth Plan rhymes with data plans from wireless providers that roll over minutes, as well as with the way enterprises are used to buying IT infrastructure--based on a fixed dollar amount. (Source: ZDNet)
Why this is important for your business:
If your business is data intensive, then take a hard look at Google's Storage Growth Plan. It'll help you better budget and control your cloud storage costs.
4 — Phishing alert: one in 61 emails in your inbox now contains a malicious link.
Security provider Mimecast reported this week that the number of phishing attacks on corporate inboxes has more than doubled recently, with one in 61 emails found to contain a malicious URL. These harmful links are one of the key methods hackers use to conduct criminal campaigns, and the emails containing them are often designed to look like they come from legitimate senders, such as a colleague or a company. Their purposed is to deploy malware onto the victim's PC or to encourage that person to enter sensitive information into a fake version of a real service in order to trick him or her into revealing passwords and other data. (Source: ZDNet)
Why this is important for your business:
The best way to fight this problem is through training.  The vast majority of security issues happens due to user error – people clicking or downloading the wrong the thing.
5— DARPA is launching an accelerator for small businesses.
The Pentagon's research funding arm, the Defense Advanced Research Projects Agency (DARPA), just announced the launch of an accelerator for small businesses. It would accelerate private companies, so that they could sell their products, services, or research back to the government. (Source: The Sociable)
Why this is important for your business:
Here's a great way to get funding – and assistance – from the government. The goal of DARPA's program is to increase the participants' ability to move technology from the lab to a sustainable business that then sells new capabilities to the military. The accelerator will also provide funding to hire one entrepreneur-in-residence or business development lead who will offer the awardee direct support for a variety of business activities.
Gene Marks is a CPA and owns The Marks Group PC, a technology consulting firm based near Philadelphia.
How To Boost Your Small Business With The Right Financial Management Tools - Forbes
Posted: 11 Mar 2019 04:45 AM PDT
Most founders are inspired to create a business out of a great idea or a passion. Once your business is off the ground, day-to-day management tasks steadily creep in and quickly become cumbersome and time-consuming. As a business owner, odds are that you started your business in pursuit of passion or deep expertise in a focused area. Fast forward months or a few years into the business, and you may feel mired neck-deep in invoices, billing, back-office work and hundreds of business management tasks that are onerous and overwhelming. When that feeling begins to creep into your everyday, it's time to take a step back and consider how technology tools might make a difference to your business by helping you maintain fiscal health and financial growth, but also by helping you find your happy place in your business again.
A survey our company conducted of small business owners found that the majority of business owners are using Excel spreadsheets to keep track of their financials, and are not using accounting software. Accounting software has become inexpensive, easy to use and a huge time saver. "Small businesses are always looking for tools to simplify their life, and apps are often the first place they look ... and accountants need tools that (sic) can recommend to their small business clients," says Alex Barnett, Director of Intuit Developer Group.
When it comes time to file your taxes or get information to analyze your financial performance metrics, using financial software will give you better insights and more organized data, and save you hours upon hours of building reports in Excel. But accounting software is only the first step in optimizing your business operations with the right tech tools. Understanding when to integrate software solutions can be daunting, but certain guiding questions help.
Determine Which Tools You Need Most
First, determine what types of tools will most help your business by making sure you know the specific problems you are facing in your business today:
• Are you struggling with cash flow and constantly worried about having cash in the bank?
• Do you need a better understanding of your inventory — what you have, what sells best and what it costs you?
• Do you need to analyze whether you have the right number of employees? How productive are your employees compared to sales revenue?
• Do you know how you compare to your industry peers? How are your business metrics measuring up against industry standards?
• Do you need better tools to manage customer and client emails in order to communicate better and faster?
Implement And Test
After you have focused on the key problems that you want to prioritize, it's time to choose a few tool options to compare. For instance, if you want to improve cash flow and understand how to better manage cash, you will want to research cash flow forecasting tools and cash flow management tools. Spend some time researching online, and find some software product roundups and review sites to read about software that can help you improve cash management and cash forecasting in your business. Think about how much you want to spend on the tools, and pick out three to four tools that fit your needs, business size and budget. Be prepared to ask yourself a few more questions as you evaluate the solutions:
How much time will it save? How much is that time worth?
• If a software solution only saves a small amount of time, it may not be worth initial setup, onboarding and any associated costs. The more you are able to calculate the time-saving potential of a tool, the more clarity you'll have about when (and if) you should integrate the solution.
Is the tool easy to learn and use, and well-supported?
• Is there a trial period that allows you to test the software before you commit?
• What sort of help and support does the software provider give you? Is it included in the price?
• How much training is included and necessary for you to implement this tool?
How long before the tool pays for itself or demonstrates ROI?
• Understanding the projected ROI for a new tool is extremely helpful. Although it can be unclear how a tool will impact business over the long term, think about your growth plan over the next two to three years. If you are projected to double in size as a core team in the next three years, for example, then that moderately expensive HR platform may pay for itself over time.
Permanent Solutions Are Rare
While tech solutions provide a great deal of time savings for business owners, it's also important to be realistic about the long-term lifespan of the solution. If your business is growing, you'll need to iterate on your selection process as your business demands it.
Tools Require Buy-In For Success
Finally, with the adoption of any new tool, you'll also need to be prepared to onboard your team effectively. One tool may appeal to certain people on your team much more than others, but you can strategically train and educate your team on the benefits and best practices for new tools. Creating collective buy-in early on will optimize the tool's functions for your business.
The bottom line is that you have to be in control of your business, and the right technology tools are making that easier and easier. Don't be afraid. Embrace new technologies, and take the time to understand how they can help you be a more effective business owner. Your competition is going to be using technology as an advantage, so don't be left behind.