---
Downtown Pittsfield Reports Positive Downtown Business Environment - iBerkshires.com
Posted: 04 Mar 2019 06:02 AM PST
Executive Director Cheryl Mirer discusses the heart of the Berkshires marketing campaign the organization rolled out to help downtown businesses. 
PITTSFIELD, Mass. — Downtown Pittsfield Inc. reported to the City Council last week that it had another positive year.
President Jesse Cook-Dubin said while the ebb and flow of the business cycle had seen some businesses leave downtown, the downtown also welcomed a number of new ones and have retained some. 
"The trend for the last many years has been largely to the positive," Cook-Dubin told the council on Tuesday.
Executive Director Cheryl Mirer highlighted places like Township Four, Framework, Thistle and Mirth, and Hotel on North that have become stable businesses in the city's downtown. Hotel on North has grown from having 679 visitors to having 1,160 already on the books for 2019. She said the hotel has become a wedding designation and bus tours have now added it to the route, and there are now 12 buses contracted to bring guests there in the next two years.
"Things are looking up for downtown," Mirer said.
Downtown Pittsfield is there to help merchants. Mirer highlighted efforts like a social media marketing class the organization has begun providing for merchants and marketing campaigns. The organization is also holding membership forums and partnering in events to bring more people downtown.
"We've got great energy among downtown businesses right now," Mirer said of the 200 or so businesses that are members.
In July of last year, the organization rolled out the Heart of the Berkshires tool kit that is coordinated marketing materials for the city's downtown businesses.
Each month the organization has been holding events with the membership to discuss issues. In August, the organization met with business owners at the Marketplace Cafe and in September, they all took a tour of Hotel on North. In October, there was an "idea jam" at Framework and the next month the members gathered to go over benefits to make sure all of the businesses were getting what they paid for. In December they had a holiday party and in January was another coffee meeting at Dottie's to discuss marketing the downtown. In February, the group joined in a networking event with 1Berkshire.
Meanwhile, Downtown Pittsfield has ramped up its marketing on social media. The organization created a Heart of the Berkshires hashtag on Instagram that had some 1,071 posts. The organization's Facebook has grown to 3,024 likes, up from 791 more than a year ago. 
"We are doing this primarily without running Facebook ads," Mirer said, adding that the organization paid for Facebook ads for only two events — Small Business Saturday and the downtown holiday frolic.
In May, the businesses will team up to clean up the downtown, an annual event. 
Meanwhile, the organization has continued with the ambassador program. It was established a few years back in response to a call for more downtown police. What evolved from that push was a partnership between Downtown Pittsfield and the Police Department to put more eyes and ears on the street.
Those in the program are trained and equipped with police radios to easily call in anything they see during their shift. They are trained in CPR and also serve a role in helping people with parking meters and wayfinding, and offering recommendations. 
"Our members love this program, they want the ambassadors out on the street," Mirer said.
Mirer said the organization is still looking for sponsors to continue the program. And the organization needs more ambassadors. It is a paid position but Mirer said it can be difficult to keep people on.
"We did have some trouble keeping folks once they realize they had to walk nine miles per shift," she said.
The City Council pushed the organization to reach out to Berkshire Community College to help find people to serve in the role. The college used to have its criminal justice program participate but that program went through a change and the ambassador program is no longer part of it.
Tags: Downtown Pittsfield,   
Support Local News
We show up at hurricanes, budget meetings, high school games, accidents, fires and community events. We show up at celebrations and tragedies and everything in between. We show up so our readers can learn about pivotal events that affect their communities and their lives.
How important is local news to you? You can support independent, unbiased journalism and help iBerkshires grow for as a little as the cost of a cup of coffee a week.
Click here for story | Home/Real Estate - Santa Fe New Mexican
Posted: 04 Mar 2019 04:00 AM PST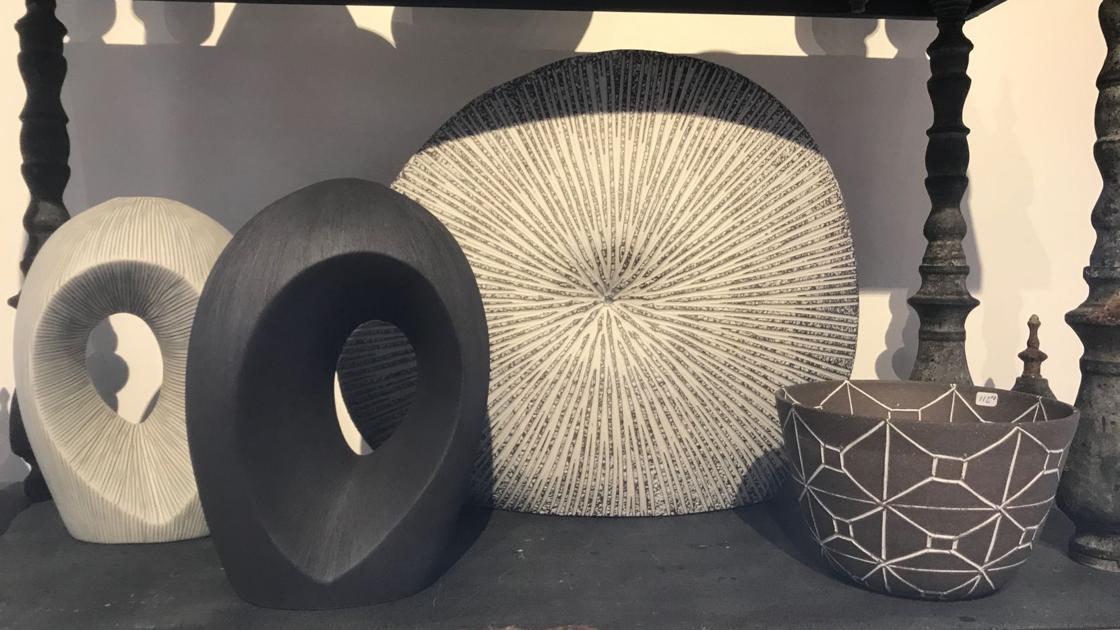 THERE'S A NEW TRIANGLE IN TOWN. It's strictly theoretical, but inside it are 14 doorways into more practical dimensions. This is the Design District Triangle, a partnership of Santa Fe design businesses whose owners hope greater awareness of their offerings will result from a combined presence.
Home visited the new digs of Reside Home to talk with its owners. Jeff Fenton and Chris Martinez recently moved from the Santa Fe Railyard to greatly expanded quarters in the historic Digneo-Moore House on Paseo de Peralta. We talked in one of the rooms that now hold vignette groupings of the furnishings they sell; another room is a planning space for their design business.
They said the triangle idea had its roots in a discussion with Cara and Robin Evans, owners of the Ampersand Old & New shop on Sandoval Street.
Jeff Fenton: We were over at Cara and Robin's before Thanksgiving talking about ways for us to co-brand and leverage some of the home-furnishing showrooms and design studios that are in this area, which isn't really part of the Railyard or the Plaza, and we felt like we had an opportunity to define this area. There is a concentration of design happening in this area. Certainly in the five years since we opened Reside, it has exponentially grown.
And your business has already been replaced at 340 Read Street.
It has. It's K.O'Neal. Kelly O'Neal has had a wholesale-to-trade business for a long time and he decided he wanted a retail showroom to highlight his art, much of which is turned into fabric that he uses to upholster chairs.
Chris Martinez: We've known Kelly for years. Art started for him as sort of a therapy, to bring his stress level down. And now he's in our old space, which is so great. We've carried his pillows, we've carried his art, and now we have that resource here in town.
Fenton: We started looking at stores and home-furnishings businesses that were in an area that turns out is sort of shaped like a triangle. You can see on the map [at designdistricttriangle.com] that it's bordered by Guadalupe Street and over to Old Santa Fe Trail, where Wallflower is, at the point, then to the other side of Guadalupe, with Array and Moss Collection at the corners. There's a total of 14 businesses.
What about Wiseman & Gale & Duncan Interiors and David Naylor Interiors a little to the north and west?
Well, then we'd have this giant blob.
Martinez: A parallelogram.
And how about Santa Fe Home?
Fenton: Chris went to them and they declined to be involved. We just stayed tighter. Chris went out and knocked on the doors and said, 'We're trying to do something here, maybe a designation of a design district, so are you interested?'
Martinez: We were speaking with Cara over at Ampersand, just brainstorming, and she said in her previous retail life down in Silver City she was part of something called the Design Gulch. Gulch wasn't really the right term for us, so I pulled out a map and sort of plotted where people were that we knew — HVL Interiors, French & French Interiors, us... It made this triangle.
I got everything up and running for Small Business Saturday [Thanksgiving weekend], the logos, and did the website, which is basically a directory. We're all listed there and when you click on one of the logos, it takes you right to that business's website, or in the case of Wallflower, to a Facebook page.
I'm trying to keep the website as simple as possible, but I would like to get a small blurb for everybody, to go with their logo and link, that says what they do.
Fenton: In major metropolitan cities, there are design districts, places where people who are looking for home furnishings and for design guidance and ideas can find a lot of businesses in one location, and people can walk from one to the other. That was the idea, to try to facilitate shopping for customers.
What if I'm in one of the showrooms here and I'm interested in something they might not specialize in?
Martinez: We do recommend others. There is interweaving. We play very well together. We carry different aspects of home. You need outdoor? Go to Moss. You need those placemats? Tom over at Array has those.
Fenton: More and more, with the competition from online shopping, how do you create an experience for a customer that feels local and small and you feel like you're supporting your community? That was part of this, too: how do you create a more intimate, local, friendly business network?
Some of us have been here for a while and we've grown our businesses, we've become destinations, but we also really want to ensure that we're engaging and supporting emerging businesses, new businesses that complement what everyone else is doing. And sometimes those new businesses aren't on a major thoroughfare or people have a hard time getting to know where they are or who they are.
Martinez: Better visibility helps us all.
The Triangle boasts a diverse mix of design firms. HVL, for example, is strictly an interior-design business. Moss offers upscale patio furniture and other outdoor furnishings. Wallflower is an urban garden boutique. At Array, you can find a great variety of candles, linens, greeting cards, cocktail napkins, and bath and body products, as well as beautiful and fun gift ideas like the animal heads made by Zimbabwean artists from recycled automobile steel; oval steel plant containers from India, and baskets from Africa and the Philippines.
"I think this district idea is a good thing," said owner Tom Stark, because this part of town is kind of the outskirts sometimes to tourists who head for the Plaza, but it's only a 10- or 15-minute walk. If people want to explore, it's a good thing that there's some depth over here of design shops, but also it tells locals about the area."
Design District Triangle customers will discover surprises in next-door neighbors like Moss and Casa Nova by Natalie at 530 S. Guadalupe Street; and Ampersand, Melinda Browning Interior Design, and Millicent by Emily Henry at 428 Sandoval Street. And they can also zero in on three at once at 339 W. Manhattan Avenue: French & French Interiors, Core Value Interiors, and Aimee LaCalle.
Ampersand's Cara Evans credits the Reside Home owners with doing all the legwork on the district idea. "We were all talking about the fact that we kind of have a district over here and we decided that we should come up with something and market it, but we didn't know what. Then Jeff and Chris came up with the triangle idea.
"We all support each other, we send people to each other's businesses, and we shop from each other," Evans said. "Now we're looking at getting pamphlets made up that we will all have in our businesses, and then we'll possibly do a walking tour when the weather gets nice."
That sounds similar to the way that several of the galleries in the Railyard, and SITE Santa Fe, do joint advertising. "That's the way it kind of started. I was telling Jeff and Chris how expensive advertising is," Evans said. "We're just a little business without any employees yet. So it was thinking about how we can do things together.
"Maybe down the road it will be known and have a neighborhood name. "People will say, This is the Railyard. This is the South Capitol area. This is the Design District Triangle."