---
Portland Grants First Two Small Business Grants to Cannabis Business Owners - The Skanner
Posted: 07 Mar 2019 10:20 AM PST
Two Black-owned cannabis businesses in Portland have been awarded the first-ever small business grants earmarked from the city's recreational marijuana tax revenue.
In 2016, Portland voters passed Measure 26, specifying that a 3 percent tax on recreational sales would be used in part to support minority-owned and women-owned local businesses in the cannabis industry. It is the first such tax initiative in the U.S. Further language in the measure emphasizes that these funds will provide "economic opportunity and education to communities disproportionately impacted by cannabis prohibition."
In January, the resulting Cannabis Business Development Equity Program awarded $30,000 individual grants to both subscription box provider Green Box and Green Hop, a brick-and-mortar dispensary with a social justice mission.
"The voters said they cared about the economic harm done to the communities through (marijuana) arrests and the war on drugs, and want to give back," said Jeannette Ward Horton, project manager at the NuLeaf Project, a nonprofit chosen as the program's provider.
In addition to the funding, each business will receive at least four months of business advice and guidance through NuLeaf.
While exact statistics for cannabis business ownership in the state of Oregon are not available, Ward Horton argued numbers from Colorado provide a workable comparison: Only 1 percent of cannabis businesses are owned by African Americans, the racial demographic most arrested on marijuana charges. In total, 15 percent of cannabis businesses are owned by people of color.
The Cannabis Business Development Equity Program is administered by Prosper Portland, the city's development commission.
"We have a $3 million program called the Inclusive Business Network, where we fund 16 organizations that serve entrepreneurs of color and women," project manager Katherine Krajnak said.
"We served 735 businesses last year: 70 percent (were owned by) people of color, and 60 percent were women-owned."
Ward Horton explained how Green Box and Green Hop were chosen out of the more than dozen applicants.
"These are strong businesses ready to explode, ready to scale with the right capital. They're just missing the capital to scale," she said.
"The subscription model economy is exploding outside of cannabis, and there aren't a lot of delivery licenses in Oregon. So you corner the market. Green Hop is a retailer, but what makes them special is they're creating this cannabis hip hop experience, having these events and culture activities. They're really trying to push what is retail and what it means to serve a community."
Green Box owner Adrian Wayman says his business, now in its second year, caters to "people that tend to be overwhelmed by shopping in a typical dispensary environment, or absolutely don't want to be seen by others," as well as customers who want more consistency in product -- the decrease in overhead costs means Wayman can better keep up with inventory.
The new funding source will enable Wayman to expand his previously one-man operation. He confirmed to The Skanner that since receiving the $30,000 grant, he has been holding interviews with potential drivers, fulfillment team members, and creative and marketing staff.
"I think I deserve (the grant) for the simple fact I have been affected due to harsh laws," Wayman said. He was arrested for possession 19 years ago in DeKalb County, Georgia, while waiting for his bus. He says he was approached by a number of police officers with guns drawn, and that they discovered a small amount of marijuana on him. He spent the next 18 months on probation, and saw an adverse impact on his job prospects after.
Wayman acknowledged another piece of city legislation that helps residents with past cannabis convictions pursue expungement. "That' something that I could pursue, but at this point, I think that as a business owner now I don't need it. It may be something I do down the road just to get it done, but at this point I'm not in any hurry. I'm not applying for anyone's job."
Grants for Female Entrepreneurs - Business.com
Posted: 08 Mar 2019 06:00 AM PST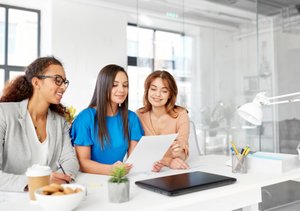 Happy Women's History Month! As we celebrate trailblazing women entrepreneurs all through March, it's equally important to keep the conversation going about how to support them and their businesses.
Findings in the 2018 State of Women-Owned Businesses Report commissioned by American Express revealed that, between 2017 and 2018, women started an average of 1,821 new businesses per day in the United States. In fact, over the last 48 years, the number of U.S. women-owned businesses has dramatically increased from 402,000 to 12.3 million.
Despite the major strides forward in generating revenue and employment for the U.S. economy, women entrepreneurs still struggle to receive proper funding. A 2018 survey conducted by Inc. and Fast Company uncovered that 62 percent of female founders experience bias during startup fundraising.
What happens when women business owners are unable to receive investment capital? They seek financing elsewhere, often through avenues like crowdfunding, dipping into personal savings, or applying for business grants. Whether you're new to entrepreneurship or seeking a little extra funding to cover business expenses, let's take a look at business grants for women entrepreneurs across industries.
1. The Amber Grant
In 1998, a young woman named Amber passed away at the age of 19 before she had a chance to pursue her entrepreneurial dreams. WomensNet created The Amber Grant to pay tribute to Amber with a grant specifically for women entrepreneurs.
How do you get an Amber Grant? Interested parties must apply for an Amber Grant by March 31, 2019. Judges then select the winners, who each receive $2,000. From there, 1 of 12 qualifiers are eligible to receive the annual $25,000 Amber Grant. This grant is awarded at the end of 2019, bringing the total to $27,000 for the final winner.
Applications for the Amber Grant have a $15 fee. The grant is open to all industries, from food to science, and seeks women applicants who are passionate about their company and have business savvy. Applicants are encouraged to speak from the heart when applying and know that no business dream is too big or small for a chance to receive the grant.
Editor's note: Looking for financing for your business? Fill out the below questionnaire to have our vendor partners contact you about your needs.
2. The Halstead Grant
Silver jewelry artists, rejoice! The Halstead Grant wants to help take your jewelry business to the next level. Emerging women jewelry designers in the U.S. are encouraged to apply for The Halstead Grant by Aug. 1 for a chance to receive funding for their business.
Interested parties may fill out a form on the website to download the application and apply. Emily Shaffer, the 2018 winner of The Halstead Grant, received a $7,500 cash grant; $1,000 in jewelry supplies; a trip to Prescott, Arizona; and additional perks that included a feature in grant publication Reveal and a signature trophy.
3. The Girlboss Foundation's Small Business Grant for Women
Launched in 2014, The Girlboss Foundation is the charitable arm of entrepreneur Sophia Amoruso's clothing startup, Nasty Gal. The foundation awards small business grants on a biannual basis to female-identifying entrepreneurs. Grant beneficiaries receive $15,000, local press and exposure through the Girlboss platform for their business.
At the present time, applications are closed for the grant. The Girlboss Foundation plans to announce the winner soon on its website. Check in to see which small business owner won and when applications open again for the next grant!
4. Open Meadows Foundation
Are you a woman entrepreneur currently engaged in a project promoting gender, racial or economic justice? You may qualify for a grant from the Open Meadows Foundation.
Eligible applicants may apply for grants under $2,000 from the Open Meadows Foundation for projects that meet the requirements. They must be designed and implemented by women and girls, promote community building, reflect community diversity within the project's leadership and organization, and have limited financial access. Priority is given to small businesses and startups, providing a much-needed financial boost to smaller organizations creating change. Applications for the spring are currently closed; however, proposals for fall open on July 1 and close at midnight on Aug. 15.
5. Cartier Women's Inititative Awards
Welcome to the big leagues for grants. Created in 2006, the Cartier Women's Initiative Awards fund women entrepreneurs from all walks of life. Women entrepreneurs from any country, of any nationality, and in any industry are welcome to apply for a grant that can take their business to the next level.
How much do the winners receive? Seven laureates (one from each region) are awarded $100,000 in U.S. prize money, and 14 finalists, with two runners-up from each region, receive $30,000 in U.S. prize money. The 21 finalists also receive a scholarship to attend the INSEAD Social Entrepreneurship Executive Education Programme and a year's worth of mentorship.
Since the stakes are quite high for this grant, there's a great deal of criteria for eligibility. For example, businesses must be for-profit and 1-3 years old. You can view the entire list of criteria at the application's page. Mark your calendars: Applications for the 2020 Cartier Women's Initiative Awards open in June 2019.
6. Tory Burch Foundation Fellows Program
The Tory Burch Foundation launched in 2009 as a means of empowering women entrepreneurs and providing them with much-needed capital, education, and access to networking. Its Fellows Program is designed to provide women entrepreneurs with support and community as they grow their businesses.
Who can become a #ToryBurchFellow? You may apply if you are a woman entrepreneur who owns a majority stake in a for-profit, early-stage U.S. business that you manage on a day-to-day basis. You must also be 21 or older, a legal U.S. resident, and proficient in English. Winners will receive a $5,000 grant, a trip to the Tory Burch offices for four days of workshops and networking, a yearlong fellowship, and the opportunity to participate in a pitch day to industry influencers.
The deadline for applications is March 12, 2019, so apply ASAP! Winning fellows will be announced in May 2019.
More grant resources for women entrepreneurs
These six grants are only a few of the options available for women entrepreneurs. Even more grants await! Check in with reputable databases like Grants for Women for a comprehensive list of available grants, or look for the nearest SBA Women's Business Center for local assistance. Make sure you're completely eligible for the grant before applying, apply before the deadline, and track your application. Good luck!
Deborah Sweeney
Deborah Sweeney is the CEO of MyCorporation.com. MyCorporation is a leader in online legal filing services for entrepreneurs and businesses, providing start-up bundles that include corporation and LLC formation, registered agent, DBA, and trademark & copyright filing services. MyCorporation does all the work, making the business formation and maintenance quick and painless, so business owners can focus on what they do best. Follow her on Google+ and on Twitter @deborahsweeney and @mycorporation.
Will thinking different create job growth? Vermont grants go to small business innovators - BurlingtonFreePress.com
Posted: 07 Mar 2019 10:52 AM PST
Vermont awarded experimental grants to small innovative businesses to see which seeds will best take root in the Green Mountain state.
Nick Grimley, director of entrepreneurship and tech commercialization at the the Agency of Commerce and Community Development, said the grants were meant to "inspire new thinking."
More: Dealer.com founders: How they continue to shape Vermont's economy
"We wanted to support small businesses outside of the normal well-established programs," Grimely, 38, of Burlington said.
The ThinkVermont Innovation Grants totaling $150,000 were awarded on Wednesday by Gov. Phil Scott's administration to 16 businesses out of 45 total applicants. To qualify, the companies had to have fewer than 20 employees. 
1.4 million more software development jobs, but not in Vermont
A report published in 2018 by the non-profit Computing Technology Industry Association called out Vermont as one of 10 states "lagging" in net technology employment job gains.
More: Tech: Where the jobs -- and demand -- are
The national report ranked Vermont 47th in innovation and 46 in tech employment. 
"Employment of software developers is projected to grow 24 percent from 2016 to 2026, much faster than the average for all occupations," according to the U.S. Bureau and Statistics. 
Those jobs aren't on the radar in the Green Mountain state yet, according to statistics from the Vermont Department of Labor.
More: Why is job growth lagging in Vermont?
The average growth rate for "other information services," which includes software development, was 0.3 percent, according to the department. The Professional, Scientific, and Technical Services sector, which includes the custom design of software to client specifications, had an annual growth rate of 1.8 percent. 
Small dollars, big impact?
Grimley pointed out that though the ThinkVermont grants are limited, no strings are attached. Money isn't loaned or exchanged for an ownership percentage as happens with venture capital funding.
The initiative was designed so that money could "be accessed more quickly and with fewer restrictions than traditional federal initiatives," Scott said in a Wednesday statement regarding the project which was introduced in the 2017 legislative session.
The grant program will not be repeated in the near future
"It's a one off," Grimley said. The project's aim was to "seed ideas" and process the results before proposing a second round.
More: Vermont will pay remote workers $10,000 to move here
The majority of the grants involve technical assistance: workforce development and training, according to Grimley. The program targets areas deemed "crucial to the growth needs of Vermont's small businesses," according to the agency's statement.
Grants also support recruitment, co-working spaces and assessing broadband build out. Grimley described another way the funds will be used. The one-time money will "create a bridge" for a business to cover a critical gap between federal funds and outside investment.
Each grant holder is required to file a midterm and final report to the agency so that the Entrepreneurship and Tech Commercialization group can assess which initiatives were the most successful.
"There is innovation in business happening in every corner of our state," Agency of Commerce and Community Develop Secretary Michael Schirling said in the agency statement.
The awarded businesses are located in Addison, Bennington, Chittenden, Orange, Orleans, Rutland, Washington and Windham counties.
"But the effects of the grant should be felt across the state," Grimley said.
More: Vermont has $9M to attract businesses, Tennessee has $200M. How else can VT compete?
Recipients include: Benchmark Space Systems, The Makery and the Center of Women & Enterprise. 
Up next in technology
Business owners and local college faculty want Vermont to be an attractive place for small innovative tech companies to grow. 
Stay tuned for a look into the local gaming industry.
Contact Nicole Higgins DeSmet ndesmet@freepressmedia.com or 802-660-1845. Follow her on Twitter @NicoleHDeSmet.
Read or Share this story: https://www.burlingtonfreepress.com/story/news/local/vermont/2019/03/07/vermont-awards-small-business-innovators-grow-jobs-economy-innovation/3083937002/
FedEx offers more than $200000 in Small Business Grant Contest - Qcity metro
Posted: 03 Mar 2019 09:19 PM PST
The seventh annual FedEx Small Business Grant Contest is now open, and it's looking for small businesses with unique stories to tell.
This year, the contest offers grants and services to 10 small businesses based in the U.S. Additionally, winners will receive store credit for use toward FedEx Office services, as well as packages designed to help them with website optimization, design thinking, social media, and print expertise.
"We know it's difficult for even the most promising of small businesses to grow and scale, especially at the beginning of their life cycle," said Scott Harkins, senior vice president of customer channel marketing at FedEx.
Harkins says beyond the funds, winners will receive "much-needed expertise and advice on some of the most fundamental and critical aspects of building a viable and sustainable business." Experts will stay with the businesses as advisers.
The contest entry period is open through March 25. Fans can vote for their favorite business through April 1. Winners will be announced on April 29.
What are the prizes?
One (1) winner will receive $50,000, plus $7,500 in FedEx Office print and business services.
One (1) winner will receive $30,000, plus $5,000 in FedEx Office print and business services.
Eight (8) winners will receive $15,000, plus $1,000 in FedEx Office print and business services.
How do I qualify?
Participants must:
be based in the U.S.
be a for-profit business
have less than 99 employees
have been operating for six months or more
How do I enter?
visit fedex.com/grantcontest and complete a contest profile
write a short profile about your business
upload four photos of your business or product, including your logo
(optional) submit a 90-second "elevator speech" video
Last year's contest attracted more than 7,800 small businesses from across the country, with the winning business hailing from Chicago.