---
Pipeline for entrepreneurs: SBA initiative aims to help grow small businesses - Brownsville Herald
Posted: 02 Mar 2019 07:45 PM PST
Just as the Women Entrepreneurs' Small Business Boot Camp has helped many dozens of women (and a few men) become entrepreneurs, a program newly available in the Lower Rio Grande Valley is designed to assist established entrepreneurs in growing their businesses.
Angela Burton, director of the U.S. Small Business Administration Lower Rio Grande Valley District, advocated to bring SBA's "Emerging Leaders Initiative" to the Lower Valley. ELI is a no-cost, intensive entrepreneurship course consisting of nearly 100 hours of classroom time and opportunities to work with experienced coaches and mentors, and make connections with peers, local leaders and the financial community.
Recruitment is underway for the 2019 training cohort. Classes begin in mid-April and run through November. Classes will take place at the UTRGV Center for Innovation and Commercialization in Weslaco. The location was chosen in an effort to draw enrollment from around the Valley, Burton said.
The response has been great so far, she added, and said her office has received a number of inquiries from potential candidates. To be eligible, candidates must generate between $250,000 and $10 million a year in revenue, have been in business at least three years, and have at least one employee other than themselves. Candidates are expected to attend all 13 workshops and seven mentoring sessions, and complete required course work.
"We're really picking folks that are very interested and that are going to be dedicated, and that are going to attend all the sessions," Burton said. "Once we've received all the applications we'll probably do interviews. We need to make sure folks are serious about it."
Burton likened the program to "mini-MBA training" that gives small-business owners the opportunity to "work on their business instead of in their business." Often, small-business owners get caught up in the day-to-day operations and neglect building their businesses for the future, she said.
Burton, who launched the women's boot camp in 2009 as executive director of the Brownsville Chamber of Commerce, said she envisions a pipeline of entrepreneurs from the boot camp to the Emerging Leaders program. The boot camp, now administered by the Women's Business Center Rio Grande Valley, has graduated 221 people since the beginning.
"You may have gone through the boot camp several years ago and you've got a business up and running," Burton said. "I see this as a way for folks to continue their education."
Bringing the Emerging Leaders Initiative to the Lower Valley represents a significant investment on the part of SBA, she said.
"This is to make sure small businesses thrive, and that's what's important to me," Burton said. "My job is to make sure to get the tools out there so folks can be successful."
For more information or to apply, go to www.sba.gov/emergingleaders, call (956) 427-8533 ext. 231, or email angela.burton@sba.gov.
Chamber, SBA sign alliance - Daily Journal Online
Posted: 02 Mar 2019 03:30 AM PST
An official signing of the Strategic Alliance Memorandum between the Farmington Regional Chamber of Commerce and the U.S. Small Business Administration was held Friday afternoon at Long Memorial Hall in Farmington.
The alliance has as its prominent purpose to offer training opportunities for Farmington business owners that will allow for the growth and overall improvement of the city's small business sector and through that build the economic base of the community, as well as provide increased employment opportunities for the area's workforce. It has been touted by both organizations as the first such alliance to take place in the state of Missouri, and most probably in the entire United States.
In addition to SBA Regional Administrator Tom Salisbury and District Director Maureen Brinkley, along with Laura Raymer and Candy Zarcone with Farmington's regional chamber of commerce, the program featured special guests U.S. Senator Roy Blunt, R-Missouri, and U.S. Rep. Jason Smith, R-8th District.
Brinkley, who has been with the SBA since starting work with the federal agency as a 17-year-old clerk 52 years ago, explained the importance of the alliance between the two bodies at the Feb. 21 chamber business luncheon held at the Centene Center. Friday, she covered much of the same ground in an abbreviated fashion.
Speaking of her growing friendship since meeting Zarcone following a speaking engagement in Hillsboro, Brinkley said, "You know, sometimes you meet a person and you just know that it feels right. There was something about the energy that she had and the energy that I had. She called me probably a couple of days later, and as we talked, I realized that not only did we share a kindred spirit, a religious bond, but we were two women who were on a mission. A mission to help our small businesses in our communities grow.
"As we spoke more and more and more, we exchanged ideas, exchanged suggestions and she invited me — back last July — to speak at the luncheon last week. But it didn't just stop there. For some reason we could not stop talking about our intent to help the small businesses grow down here. Every time that Candy and I have gotten together, each of us has come up with something new — something exciting that we can do to help this community grow. She and Laura have a heart for the mission."
After Salisbury introduced Blunt to the 60 or so people in attendance, the senator said, "Sort of a new training moment is how do we get people who already have a job more ready for the job they already have? An economy where people have money in their pocket. There's a greater likelihood that they'll get a promotion than that they'll get fired.
"It's a different economy than we've been in for a while and it makes a difference in how often people get a haircut and how often people buy a new car — or a newer car. It gets that economy started. What Jason [Smith] and all of us work together on with a job-creating tax bill has also been met by a much better view of regulation."
Blunt also noted improvements in health care and mental health care — two areas of the economy that he said are vitally important to the Parkland.
"One of my big issues is trying to be sure we continue to move forward in treating mental health like all other health issues," he said. "This is a community that would have more understanding of that than almost any other place in our state. We need to be thinking about how we're going to be making all of those things work together.
"Obviously, based on what I've heard here today and knew before I came today, just the fact that this partnership — this understanding — is so unique means that a lot of people right here in Farmington are thinking about how we can make the most of putting the things together that work for us and how can we raise that flag that lets people know that we are one of those communities. Clearly, this partnership agreement today gives that strong sign that this is exactly what people in Farmington want to have happen. That's exactly what we should want to have happen in our state. I'm delighted to be here."
After being introduced to the crowd by Raymer of the chamber, Smith expressed his enthusiasm about the alliance being made between the civic organization and the SBA.
"This is a special day," he said. "Small businesses are the cornerstone of our economy. Ninety-five percent of every business in the United States of America is a small business. I was reading something the other day that seven out of 10 new jobs are created from small businesses. What we are doing today is all about the partnership with the Farmington Chamber and the SBA to help our small businesses here in St. Francois County.
"It's an incredible story of how we got to this day that started with some incredible employees of the Farmington chamber that went up to Jefferson County to an event that Sen. Blunt helped get started with the SBA. Candy got the information and came down here and worked with the SBA and fought for it. She saw the need to help small business owners — which is incredible. That is the work ethic of the people who live in the 8th District of Missouri that Sen. Blunt and I have the opportunity to serve."
The program ended with the signing of the memorandum by SBA representatives Salisbury and Brinkley and the chamber's Raymer and Zarcone, along with Sen. Blunt and U.S. Rep. Smith. Also signing their names to the agreement were Missouri Representatives Dale Wright, R-Farmington, and Mike Henderson, R-Bonne Terre, who were present at the ceremony.
Ivey secures disaster relief for Elmore County tornado victims from federal Small Business Administration - Yellowhammer News
Posted: 22 Feb 2019 11:35 AM PST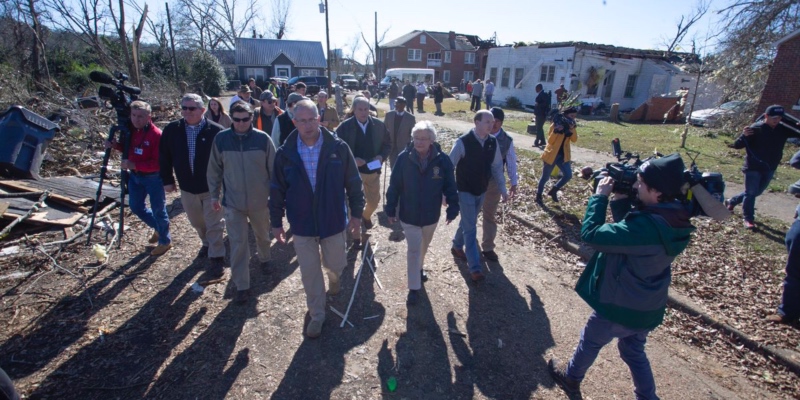 A culinary science center unlike any other is coming to Auburn University in 2021.
The university's Board of Trustees took the final steps Feb. 15 to create the Tony and Libba Rane Culinary Science Center, a transformative complex blending a learning environment with a luxury boutique hotel and restaurant.
"The Tony and Libba Rane Culinary Science Center will be an academic learning environment equipped to launch our students into leadership roles in the culinary and hospitality industries," said Auburn University President Steven Leath. "The campus and community will also reap the benefits of having such a dynamic destination for food, hospitality and instruction so close to home."
The 142,000-square-foot facility will provide students interested in hospitality and culinary sciences with hands-on learning experiences in a teaching hotel and a teaching restaurant, as well as a range of classrooms and demonstration and food production laboratories.
1240
"Our students will have unparalleled opportunities to learn best practices in the hospitality and culinary sciences within a luxury setting from the best in the industry," said June Henton, dean of the College of Human Sciences. "The entire complex will provide guests with an immersion in hospitality that is second to none."
Auburn University is home to Alabama's only professionally accredited hospitality program. The new center will be a draw for students currently in top culinary programs in high schools in Alabama and across the nation.
The facility will also become a destination for alumni and new guests alike who enjoy food and beverage tourism.
"The potential impact is enormous. The Tony and Libba Rane Culinary Science Center is going to be one of the most interesting and exciting culinary education centers in America, if not the world," said Frank Stitt, owner and executive chef of Highlands Bar and Grill in Birmingham and 2018 James Beard Award winner for Outstanding Restaurant.
The Alabama Tourism Department reported an estimated 26.6 million people visited the state in 2017, generating more than $14.3 billion in revenue. One of the primary motivations of tourists in visiting Alabama is the state's prominent and growing food legacy.
The challenge for Alabama is to maintain the tourism growth while facing a shortage of appropriately qualified employees in culinary and hospitality trades.
"There is an urgent need to rethink Alabama's current workforce development strategy," said Martin O'Neill, head of the Department of Nutrition, Dietetics and Hospitality Management in Auburn's College of Human Sciences. "Auburn University is responding to this challenge with new and revitalized hospitality and culinary sciences curricula and development of the Tony and Libba Rane Culinary Science Center."
The plans for such a facility at Auburn started more than a decade ago, when Henton tasked O'Neill and Hans van der Reijden, managing director of The Hotel at Auburn University and Dixon Conference Center, to visit globally recognized programs and facilities to benchmark the center's development.
O'Neill and Van der Reijden visited the best of the best from Singapore to Switzerland and all of Europe, and developed a plan to create an academic resource for Auburn students interested in culinary-focused careers.
Plans received strong support in 2017 when James W. "Jimmy" Rane and the Rane family made a $12 million commitment to the building's construction. Rane is a 1968 Auburn alumnus, longtime member of the Board of Trustees and chairman, president and chief executive officer of Great Southern Wood Preserving. The board later approved naming the facility in honor of his parents, Tony and Libba Rane.
Gifts to the College of Human Sciences, university general funds and revenue from the hotel, restaurant, a food hall and leased living units will cover the estimated project cost of $95.4 million. The Rane Culinary Science Center will be the first revenue-generating academic building at Auburn. The university seeks to raise an additional $13 million in philanthropic support through various naming opportunities within the building.
Construction at the corner of East Thach Avenue and South College Street will begin after an April groundbreaking ceremony.
The innovative teaching environment of the center will provide an inspiring learning platform for students to plan, market, manage and evaluate a commercial hospitality operation, while at the same time providing them with cutting-edge opportunities to develop technical and leadership skills.
Standing at the intersection of campus and community, the Rane Culinary Science Center will be a gathering place for all to use and enjoy.
Teaching areas of the center include:
The Laurel
The Laurel is the luxury boutique teaching hotel, where hospitality management students will gain hands-on practical experience working in all areas of hotel operations in a luxury 32-room facility. The spa on the sixth floor and the rooftop garden are parts of the Laurel. The garden will provide vegetables and herbs for food production throughout the center. The rooftop space can house small events. The Laurel is one of the center's many features that can be enjoyed by the Auburn community and visiting guests.
1856
A 40-seat teaching restaurant, 1856 will feature a "Chef in Residence" program, where different nationally acclaimed chefs will provide a chef de cuisine to work hand-in-hand with culinary science instructors and students to create a restaurant of his or her own vision. The practical educational experience for junior-level students will take place during lunch service, while senior-level students will execute dinner service with instructors at their side. The restaurant will be open to the public.
Heyday Market
The 9,000-square-foot food hall will provide a number of food vendors for all to enjoy. A coffee bar will be inside the center with a small operational coffee roastery. Two vendor spaces will be food incubators, providing hospitality management and culinary science graduates the space at a minimal cost to begin and grow their own restaurants before venturing out on their own.
Wine Appreciation Center
On the second floor above 1856, the center will feature a tasting room for 50 students. The instructor will be a Master Sommelier or a Certified Wine Educator who will not only be teaching wine appreciation classes for students in the program and the campus at large, but also allow the community and hotel guests to experience such classes and tastings in the evening.
Distilled Spirits Center
Adjacent to the Wine Appreciation Center on the second floor, the Distilled Spirits Center will feature a micro distillery for the purpose of research as well as showing students the distillation process in an experiential sense. Classes will be open campus-wide and will allow an opportunity for the Auburn community and hotel guests to experience distilled spirit tasting before dinner in the Laurel.
Brewing Science Laboratory
This facility will feature a state-of-the-art, open concept, micro-teaching brewery, tasting room and microbiology laboratory to provide brewing science and hospitality management students with the hands-on education and training necessary for employment in the ever-expanding craft brewing industry. The facility will expose students to all aspects of commercial beer production, such as scientific principles and facility operation, as well as technological innovation and its influence upon production methods, quality control and the sensory profile of all beer produced.
Culinary Exhibition Lab
Up to 80 students can observe demonstrations in the lab from atrium-style seating on the second floor. The design of the lab on the lower level will include non-conventional cooking stations to expose students to various cooking techniques and innovative methods. The space lends itself to commercial cooking demonstrations, not only for Saturday culinary workshops, which are open to the public, but any night of the week for the community and hotel guests.
Food and Beverage Media Studio
Near the line in the exhibition lab, the studio will teach food and beverage photography and videography, helping to prepare future chefs, bar operators and restaurateurs to be media savvy. This media studio will be a unique resource for a hospitality management program in the United States.
Additional features of the center:
Culinary Get-Aways
A rotating roster of celebrity chefs will create weekend workshops using every aspect of the center, with guests staying at the Laurel, enjoying the rooftop gardens, eating in the Heyday Market and 1856, experiencing a cooking demonstration and taking a class in the exhibition kitchen and wine tasting in the wine appreciation center.
The Residences at the Laurel
Only six upper-level residences will be available for long-term leasing. Each 1,650-square-foot unit will have two bedrooms, three bathrooms, a full kitchen and space for entertaining. Residents will enjoy the rooftop swimming pool and bar, full-service spa and other amenities, as well as concierge services and valet parking from the hotel.
This story originally appeared on Auburn University's website.
(Courtesy of Alabama NewsCenter)
The Atlanta Small Business Show on CBS: Episode 3 - Atlanta Small Business Network
Posted: 02 Mar 2019 07:30 AM PST
Want your business featured on The Atlanta Small Business Show? Tell us your story! And if you would like to advertise with ASBN, give us a call at 678-332-9706 or email us at sales@myasbn.com
On this week's episode of the Atlanta Small Business Show, we spoke to millennial and gen Z expert, Ryan Jenkins about the importance of creating great working relationships with the next generation of employees. We then traveled to ATDC Georgia Tech and talked shop with its new director, John Avery. We then had the pleasure to interview Ashley D. Bell, Region lV Administrator for the SBA, the country's best-kept secret for small business growth and development. We then caught up with Ted Jenkin, host of the Atlanta Small Business Profile who sat down with Hall of Fame QB, Fran Tarkenton. Startup expert, George Deeb ended our show with The Tip of the Day: How to Pitch to Investors.
How to Better Lead and Engage the Next Generation of Employees – Ryan Jenkins, Millennial & Gen Z Expert
According to Gallup research, millennial employment turnover is over three times the rate of other generations, costing the U.S. economy a staggering $30.5 billion annually. If your small business has experienced similar issues with the younger generations, then you need to hear from our next guest, Ryan Jenkins. Ryan is a millennial and generation Z expert who has spent the last six years helping clients like Coca-Cola, Wells Fargo, and Delta Airlines better lead and engage the next generation of employees. He is also the author of The Millennial Manual. Watch Now
On location at ATDC Georgia Tech: Everything You Need to Know – John Avery, Director
We recently traveled to the Georgia Institute of Technology campus, where we spoke with John Avery, the new Director for ATDC Georgia Tech, a start-up accelerator that helps Georgia technology entrepreneurs launch and build successful companies. John provided a detailed look at the initiatives, programs, and resources that ATDC offers. Watch Now
Why the SBA is America's Best-Kept Secret for Economic Development – Ashley D. Bell, Region lV Administrator
The SBA, also known as the U.S. Small Business Administration, might just be the best-kept secret in the Federal Government. This agency provides support exclusively to entrepreneurs and small businesses by offering opportunities for business education, mentorship, and capital lending. If you haven't heard of this organization before now, then you'll want to pay close attention to what our next guest has to say. Today we speak with Ashley D. Bell, the 45th regional administrator for the SBA's 4th region which oversees eight southeastern states. Watch Now
Atlanta Small Business Profile – Fran Tarkenton, Hall of Fame QB
On this episode of the Atlanta Small Business Profile, Ted Jenkin has an enlightening conversation with Fran Tarkenton, Hall of Fame quarterback and owner of the Tarkenton Companies. Watch Now
Tip of the Day with George Deeb: How to Pitch to Investors 
Atlanta is the country's best-kept secret for tech startups, due largely in part to its abundance of co-working spaces like incubators and accelerators. Organizations like Atlanta Tech Village, TechSquare Labs, and ATDC Georgia Tech focus all of their energy on supporting entrepreneurs who want to achieve success, in a community that promotes faster connections between talent, ideas, and capital. Watch Now
---
The Atlanta Small Business Network, from start-up to success, we are your go-to resource for small business news, expert advice, information, and event coverage.
Follow us on Facebook here and stay up to date or catch-up on all our podcasts on demand.
While you're here, don't forget to subscribe to our email newsletter for all the latest business news know-how from Atlanta Small Business Network.
This has been a JBF Business Media production.
Chamber forms alliance with SBA - Daily Journal Online
Posted: 26 Feb 2019 04:00 AM PST
The Small Business Administration announced plans to form a Strategic Alliance with the Farmington Regional Chamber at last week's Business and Community luncheon.
In her introduction of Maureen Brinkley, district director with the Small Business Administration, Candy Zarcone, director of Member Engagement and Business Development for the Farmington Regional Chamber, said she had bonded with the long-time SBA employee after having made several contacts with her.
"Maureen Brinkley has been with the U.S. Small Business Administration since the beginning of her career and was appointed district director for the St. Louis office in January 2016," Zarcone said. "In this capacity she is responsible for delivering SBA programs and services to the 54 counties that comprise the eastern half of Missouri and oversees daily operations of the local SBA office in St. Louis, Missouri."
Brinkley's story is indeed amazing. Having started with SBA as an administrative clerk 52 years ago, she worked her way to the top position by learning the skills for and serving in every position in the district office, including loan service officer, economic development specialist and business development specialist.
Recognized throughout the agency as a subject matter-expert on the 8(a) Business Development Program, she was the lead on a team that re-wrote the Standard Operating Procedures that govern its execution and was instrumental in bringing World Wide Technology into the 8(a) program back in 1992. Today that company is the largest African American-owned firm in the United States and earned $10.4 billion in revenue in 2017.
"A true champion and advocate for small businesses, Maureen launched and led the largest SBA One Stop Capital Shop in the nation, and presided over a Welfare-to-Work Initiative that helped hundreds of women in poverty stricken communities throughout St. Louis realize their independence through small business ownership," Zarcone said. "Through her service on numerous special details for SBA headquarters, she initiated projects that expanded the use of SBA programs across the 48 contiguous states and Alaska, and developed innovative marketing approaches that reached historically underserved communities.
"Maureen is a graduate of the Excellence in Government Fellows Leadership Program and the recipient of the very first SBA Administrator's Award. Most recently, Maureen was awarded the 2017 Mayor's Award by St. Louis City Mayor Lyda Krewson, who honored her for her many years of dedication to helping St. Louis small businesses start and grow. She is the proud mother of two sons and grandmother to Zoe, 'the light of her life.'"
In making her announcement to the chamber, Brinkley said this will be the first rural Strategic Alliance in the state of Missouri, and possibly the first in the entire United States.
"Having the Strategic Alliance in place means we will bring SBA workshops, confidential business counseling and business mentoring to the region with the help of the Farmington Regional Chamber." Brinkley said. "We will have an ongoing monthly SBA presence here in the community.
"We need feedback from the Farmington business community to tell us what you need. We can have a class for anything you need. We can invite individuals in — former business owners, universities, whatever — to come in and provide that training to you. We're going to be down here so much that you're going to say, 'Why doesn't that lady go back home to St. Louis?' But that's not the goal.
"We want to do what we can to help. I'm often asked, 'If you know so much about running a business, why don't you have your own?' The answer is very simple. I have no desire to work 24/7, but I want a paycheck every week — but I congratulate you for the work you do and I wish I had that same motivation."
Zarcone expressed excitement at the opportunities she believes will be made possible by the chamber's alliance with the SBA.
"With the majority of our local businesses being classified as small businesses, we believe these added resources will be a tremendous asset to our region," she said. "This strategic alliance aligns with the mission of the Farmington Regional Chamber to assist in business growth, economic improvement and community development so, this is a natural fit. We are honored to have been chosen for this opportunity and look forward to partnering with the SBA as we work together for a stronger business community."
The U.S. Small Business Administration was created in 1953 as an independent agency of the federal government to aid, counsel, assist and protect the interests of small business.