---
Boom event in Killeen Saturday backs small businesses - The Killeen Daily Herald
Posted: 21 Feb 2019 08:26 AM PST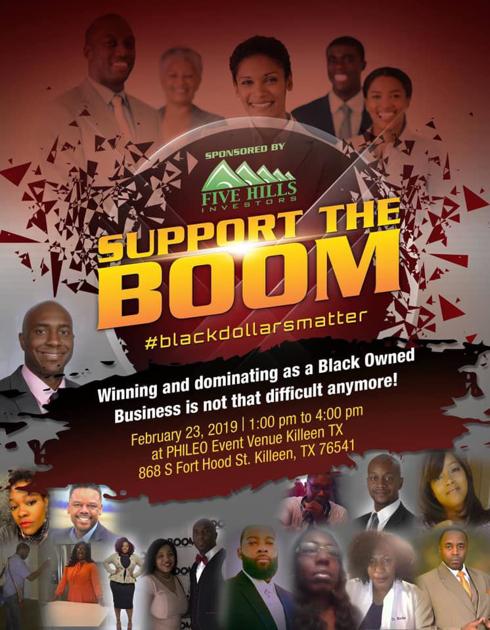 The Black Owned and Operated Movement organization invites the community to network and support small businesses at the Phileo Event Venue in Killeen on Saturday.
The free community event gives business owners the chance to learn about work ethics and informs consumers on how to protect themselves from possible scams.
"We are a membership driven organization consisting of business owners grounded in setting the global standard in consumer protection," said Eugene Alexander, real estate investor and president of Boom.
The organization wants to build a common ground to connect with each other, promote small businesses to the local community and cultivate healthy relationships between business owners and consumers.
"We collectively patronize black-owned and small businesses," Alexander said. "Our goal is to provide customer referrals, a platform to network and to cultivate relationships … and to support our members … by providing helpful resources."
The free networking event will take place from 1 to 4:30 p.m. Saturday at the Phileo Event Venue, 868 S. Fort Hood St. in Killeen.
"We want to welcome everybody," Alexander said. "It's going to be entertaining and it's regarding good business practices. That is what we want to establish within our community."
Boom started its mission in April 2018. The networking event is scheduled to be the fourth event of the organization so far.
Since Boom aims to support its members with useful workshops and resources on business ethics, the community event provides a variety of information for business owners and consumers.
The first Black Owned Operated Mixer Agenda of 2019 operates under the theme "Black and Purple" and features a variety of acts including a performance of the Early College High School Step Team, music by Horace Willis, and a live skit by Daryl Frazier and Kerry Ann Zamore Frazier.
Business owners have the opportunity to promote their businesses on stage for a donation of $10.
Business owner Sharna Page will speak about the importance of emotional competence in the business world, while Michelle Ousley will explain how to be successful with Facebook marketing and e-commerce.
The community can also use the opportunity to shop from a variety of local businesses at the marketplace on-site.
News Briefs: Small Business Basics offered in March - Fremont News Messenger
Posted: 20 Feb 2019 09:30 AM PST
Staff reports Published 12:30 p.m. ET Feb. 20, 2019 | Updated 8:50 a.m. ET Feb. 21, 2019
Small Business Basics offered in March
FREMONT - The Ohio Small Business Development Center at Terra State Community College will offer free, two-hour seminars, "Small Business Basics," that will answer questions about starting, buying or expanding a small business.
This seminar will take the confusion out of efforts and help entrepreneurs avoid costly mistakes and unnecessary steps. Learn the basics of name registration, licensing, taxes, zoning, business entities, employees, insurance, financing and business planning.  The March schedule is:
• March 6, 9:30 to 11:30 a.m. Ottawa County Improvement Corporation (conference room), 8043 W. Ohio 163, Oak Harbor.
• March 13, 9:30 to 11:30 a.m. Seneca Regional Chamber of Commerce (conference room), 19 W. Market St., Tiffin.
• March 20, 9:30 to 11:30 a.m. Erie County Chamber of Commerce (conference room), 604 W. Washington Street, Sandusky.
•  March 27, 4:30 to 6:30 p.m. Terra State Community College
(Building B, Room 103), 2830 Napoleon Road, Fremont.
These events are free and open to the public. To register or for more information, contact Bill Auxter, director of the Ohio Small Business Development Center, at 419-559-2210 or bauxter@terra.edu.
Margaretta board calls special meeting
TOWNSEND TOWNSHIP - The Margaretta Local Schools Board of Education will have a special meeting immediately following the completion of the Townsend Auction, which begins at 10:07 a.m. March 9 at 1783 N.S.County Road 294, Vickery. The board will meeting to approve potential bids from the parcels auction.
Green Hills Golf Show set for weekend
CLYDE - The 2019 Green Hills Golf Show will be open at 10 a.m. Saturday and Sunday at the golf course, 1959 S. Main St.
Besides sales both days, there will be league information, door prizes, food and drink specials, and a chance to test golf clubs off the No. 10 tee box.
There is free admission and parking. Representatives from FootJoy, Titleist, Srixon and Wilson will meet the public 10 a.m. to 2 p.m. Saturday. For more information call 419-547-7947.
Read or Share this story: https://www.thenews-messenger.com/story/news/2019/02/20/news-briefs-small-business-basics-offered-march/2925198002/
Yorkshire based small business Founder, Minoti Parikh named as one of f:Entrepreneur's inaugural #ialso Top 100 - Business Up North
Posted: 22 Feb 2019 01:45 AM PST
Small business campaign f:Entrepreneur has revealed its #ialso Top 100, a collection of 100 female entrepreneurs inspiring their peers and communities through their businesses and wider activities.
Included in the list is Minoti Parikh from Yorkshire, who founded This Pampered Life in 2016. This Pampered Life creates bespoke experience packages for corporate and personal clients across the country She was also listed for her achievements as an International Public Speaker, Trainer and TV Presenter. This is in addition to her voluntary work as an Honorary Fellow of Lancaster University and a Governor at a local school in Leeds.
Minoti is a part of the first #ialso Top 100, a campaign which grew out of International Women's Day 2018. During the event, the phrase used most by the gathered entrepreneurs was "I also…", with each woman describing their work as being much more than a single-job career and more of a flexible portfolio.
On being listed in the #ialso Top 100, Minoti said:
"I feel immensely proud to be included in this inspirational list of women who have achieved a great deal in their lives. Five years ago I relocated to UK from India and started my professional journey all over again. Little did I know that five years later I would make it to a countrywide list of the top 100 small businesses."
The aim of f:Entrepreneur is to showcase multi-achieving women like Minoti  in the #ialso Top 100, to provide lessons of challenge and success for all small business founders – both men and women.
The campaign is built around a programme of content, stories and events including roundtables, Q&A sessions and panels as well as larger all-day events throughout the year. This year the campaign will be holding its biggest ever event at the House of Lords to celebrate the success of the TOP 100 women in the week leading up to International Women's Day.
Now in its third year, f:Entrepreneur is run by peak b, a campaigning organisation with a world class track record in conception, management and execution of high-profile, national campaigns particularly in the small business and enterprise sectors.
Both f:Entrepreneur and peak b were founded by Michelle Ovens MBE, who is also director of Small Business Saturday UK and chair of the Small Business Charter.
Michelle said:
"I am delighted to reveal f:Entrepreneur's first ever #ialso Top 100; the trailblazers demonstrating that entrepreneurialism is a space being reinvented by women. The stories of these women are incredibly inspirational and reach outside the traditional bounds of business, including a number of cancer survivors and carers, amongst many other people who do so much more than their day job.
"This is a campaign that highlights the work of incredible women, but it is not only aimed at inspiring other women. This is for men too; showing everyone that even in the toughest situations in life, it is entrepreneurs who are the people that not only survive but thrive, creating purposeful small businesses and supporting their communities every day."