---
Ivey secures disaster relief for Elmore County tornado victims from federal Small Business Administration - Yellowhammer News
Posted: 22 Feb 2019 11:35 AM PST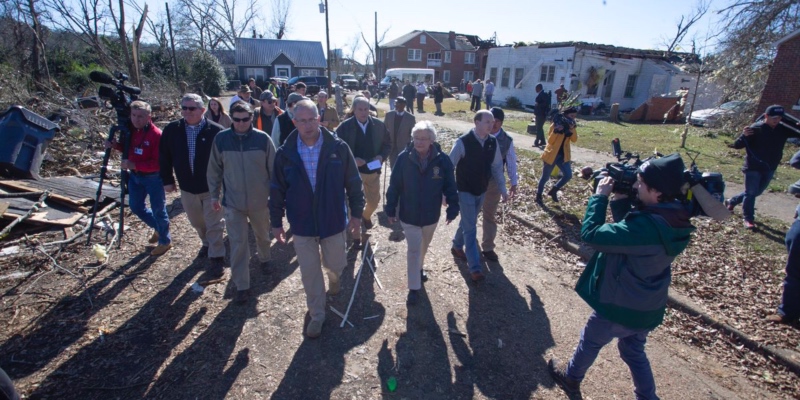 Can Alabamians support raising our gas tax for better roads while remaining true to our belief in limited government and protecting a beneficial, low-tax environment for our businesses, our families and our future?
Yes … if taxes are lowered elsewhere so that the overall amount of money taken from the people doesn't increase.
The concept is called "revenue neutral tax reform." It essentially means that if Alabama raises one tax by $100 million next year, then it should have a comparable decrease in something else.
672
So, if you're going to pay an extra $400 at the gas station, you should save an extra $400 at the grocery store.
Even Steven.
A solid majority of Alabamians support the revenue-neutral approach, as well.
Nearly 62 percent of respondents said they'd support raising gas taxes if grocery taxes were decreased by the same amount, according to a statewide poll commissioned earlier this month by the Alabama Forestry Association.
But why shuffle taxes around if it doesn't ultimately change the government's total haul?
Because taxes change behavior, encouraging some actions while discouraging others, and they also impact people differently.
Everyone who pays taxes on a gallon of gas uses roads and bridges. Fair enough.
But the rich man and the poor widow pay the same tax on a gallon of milk. That may not be entirely fair, or at least not kind, especially if that tax is relatively high.
Shuffling things around can also simplify things, making taxes predictable and sustainable for both the citizen and the state. And lowering those that discourage economic growth may actually produce more revenue in the long term.
In our nation's great laboratory of democracy, Alabamians can look near and far to find examples of how raising the gas tax has worked well in other states.
In 2017, Tennessee raised its gas tax by 6 cents, its natural and liquefied gas tax by 8 cents, and its diesel fuel tax by 10 cents. To balance the scale, it cut the sales tax on food from 5 to 4 percent, decreased certain taxes on its state's manufacturers, and eliminated taxes on some income from bonds, notes, and stocks.
In one swoop, Tennessee improved its roads, lowered the cost of food, and removed obstacles to job growth and investment.
And in the end, they were Even Steven.
Americans for Tax Reform, the watchdog group known for its fierce opposition to tax increases, didn't oppose Tennessee's plan. Its president, Grover Norquist, found it didn't violate their popular Taxpayer Protection Pledge that many candidates sign during election season.
Tennessee's voters were pleased with the result and reelected the Republican majority to the legislature the following year.
Americans for Tax Reform also supported former Gov. Chris Christie's efforts to raise the gas tax in New Jersey in 2016. His plan raised gas taxes there from 14.5 cents to 23 cents per gallon, but eliminated the state's death tax, lowered its sales tax from 7 percent to 6.6 percent, and increased the earned income tax credit.
Even Steven.
Same goes for South Carolina. Americans for Tax Reform supported then Gov. Nikki Haley's plan to combine an increase in gas taxes with a significant decrease in the state's income taxes on individuals, families and small businesses.
Again, Even Steven.
Unfortunately, there are other examples of how gas taxes were raised without the benefit of lowering anything else. They either failed to pass or, ultimately, harmed the communities they sought to help. We must remember that high taxes are one of the chief reasons why people and businesses are fleeing places like New York for places like Alabama.
And there are also other reform measures that Alabamians should consider during this debate that were raised in a recent report issued by the Alabama Policy Institute.
Meanwhile, our lawmakers should remember another lesson from Tennessee's experience raising their gas tax – the need for open debate about the details.
The chairman of the transportation committee in the Tennessee House of Representatives, State Rep. Barry "Boss" Doss, was accused by some of breaking the chamber's rules so he could "ram" through the gas tax increase. He ended up drawing a challenger in the Republican Primary and ultimately lost his seat, and some say his parliamentary maneuvers were partly to blame.
They say history doesn't repeat, but it does rhyme.
If that's the case, let's hope Alabama's lawmakers will be less like Boss Doss by being transparent in the process and more like Even Steven by balancing any increase in the gas tax with decreases elsewhere.
J. Pepper Bryars is a senior fellow at the Alabama Policy Institute. Follow him on Twitter at @jpepperbryars.
U.S. Small Business Administration to present information on services - Nevada Herald
Posted: 21 Feb 2019 10:06 PM PST
Friday, February 22, 2019
Special to the Daily Mail
The U.S. Small Business Administration will partner with the USDA on March 7, at the Nevada Public Library to present information on services available in rural Missouri for small business owners, start-up companies and existing businesses considering expansion. The meeting will be held from 10 a.m. to noon at the Nevada Public Library, 212 W. Walnut St., Nevada. Contact Lisa Zimmerman at lisa.zimmerman@sba.gov or (417) 895-8501 to reserve a place.
Tax reform a win? Small business still anxious, unsure - Fox Business
Posted: 22 Feb 2019 05:20 AM PST
With a new tax law fully in effect for the first time this income tax filing season, most Americans – including the small business community – are understandably apprehensive about how the revised tax code will impact their returns this year. Despite this anxiety, the overwhelming majority of small businesses and self-employed entrepreneurs can expect to benefit from key changes and updates to the tax code that will help save both time and money.
When the nation's most sweeping tax reform was signed into law in late 2017, our elected leaders in Washington, D.C., promised American taxpayers, including millions of small business owners, they would pay lower taxes, keep more of their money and reap the economic benefits of tax reform for generations to come. Yet over a year later with the law now in effect, many continue to be confused about its impact on their bottom line and unaware of how to make the new system work for them.
MORE FROM FOXBUSINESS.COM...
The nation's new tax code is based on the simple principle of small businesses reinvesting their tax savings directly back into their day-to-day business operations by purchasing new equipment, investing in expansion, and/or hiring new employees -- helping to spur overall economic growth throughout the country. However, it is understandably difficult for the small business owner to invest in new opportunities or to create that extra job when they are still unclear on exactly how much in tax savings that will actually be realized.
Further compounding the uncertainty was the recent government shutdown. As the income tax filing season officially opened, businesses from Maine to California were unable to get answers to tax questions from the Internal Revenue Service (IRS), apply and receive loans from the Small Business Administration and access small business regulation assistance. Even now with the government back up and running, the American public and small business owners alike could still experience a delay in tax refunds.
But now the longest government shutdown in history is over, the American public – including millions of small businesses from the self-employed to small employers with up to nine employees – are preparing to file their 2018 tax return under the new tax system.
Here are some key changes and reminders regarding the new tax code that all tax filers should be aware of during the first filing season under the new law:
A lower individual rate, which is where individuals and most self-employed small businesses file.
A doubling of the standard deduction, which is $12,000 for single filers and $24,000 for married couples.
Reduction or elimination of specific deductions, such as for moving expenses or the unlimited state and local tax deductions known as SALT deductions, which are now capped at $10,000.
The standard mileage rate for business use of an automobile is 54.5 cents per mile for 2018 tax returns.
Limits for retirement plan contributions such as SEPs, IRAs and 401(k) plans may have changed for your situation.
If applied correctly, the new tax code should save time and money for small businesses to grow and expand. The new policies outlined above offer a more simplified process for completing and filing tax returns, which could translate into better bottom lines, a reduction in overall taxes and more money in people's pocketbooks.
CLICK HERE TO GET THE FOX BUSINESS APP
Keith Hall is a certified public accountant and president and CEO of the National Association for the Self-Employed (NASE), the nation's leading resource and advocate for the self-employed and micro-businesses.