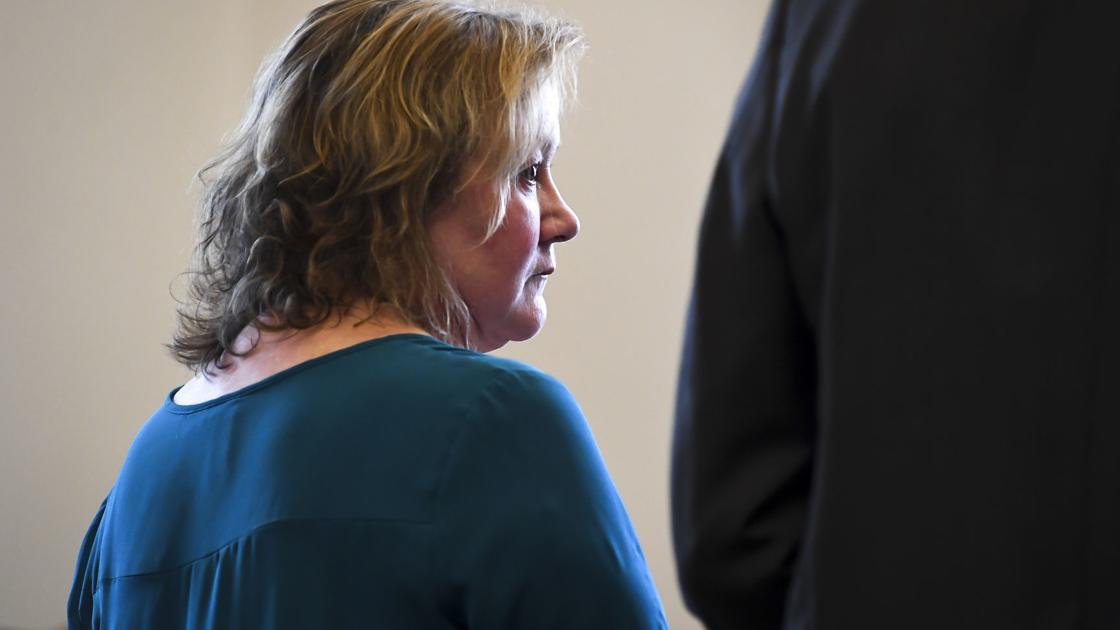 A day after being sentenced on federal money laundering and tax charges, former Corvallis attorney Pamela Hediger got her day of reckoning with the state of Oregon.
In Benton County Circuit Court on Friday morning, Hediger, 55, pleaded guilty to five counts of aggravated theft in the first degree, two counts of identity theft and one count of income tax evasion, all felonies, and was sentenced to four years in prison followed by two years of post-prison supervision. Two additional charges were dismissed.
She was also ordered to pay nearly $1.1 million in restitution to her former law firm and just under $148,000 in back taxes and penalties to the Oregon Department of Revenue.
On Thursday, Hediger was sentenced in U.S. District Court in Portland to 46 months in prison. In that case, she must pay $1.4 million in restitution and pay $471,000 to the Internal Revenue Service.
Under terms of negotiated plea agreements with state and federal prosecutors, Hediger will serve both sentences concurrently in federal prison.
Hediger, a former Benton County prosecutor who later went into private practice, abused her position to pilfer more than $1 million from her former partners and clients in the Corvallis law firm of Evashevski, Elliott, Cihak & Hediger (now Evashevski Elliott PC), according to court documents.
Prosecutors say she used the money to remodel her house, take lavish vacations and pay for plastic surgery, among other things. As laid out in court documents, the scheme involved writing bogus checks on the firm's business account or creating fictitious expenses for clients involved in personal injury cases and pocketing the money for herself. She also fraudulently created credit card accounts using the name of her mother and one of her law partners, Forrest "Frosty" Evashevksi, court documents state.
Twenty-seven people packed the gallery of Judge Matthew Donohue's tiny courtroom for Hediger's plea and sentencing hearing on Friday morning. Dressed in black slacks and a blue blouse, Hediger stood calmly at the defense table with attorney Walter Todd while the judge read the charges against her and pronounced sentence.
Senior Assistant Attorney General Colin Benson, who prosecuted the case for the state, noted that the four-year prison sentence was unusually long for someone with no criminal history but argued it was justified by the treacherous nature of the crimes. He also stressed that she had not offered an apology during her sentencing in federal court on Thursday.
"Ms. Hediger exploited the enormous amount of trust she had in this community," Benson said. "She also exploited her position."
Two of Hediger's victims testified at Friday's hearing, saying they felt personally betrayed and violated by her misdeeds.
"We became close personal friends — that's how she was able to take advantage of me," said Thomas Elliott, a founding partner in the law firm and the man who hired Hediger.
Elliott said Hediger had stolen approximately $1.5 million from the firm and its clients, a loss that was only partially offset by a $400,000 payment from the state's Professional Liability Fund. He said he and his partners had been using their own resources to repay the money stolen from client accounts and did not have high hopes that Hediger would be able to make restitution in full.
"This was a tragic ending to a promising legal career," Elliott said.
Office manager Angie Jordan said she was devastated by the defendant's criminal acts.
"I thought Pam Hediger was not only my employer but also my friend," Jordan said. "She is a master manipulator without a conscience."
Todd said his client regretted her actions and noted that she had cooperated fully with state and federal authorities since being brought up on charges in August.
And Hediger told the court that the only reason she didn't apologize at her federal sentencing was because "words seem so hollow when you consider them against the magnitude of the betrayal I did," adding, "I am humbly and profoundly ashamed and sorry."
Judge Donohue, however, said he agreed with the unusually long sentence stipulated in the plea agreement. The four-year term, he argued, was justified by the nature of Hediger's crime, which he said "is going to reverberate in this community for quite some time."